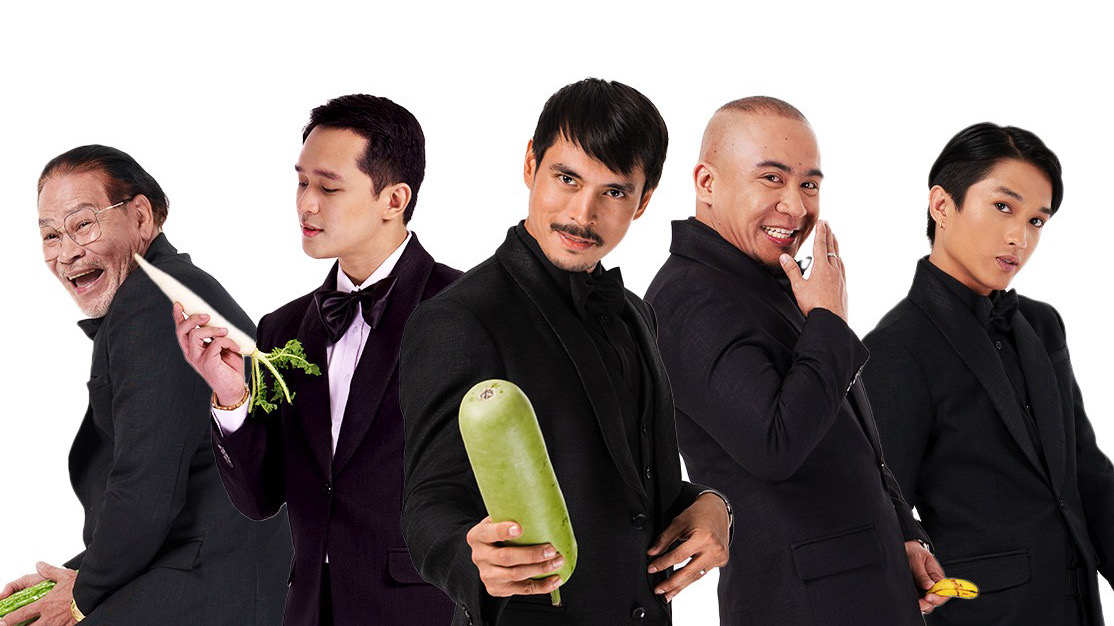 'DickTalk' to Unzip the Truth About Toxic Masculinity
When Eve Ensler's The Vagina Monologues first opened Off-Broadway in 1996, it was considered revolutionary, with The New York Times calling it "probably the most important piece of political theater of the last decade."

In 2023, its male counterpart, DickTalk, now written by Filipino writers Ara Vicencio and Benj Cruz Garcia and conceptualized by Edwin Vinarao, is making its way to the stage through V-Roll Media Ventures in collaboration with CMB Films, Trifecta Brand Lab, and Marikit Artist Management.
The play, which is composed of 5 monologues by 5 different types of men– a teenager, a trans man, a sex worker, a metrosexual, and an old man, played by Gold Aceron, Nil Nodalo, Jake Cuenca, Mikoy Morales, and Archi Adamos respectively, aims to break stereotypes and to normalize conversations on various perspectives surrounding manhood, machismo, and the male genitalia. It also intends to delve into the deep social issues on sexuality and relationships, exposing the complex web of pressures and expectations that shape men's lives.
Why is it important to stage this piece now? Mikoy Morales says that if The Vagina Monologues was all about women wanting to be heard and understood because of years of suppression, DickTalk is about men acknowledging their mistakes and showing where the roots of toxicity may have come from. "Let's now understand the why and try to move forward," he says. "It is not a whataboutism na, 'Paano kaming mga lalaki? Hindi naman pwedeng Vagina Monologues lang. Paano iyung mga tite?' It's not that. It's, 'Oo, tama kayo. So ngayon, let's move forward para hindi na maulit iyung mga nangyaring suppression sa mga babae."

"Bakit nga ba may toxic masculinity? Saan nga ba nanggagaling iyun? Intindihin natin, busisiin natin para malaman natin para alam na natin kung paano ira-raise iyung future generations to be not toxic, to not be prone to stepping on other people's preferences, not just the women, but everyone in the spectrum," he adds. "How do we break the cycle of raising men to think a certain way dahil iyun iyung sinasabi ng society? This is that. Inaamin na namin iyung mga pagkakamali namin in general. Alamin na natin kung ano iyun at tsaka kung bakit."

Morales also says that playing a metrosexual has allowed him to raise awareness on his personal advocacy of unboxing one's self out of stereotypical norms. "Kailangan ba makita sa mukha mo na mahilig ka sa adobo kaysa sa mechado? Kung mas gusto mo iyung red kaysa sa blue, does it show? Lumalabas ba iyun sa mannerisms? Doon ba binabase iyun? Same with your preferences. Kung mas gusto mo ang babae sa lalaki, does it have to show? May requirement bang pumitik kapag gusto mo lalaki? More on the stereotypical norms na laging hinahain sa atin na, don't be this. Don't be that."

Jake Cuenca, who plays Peter North Teves, a proud escort for 15 years, says that the piece shows how men overcompensate for a lot of their insecurities. "[My character] is very proud that [he's] an escort for 15 years, and [he has] a big dick and all these types of things. But then what I found in the script was that it's such a soul-eating job. I'm sure it takes away at him every single time he has a customer. But then he has to be proud of it because it's the only thing he has to do."
"I'm compelled to highlight what guys go through," he adds. "I was compelled to do this material because it's a voice." He also says that he hopes a lot of women see it so that they can understand men a little bit more and the pressure that men go through. "It's a very difficult conversation to have but now, you're going to see it live in the theater."
Archi Adamos, who's playing a 65-year old retired professor, says, "We just have to break the ice. We're still a very patriarchal kind of society, very conservative in terms of talking about men's organs. Ang feeling ko, it's about time to go to the grassroots."

You can catch DickTalk from April 15-23, 2023 at the RCBC Theater, Makati City. Tickets are now available on Ticketworld, with prices ranging from P2,000 for Balcony, P2,500 for Lodge, P3,050 for Orchestra Side, and P3,650 for Orchestra Center.
Comments