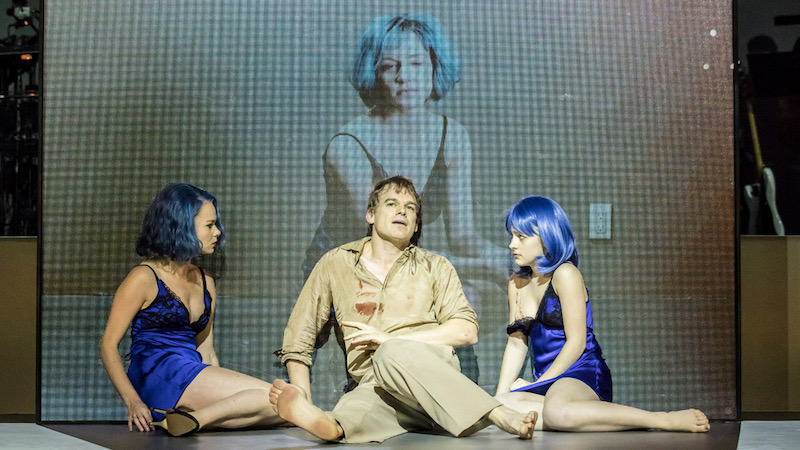 David Bowie Musical 'Lazarus' to Stream this Weekend
The David Bowie musical Lazarus will be streaming online with 3 ticketed performances this weekend.
Inspired by the book, The Man Who Fell To Earth, the production stars Michael C Hall as Thomas Newton, a 'man' unable to die. The story follows him during the course of a few days, where the arrival of another lost soul might set him finally free.
Also featured in the cast are Michael Esper (Valentine), Sophia Anne Caruso (Girl), Amy Lennox (Elly), Gabrielle Brooks (Teen Girl Two), Sydnie Christmas (Teen Girl Three), Richard Hansell (Zach), Maimuna Memon (Teenage Girl), Jamie Muscato (Ben), Tom Parsons (Michael), and Julie Yammanee (Maemi).
Featuring music from David Bowie's discography as well as new music written for the stage, Lazarus is written by Bowie and Enda Walsh, and directed by Ivo Van Hove. Joining them are Jan Versweyveld (designer), An D'huys (costume designer), Tal Yarden (video designer), Tony Gayle (sound designer), Brian Ronan (original sound designer), Henry Hey (musical supervisor and orchestrations), Annie B-Parson (choreographer), and Richard Mawbey (hair and wig designer).
The production streaming this weekend was filmed from the London production at King's Cross Theatre, where it ran for a limited sold-out season from October 25, 2016 to January 22, 2017. It will be streaming on January 8, 9, and 10 to commemorate Bowie's birthday on January 8 and death anniversary on January 10.
You can purchase tickets through dice.fm.
Comments