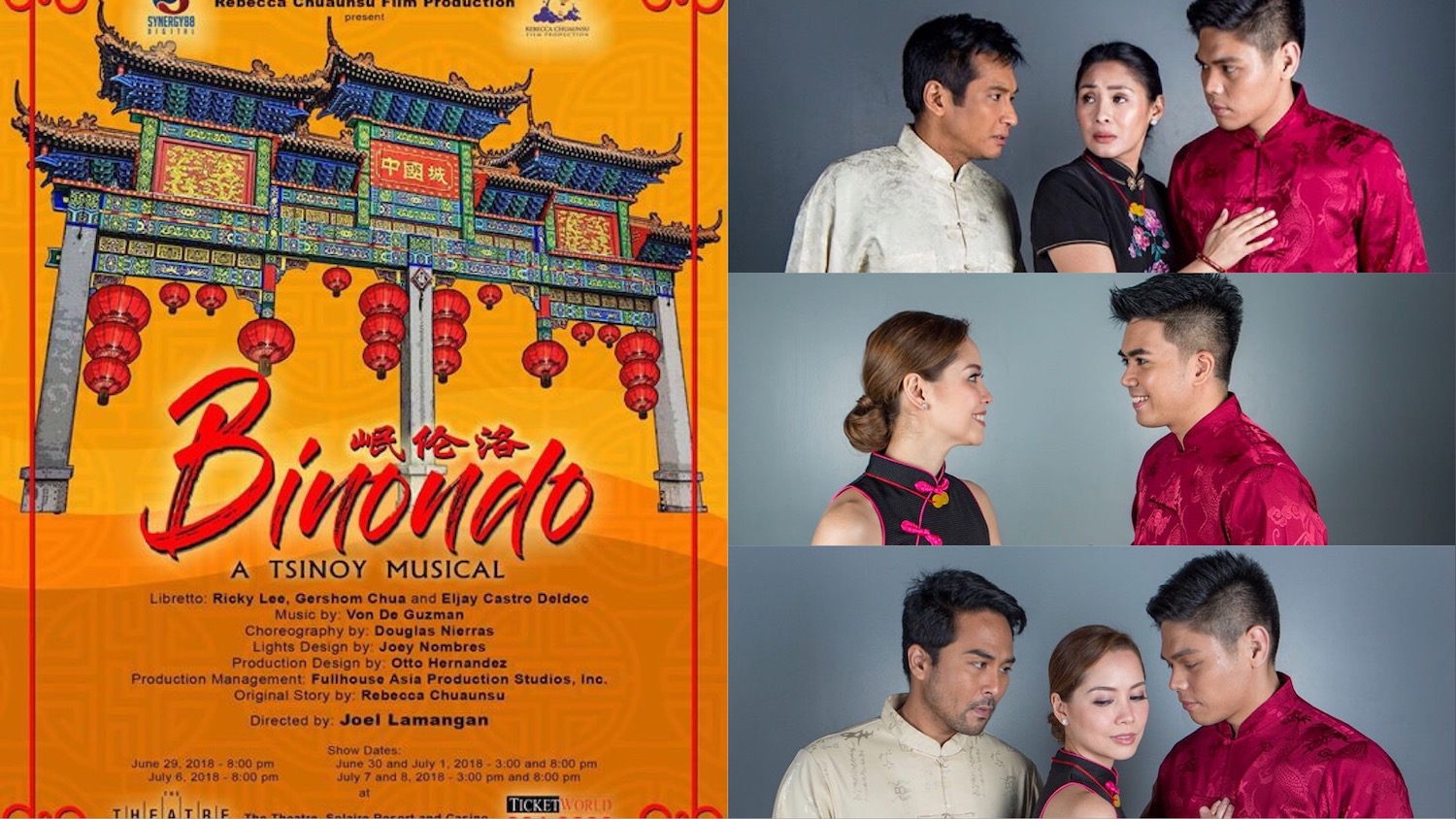 Catch 2 Opening Night Performances for Binondo: A Tsinoy Musical!
'Binondo: A Tsinoy Musical', an original musical written by Ricky Lee and assisted by Gershom Chua and Eljay Deldoc, will have two opening night performances.
The June 29, 8pm performance will feature Shiela Valderrama-Martinez, Arman Ferrer, and Floyd Tena, while the July 1, 8pm performance will feature Carla Guevara Laforteza, David Ezra, and Noel Rayos as Lily, Ah Tiong, and Carlos respectively.
Binondo: A Tsinoy Musical is set in the pre-martial law days of Manila. It tells the story of Lily, a Filipina night club singer, and Ah Tiong, a mainland Chinese scholar, who fall in love during a tumultuous time. Vying for Lily's heart is Carlos, a local Chinese-Filipino and Lily's childhood friend.
The true story came from the memories of the creative producer, Rebecca Chuaunsu, who can still recall when a Chinese professor shared the story of his eternal love for a Filipina.  This story moved her and as a Chinese-Filipina herself, it has always been a dream to have a theatrical narrative that would give a fleshed-out representation of the plight of Chinese-Filipinos. Her first theater mentor, Joel Lamangan became one of the keys in staging this dream. Ricky Lee also came into the picture when he eagerly accepted to write the book and lyrics of the musical. As a Chinese-Filipino, Ricky Lee admitted that he had noticed the scarcity of literary pieces that highlight the deeper context of their struggles.
RELATED: WATCH- 'Binondo: A Tsinoy Musical' is a first of its kind
Other artists included in the production are Mariella Laurel (Jasmine), Ashlee Factor (Ruby), Ima Castro (Mrs. Dela Rosa), Jennifer Villegas dela Cruz (Lourdes), Kay Balajadia Liggayu (Mrs. Chua), Dondi Ong (Mr. Chua), Russell Magno (Mr. Zhang), Elizabeth Chua (Mrs. Zhang); Jim Pebanco, Lorenz Martinez, Khalil Kaimo, Ellrica Laguardia, Rhapsody Li & Tuesday Vargas (Chorus); Jonel Mojica and Joseph Billeza (Ge Lao), Philip Deles and Ivana Villanueva (Swing).
The artistic team also includes Von de Guzman as composer and musical director, Douglas Nierras as choreographer, Joey Nombres as lighting designer, and Otto Hernandez as production designer and technical director.
The show will run on June 29 at 8pm; June 30 at 3pm and 8pm and July 1 at 3pm and 8pm; July 6 at 8pm; July 7 at 3 pm and 8pm; July 8 at 3pm and 8 pm at The Theatre at Solaire.
You can buy tickets HERE.
Comments