Cast Announced for Return of "A Christmas Carol"
Globe Live and 9 Works Theatrical's production of A Christmas Carol returns with more grit, more depth, and more spirit. Both faithful and new, this new staging of A Christmas Carol stays true to the story and spirit of the text, while adding new features and angles to the new production. In the words of Globe Live executive producer, Joe Caliro, "It's the same musical, but a different show."
With a combination of old and new cast members, a revamped set and scenography, this rerun promises to bring a renewed spirit and new flavor to everyone's favorite Christmas story: Charles Dickens' A Christmas Carol.
Reprising his role as Ebenezer Scrooge is legendary actor, set designer and director, Miguel Faustmann. A veteran and resident member of Repertory Philippines since 1974, Miguel has also worked closely with Ballet Manila (Swan Lake, Don Quixote). This year's A Christmas Carol marks Faustmann's third production with 9 Works Theatrical.
Joining the cast is a multi-awarded stage and television actor, Franco Laurel as the Ghost of Christmas Past. Laurel is most notable for his performances in You're A Good Man, Charlie Brown, Grease, Rama at Sita, Honk, The Ugly Duckling, Joseph the Dreamer, Isang Panaginip na Fili, for which he won an Aliw Award for Best Stage Actor. He is also a prolific writer and blogger, and currently holds the position of editor for two lifestyle magazines.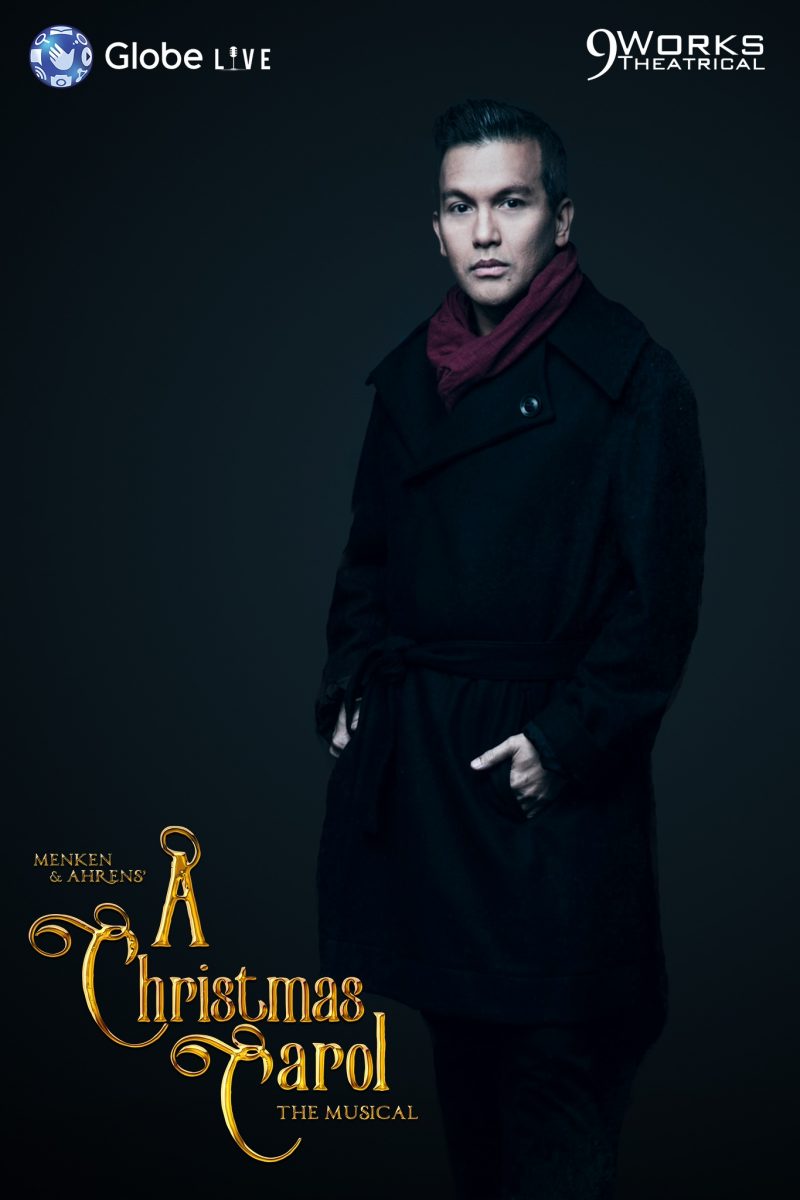 Theater veteran Noel Rayos also joins the cast, juggling the roles of Jacob Marley and Mr. Fezziwig. With over ninety professional theater productions under his belt, Noel is a seasoned performer and crowd favorite. A Gawad Buhay awardee, Noel was proclaimed Best Featured Actor in a musical for his performance Rama Hari. His featured role in La Cage aux Folles as Jacob also earned him a Gawad Buhay nomination. This marks his fourth production with 9 Works Theatrical after appearing in They're Playing Our Song, RENT and La Cage aux Folles.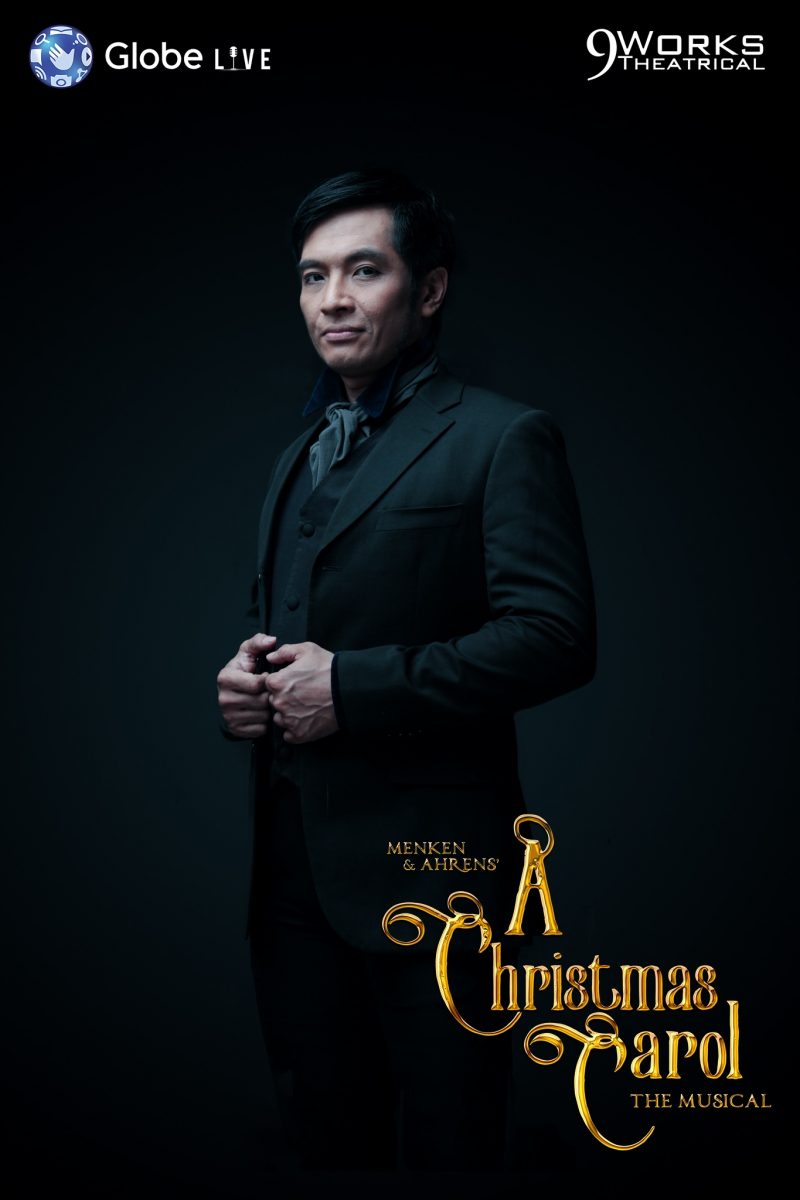 Nico Dans and Rissey Reyes represent Philippine theater's next generation of actors. Dans is overjoyed to be returning to the stage after a stab at corporate life. A fine arts graduate, Nico has just been featured in his first full length action/suspense film by director Richard Somes. Meanwhile, Reyes, a graduate of University of the Philippines, was most recently seen in Batang Rizal, William, and Rated: PG. Rissey was also a member of TV5's local franchise of the popular musical children's show, Hi-5.
Jaime Yupangco and Elai Estrella are sure to delight audiences with their performance as Tiny Tim. For Jaime, the role of Tiny Tim is a dream come true. His love for performing is natural, coming from a family steeped in show business and theater. Similarly, Elai shares the same joy for performing. A regular student at summer workshops, Elai enjoys immersing himself in the world of theater and make believe. He plays the recorder, and violin, as part of the Catholic Filipino Academy Orchestra.
Joining this season's A Christmas Carol are Jon Abella and Tricia Canilao playing Mr. and Mrs. Cratchit. Abella, a theater arts graduate, has been seen in Mula sa Buwan, William and The Medium. This is his second production with Globe Live and 9 Works Theatrical, following his performance as Seitz in Newsies. Playing his wife is Tricia Canilao who is most known as a Miss Saigon alum, performing as Kim, Gigi and Ellen in various parts of the world. Her other credits include Les Miserables, West Side Story, Disney's Beauty and the Beast and the musical revue, The Golden Mickeys in Hong Kong Disneyland.
Playing Young Ebenezer is Laurence Mossman. Mossman hails from Auckland, New Zealand and began his theatrical career in the Philippines after performing in Mamma Mia! He appeared in the musical Fun Home, appearing as various characters in the show, and was most recently seen in the lead role of Charlie in Kinky Boots.
Arman Ferrer also joins the cast of A Christmas Carol as Fred. A theater actor and a classical singer, he was a featured soloist of the Philippine Philharmonic Orchestra and The ABS-CBN Philharmonic Orchestra. He originated the role of Emilio Aguinaldo in Mabining Mandirigma, for which he received the PHILSTAGE Gawad Buhay for Best Featured Male in a Musical in 2015.
Rounding up the cast are Dawn Eduave (The Wedding Singer, Camelot) as Mrs. Fezziwig, Mitzie Lao (Dani Girl, Sinta) as Emily, Gian Gloria (American Idiot, Marco Polo: An Untold Love Story, The Little Mermaid) as Sally, Krystal Brimner (Gawad Buhay Best Actress in a Musical for Annie, MMFF Best Child Actor in 2015 for Honor Thy Father, Aliw Award Discovery of the Year for Annie) and Rayne Cortez (The Sound of Music, The Glitter Trap) as Grace Smythe, Tory Cortez (Newsies, The Sound of Music) as Jonathon, Omar Uddin (Tagu-Taguan: Nasaan Ang Buwan, Ang Buhay ni Galileo) and Diego Soler as Scrooge at 12, Simone Martinez (Hari Ng Tondo, The Gift) and Cerise Ramirez (A Christmas Carol 2016) as Fan, Joe Ng (A Christmas Carol 2016) and Bourne Luna (Commercial model) as Fred's son, Kyle Francisco (A Christmas Carol 2016) as Martha Cratchit, MC dela Cruz (Disney's Newsies, Mula Sa Buwan) as Mr. Smythe, JP Basco (La Cage aux Folles, Orosman at Zafira) as Young Marley, Josh Ramirez (Disney's Mulan Jr., Falsettos) as John William Scrooge, Kendrick Ibasco (American Idiot, Disney's Newsies, Jersey Boys) as Beadle, Vyen Villanueva (Newsies) as Mr. Hawkins, Jourdan Bartolome (Disney's Newsies, UP Filipiniana Dance Group) as Old Joe, Mariella Laurel (Shrek, Lagablab) as Scrooge's mother, Peachy Atilano-Guevara (Grease, Bluebird of Happiness, The Wedding Singer) as Mrs. Mops, Shalee Vicencio (American Idiot, Seussical The Musical) as Mrs. Hawkins, and Joni Galeste (Disney's Newsies, La Cage aux Folles, Sabel, Nutcracker).
A Christmas Carol is directed by Robbie Guevara, together with Onyl Torres as assistant director, Daniel Bartolome as musical director, PJ Rebullida as choreographer & Yek Barlongay for additional tap choreography, Ed Lacson as set designer, Dong Calingacion as technical director, Myrene Santos as hair and makeup designer, and Ian Cartalaba as costume head.
Heading the production team are executive producers Santi Santamaria (9 Works Theatrical) and Joe Caliro (Globe Live), Denise Seva (Globe Live Director for Events and Production), with 9 Works Theatrical's Anna Santamaria as company manager, Sab Jose and Jonjon Martin as PR managers, GM Hernandez as marketing manager, Arma Bonilla as stage manager, Gian Nicdao as graphic designer and JC Inocian as photographer.
Globe Live and 9 Works Theatrical's A Christmas Carol will be shown at the Globe Iconic Bonifacio High Street Amphitheater, Bonifacio Global City on December 7-9, 14-16, 21-22 & 26-27 at 8:00pm, December 10 & 17 (Sundays) and December 25 Christmas Show at 7:00pm.
You can buy tickets HERE.
Comments