Broadway Open Mic Comes Back with 'Picture Show!'
Look who's back — and with a vengeance! We see you shiver with anticip… ation!
Let's do the Time Warp again as the Broadway Open Mic returns with PICTURE SHOW! Dust off your DVDs and VHS cassettes (Remember those?) and get ready to go on a journey through the world of screen musicals!
For Sixteen Bars' first Broadway Open Mic of 2018, attendees are invited to take the stage, and perform selections from musicals that have graced the screen — whether the silver screen at your local cinema or the smaller one in your living room. Do you identify as a Disney nerd? Are you into the vintage sound of classic movie musicals such as Top Hat (1935) or Singin' in the Rain (1952)? Do you enjoy the kitsch of jukebox musicals like Moulin Rouge! (2001) or Across the Universe (2007)? Perhaps you're more into more contemporary hits such as La La Land (2016) or The Greatest Showman (2017)? Or maybe your heart lies with serialized TV musicals such as SMASH (2012) or Crazy Ex-Girlfriend (2015)? With a theme as broad and diverse as this one, there's bound to be something for everyone!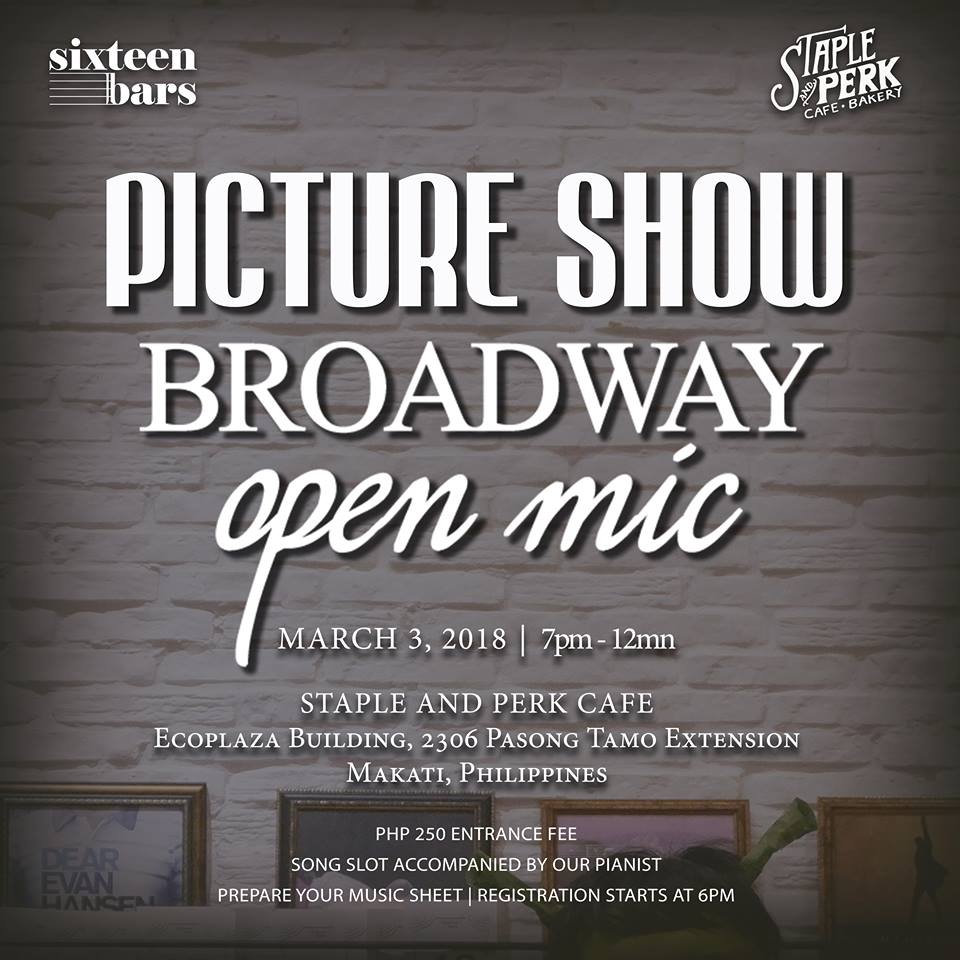 PICTURE SHOW: Broadway Open Mic will be held on March 3, 2018, at Staple and Perk Café in Ecoplaza Building (2305 Chino Roces Ave., Makati City). Registration starts at 06:00 PM, and the event runs from 07:00 PM – 12:00 MN. Performance slots are first-come, first-served, and will only be reserved upon registration at the entrance.
—
ABOUT SIXTEEN BARS
Sixteen Bars is a performing arts education company whose goal is to provide the needs of developing theatre practitioners in Metro Manila. Our services mainly consist of master classes, workshops and various other events geared towards artistic training and comprehensive education in music, acting, dance, and writing.
ABOUT STAPLE AND PERK CAFÉ
Staple and Perk Café started out as a commissary supplying breads and pastries to restaurants and hotels in Metro Manila. With the opening of its first 24-hour shop in Ecoplaza Building in Makati, Staple and Perk Café has been serving meals, coffee, bread, and pastries to the people of Pasong Tamo Ext. Apart from being a café/bakery, Staple and Perk Café acts as a venue for various art performances and events.
Comments