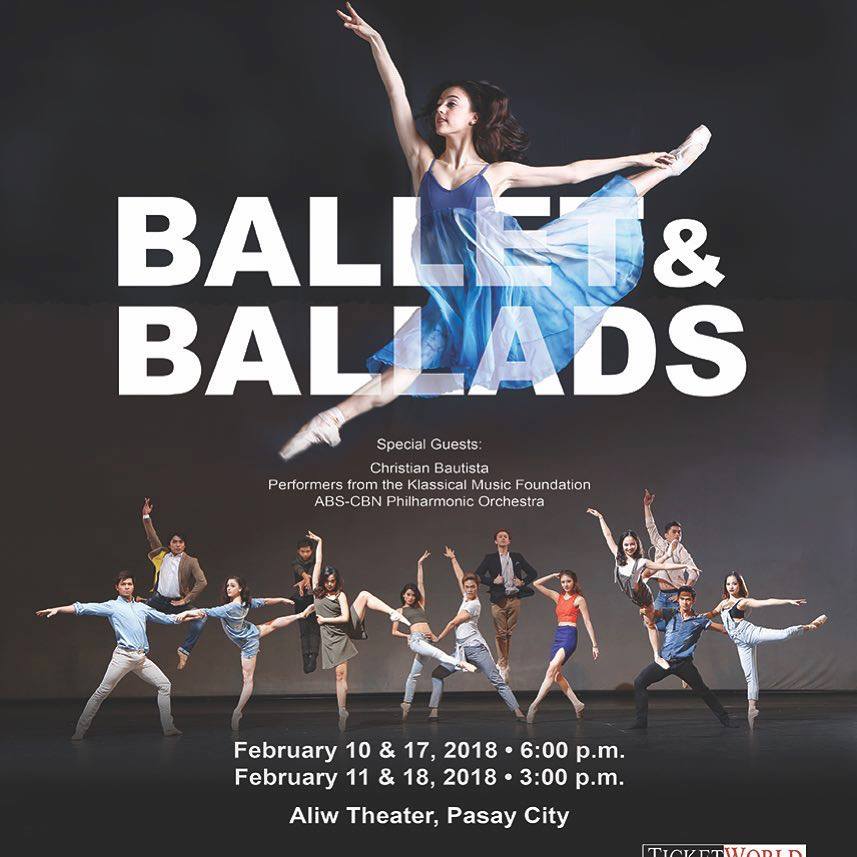 BM's 'Ballet & Ballads' Comes Back with Christian Bautista
A tradition in almost all of Ballet Manila's performance seasons, Ballet & Ballads, once again returns to the stage to bring music and lyrics to life. And in an effort to bring ballet to the people and the people to the ballet, the country's premier classical dance company plans to close its current season with a star-studded affair.
Ballet Manila CEO and Artistic Director Lisa Macuja-Elizalde muses about the latest installment, "It combines a singer with ballet numbers—an interesting concept that we've been experimenting with for quite some time now. It's an entertaining way to enjoy ballet, especially for first-time audiences."
Heartthrob crooner Christian Bautista is set to lead the roster of singers as a guest performer. He'll sing some of his greatest theater hits, as well as songs from his latest album.
Joining Christian are artists from the Klassikal Musical Foundation (KMF) such as Andrew Fernando (Baritone), Jade Riccio (Soprano), Stephanie Aguilar (Soprano), Krisann Manikan Tan (Mezzo Soprano), Leo Angelo Lanuza (Tenor), and with the special participation of Dr. George T. Yang (Tenor). This marks the first-ever creative partnership between the country's premier classical dance company and KMF.
The ABS-CBN Philharmonic Orchestra, no less, will serenade the audience during the entire night. The acclaimed group has also prepared a very special Teleserye suite featuring a selection of classic hits from the ABS-CBN primetime repertoire. The show will surely trigger some nostalgia, especially among fans of Filipino pop culture.
Ballet & Ballads will also mark the world premiere of Martin Lawrance's Aria, which will feature five acts covering classical operas. The British choreographer previously partnered with Ballet Manila for the highly acclaimed Rebel and Amid Shadows. Lisa shares, "He really is a genius when it comes to weaving a ballet together and exploring movement with different kinds of music. The idea was first to combine musical theater and ballet. But when he proposed the classical arias instead, I told him to go for it!"
With such a powerhouse lineup for Ballet & Ballads, the audience is set for pure enjoyment when the curtains go up in Aliw Theater. As the Prima Ballerina sums it up best, "Dancing creates a visual representation of music, and when that music is played live by the ABS-CBN Philharmonic and sung by Christian Bautista and the KMF classical singers, it complements Ballet Manila's mastery of the Vaganova technique. It is really a concert like no other."
Show Schedules
The newest installment of "Ballet & Ballads" will premiere on February 10, 2018 at 6:00PM at the Aliw Theater. There will be three other shows: February 11, (3:00PM), February 17 (6:00PM), and February 18 (3:00PM).
You can buy tickets HERE.
Comments