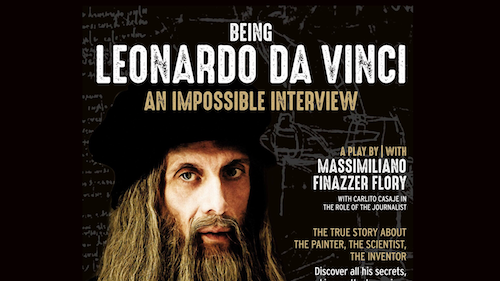 "Being Leonardo da Vinci" to run at the CCP this November
"Being Leonardo da Vinci: An Impossible Interview", will be running at the CCP Little Theater for one night only.
The show is a one-act play that presents the Italian artist's true life, art history, and science on stage. Through the format of an impossible interview, Italian actor, playwright, and director Massimiliano Finazzer Flory "physically" becomes Leonardo.
Dressed in period costumes and wearing make-up which reconstructs da Vinci's face, Finazzer Flory performs in Renaissance language original texts written by Leonardo himself, among which is the famous "Trattato di pittura" (Painting Treaties). His Leonardo answers questions about his childhood, his civil and military activities, and about how to become a "good painter" (bono pittore), as well as the relationship between Painting and Science, Painting and Sculpture, Painting and Music. He comments on "The Last Supper" and the figures of the apostles, replies to his enemies' attacks, prophesies man's flying, and finally offers maxims and aphorisms to live by in our times.
The show ran in Milan during the EXPO 2015 for 6 months. It has also toured internationally– New York – Manhattan – Morgan Library; Washington – The Kennedy Center for the Performing Arts; San Francisco – American Conservatory Theater; Miami – New World Symphony America's Orchestral Academy; Saint Petersburg (Russia) – Hermitage Theatre and Moscow (Russia) – Theatre Centre "Na Strastnom"; Tokyo (Japan) – Theatre Drama Kan (Waseda University) and Osaka (Japan) – Knowledge Capital Theatre; Geneva (Switzerland) – CERN, The Globe; Paris (France) – Petit Palais, Musée des Beaux – Arts de la Ville de Paris; Venice (Italy) – La Fenice Theatre; Milano (Italy) – Sacristy of Church Santa Maria delle Grazie.
Joining Finazzer Flory in the cast is Filipino playwright, actor, and screenwriter, Lito Casaje. The show will run on November 21, 7pm at the CCP Little Theater.
You can buy tickets HERE.
Comments