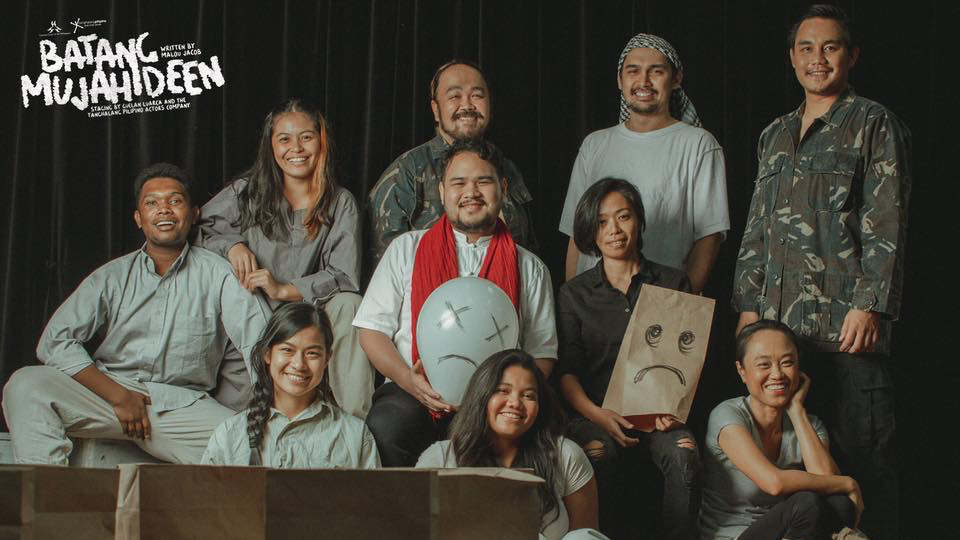 "Batang Mujahideen" wants to end the culture of discrimination
Written by Malou Jacob, a playwright who director Guelan Varela-Luarca calls a "freedom fighter," Batang Mujahideen wants you to see the Muslim-Christian conflict with a different set of eyes. 
Prior to Batang Mujahideen, Jacob has written a number of pieces that begged to tell the truth about the socio-political issues in our country. Her works include the monologue PEPE, which was toured by Tanghalang Pilipino in 33 cities, Anatomiya ng Korupsyon, which was translated into various regional languages—Hiligaynon, Bisaya, Iloko, Bikol, and produced by various theater groups through CCP Outreach, Juan Tamban, and Macli-ing, which were both staged by PETA at the Rajah Sulayman Theater at Fort Santiago.
Mujahideen is the plural form of the Arabic word Mujahid, which means, one engaged in Jihad, a holy war waged on behalf of Islam. Batang Mujahideen is a story of stories, of accounts real and made up, set in the island of Basilan.
It follows Fatima, a 7-year old Yakan (A Filipino ethnolinguistic group living primarily in Basilan) girl, who intertwines with the March 2000 Abu Sayyaf kidnapping of a priest, teachers, and students in Basilan. After witnessing an act of brutal violence, she vows silence and joins the ranks of mujahideen, disguising herself as a boy and training for the day she can confront her father's killer.
Through the play, Jacob wants the audience to see the different points of view when it comes to the Muslim-Christian conflict. 
"I am a mere Christian playwright who would like to reach the Christian majority, our audience, especially the decision-makers, the senate, the house, the LGU's, in Visayas and especially in Luzon," says Jacob. "Sana maabot namin iyung mga Christian, political, and economic decision makers who hold the power and the responsibility to address the prevailing culture of discrimination."
She shares that the recently passed Bangsamoro Organic Law- a law that establishes the Bangsamoro Autonomous Region as an autonomous political entity- will only succeed if there's a change not only on the mindsets, but on the hearts of the leaders and the Christian community.
 "There are scenes wherein there are characters that convey the sentiment of the Moro people. Why, for example, they are willing to even join the world jihad if things do not improve in their community."

"From the American period, people have been coming, and they have been using their ancestral lands, and they don't have the same opportunities, and they are in the midst of poverty. But the play also shows their point of view, why they're fighting for their rights (…) The Spaniards came in 1521. Why do we still have these remnants of discrimination for our Muslim and Lumad brothers and sisters?"
Varela-Luarca says that as a Christian from Manila, he felt anxious in the beginning, knowing that it wasn't his own story to tell.
"It's a narrative belonging to IP's in Mindanao. Ang layo. The only time I was able to visit Mindanao was with the Ateneo teachers for the rehabilitation of Marawi. But now I think is my way of reconnecting and connecting myself to that heritage. May dugo ako ng katulad ng sa kanila. That is also my history."
"The play tackles war, it tackles separation sa family, it tackles the plight of the Yakan IP's, Abu Sayyaf, recent history during the early 2000's, but ultimately, the play I think is about peace. It's about starting a conversation."
The cast features members of the Tanghalang Pilipino Actors Company—Jonathan Tadioan, Marco Viana, Lhorvie Nuevo, JV Ibesate, Doray Dayao, Eunice Pacia, Monique Nellas, and Ybes Bagadiong, as well as a guest actor, Iman Ampatuan.
When asked about her relationship with the controversial Ampatuan family, "Related po ako. Not that near, very far, born and raised here in QC. Hindi ako part ng inner circle", says Ampatuan.
She says that she is grateful to be a part of the production because there is a dearth when it comes to telling stories like this

"Bihira pa kasi ang play or any type of media na binibigyan ng pagkatao iyung mga, let's say, sila [Khadafi] Janjalani. They're all pertained to as terrorists, pero in fact they have their own histories, they have their own reasons. I'm not saying that justified lahat ng ginawa nila, but that we have to take note that they're humans as well. They all have their own way of thinking."
"And very close din kasi sa akin culturally, though I'm not from Basilan. My family is from Maguindanao and Cotabato, pero very close pa rin siya because a lot of these things, like child soldiers, they also happen to my relatives, my cousins. So magandang way siya na mag-shine ng light sa issues about these things, and that these things happen, kasi for some reason, some people don't think they're possible, but they really are, not just in the Philippines."
For the play, Varela-Luarca has opted to use experimental/devised theater, wherein the actors collaborate to help create the piece.  
"Kinuha namin iyung script ni Ms Malou, supported by research, and then we mean it when we say staging by me and the Actors Company (…) They've been creating their own materials."
"It's a drawing of energy and then just curating it and trying to find a way to orchestrate everything. In that way, the actors actually have a responsibility. They're not just vessels to tell the story, but they're storytellers themselves, meaning they stick their necks out, they own the material as much as I have a sense of ownership over it, the dramaturg has a sense of ownership over it, and of course Ms. Malou Jacob. Pero sila rin, equal footing kami lahat with the artistic team. It's highly collaborative."
Dramaturg Dominique Beatrice La Victoria, who is a playwright and dramaturg from Cagayan de Oro City, adds, "We've tried so much to ground ourselves. I've approached the Actors Company (AC) and Guelan, providing historical context, providing recent history, not just news clippings but going back to the actual history of Basilan, going back to the Yakan and how Islam and Christianity began to go into the island."
"We're trying to be as sensitive as we can, but we're not going to approach this with fear. We're going to approach this with care, with as much research that we can do, but we're not going to approach this with fear."
"I'm proud to say, every one of us has a contribution in the progression of the story", shares JV Ibesate. "Hindi lang galing sa pag-arte ang ibibigay ng AC dito. Iyung pagiging kritikal sa nangyayari ngayon, iyun I think mas importante makita sa palabas na ito."
Lhorvie Nuevo adds, "Kung mag-reresearch po tayo sa internet, i-google po natin Kadafi Janjalani, wala po tayong masyadong makikitang maganda. Puro terorismo, paano siya namatay, mga ganun po. Pero hindi natin alam iyung rason nila kung bakit nila ginagawa iyun. Mali man o tama iyun, sa paningin nila tama iyun."
Eunice Pacia also shares, "Kaya lang naman sila lumalaban kasi may mali, the same way na kung bakit tayo lumalaban sa administrasyong ito. Ganun lang din sila, naaapi, nahihirapan, kaya siguro ang sa akin ay huwag magkaroon ng judgement doon sa characters. Tingnan natin sila bilang tao."
"Ang intensyon po namin dito ay magkaroon ng bridge sa gap between Muslims and Christians," says Monique Nellas. "Nagsasama-sama para isang layunin na magkaroon ng kapayapaan in all forms."
Joining Jacob, Varela-Luarca, and La Victoria in the creative team are Antonette Go (assistant director), Marco Viana (production designer), Paw Castillo (production designer), D Cortezano (lighting designer), Arvy Dimaculangan (sound designer, music director, arranger, and puppetry), Jomelle Era (choreographer), and Joyce Anne Garcia (production designer).
The play will run from February 21 to March 8 at the CCP Little Theater.
You can buy tickets from Ticketworld HERE. You can also buy discounted tickets to the opening weekend from KTX. Tickets are also available at Ticket2Me.net.
Comments