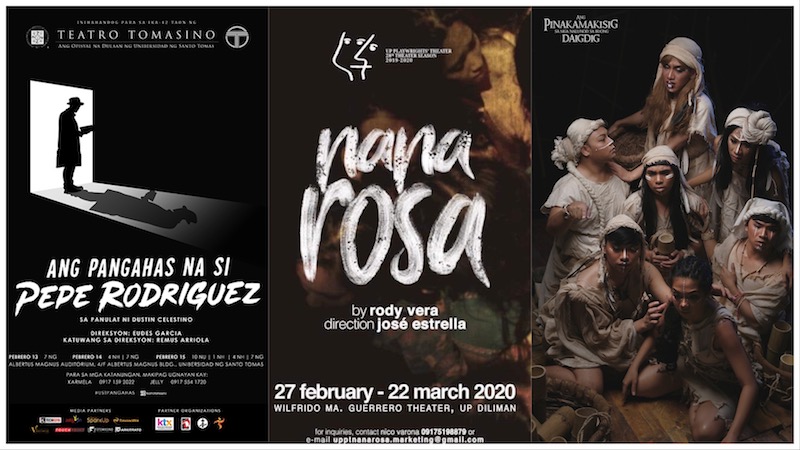 3 University and Community Theater Productions this February 2020
Get a chance to catch the re-stagings of some of the most talked about productions in the university scene.
1. Nana Rosa by UP Playwrights' Theatre
UP Playwrights' Theatre is set to rerun last year's Nana Rosa, which featured Peewee O'Hara and Upeng Galang Fernandez alternating in the titular role. This year, O'Hara reprises her role, now alternating with Bibeth Orteza.
Nana Rosa is based on the life of Maria Rosa Luna Henson, the first Filipino Comfort Woman to make her story public. The story begins with her childhood in Pampanga, to her experiences during the early years of the Second World War, to her capture, to  becoming a comfort woman, and to the series of events that led to her decision to come out with her story. The production touches on the brutality of war, the traffic of women in war, and the repeated attempts of denial and erasure of Comfort Women in history.
The show is written by Rody Vera and directed by José Estrella. Other members of the creative team include Barbie Tan-Tiongco (Technical Direction and Lighting Design), Carlo Pagunaling (Set and Costume Design), JM Cabling (Choreography), Jon Lazam (Sound Design), Ina Azarcon-Bolivar (Dramaturgy), and Joyce Garcia (Video Design).
Nana Rosa will run from February 27 to March 22 (Thursdays to Saturdays, 7pm and Saturdays and Sundays 3pm), at the Wilfrido Ma. Guerrero Theater, 2nd floor, Palma Hall of UP Diliman. Tickets are priced at P500. You can buy tickets at ktx.ph.
2. Ang Pinakamakisig sa mga Nalunod sa Buong Daigdig by BoxStageManila

BoxStage Manila, the alumni organization of FEU Theater Guild (FTG), is set to re-stage Ang Pinakamakisig sa mga Nalunod sa Buong Daigdig. Written by Risa Jopson, with music by Jeff Hernandez, and music direction by Jesus Singh III, the show was staged by the FEU Theater Guild in 2017 and 2018. FTG's Artistic Director Dudz Teraña returns to direct the production.
The musical is an adaptation of Gabriel Garcia-Marquez's The Handsomest Drowned Man in the World. It follows the lives of the inhabitants of a desolate island who, while living uninteresting lives and desperately trying to break the monotony of their every day, suddenly come across a dead body washed ashore. The townspeople battle their instincts and argue about what to do with the dead body who, as they later discovered, was the most beautiful creature they have seen.
The show is in partnership with FEU Theater Guild and FEU's President Committee on Culture (PCC). It will run from February 5-7 (6:30pm), 12-14 (6:30pm) and 15 (3pm and 7pm) at the PCC Center Studio of FEU Manila. Tickets are P250 for guests and P150 for FEU students. Contact 09171605300/ 09991525176 for inquiries.
3. Ang Pangahas na si Pepe Rodriguez by UST's Teatro Tomasino

Written by Dustin Celestino and directed by Teatro Tomasino alumnus Eudes Anthony Garcia, Ang Pangahas na si Pepe Rodriguez is a story that revolves around Brian Moya, a man who was murdered  by an unknown killer. With his dying body, Brian tries to solve the mystery by recollecting memories from his past and finding out the identity of one Pepe Rodriguez.
The play will run from February 13 (7pm), 14 (4pm, 7pm), and 15 (10am, 1pm, 4pm, 7pm) at the Education Auditorium, 5th floor, Albertus Magnus Building of UST. Tickets are priced at P200 with special discounts for bulk purchases. You can purchase them at ktx.ph.
Update, 2/9/2020: Ang Pangahas na si Pepe Rodriguez has been postponed indefinitely due to the recent nCoV.
Comments