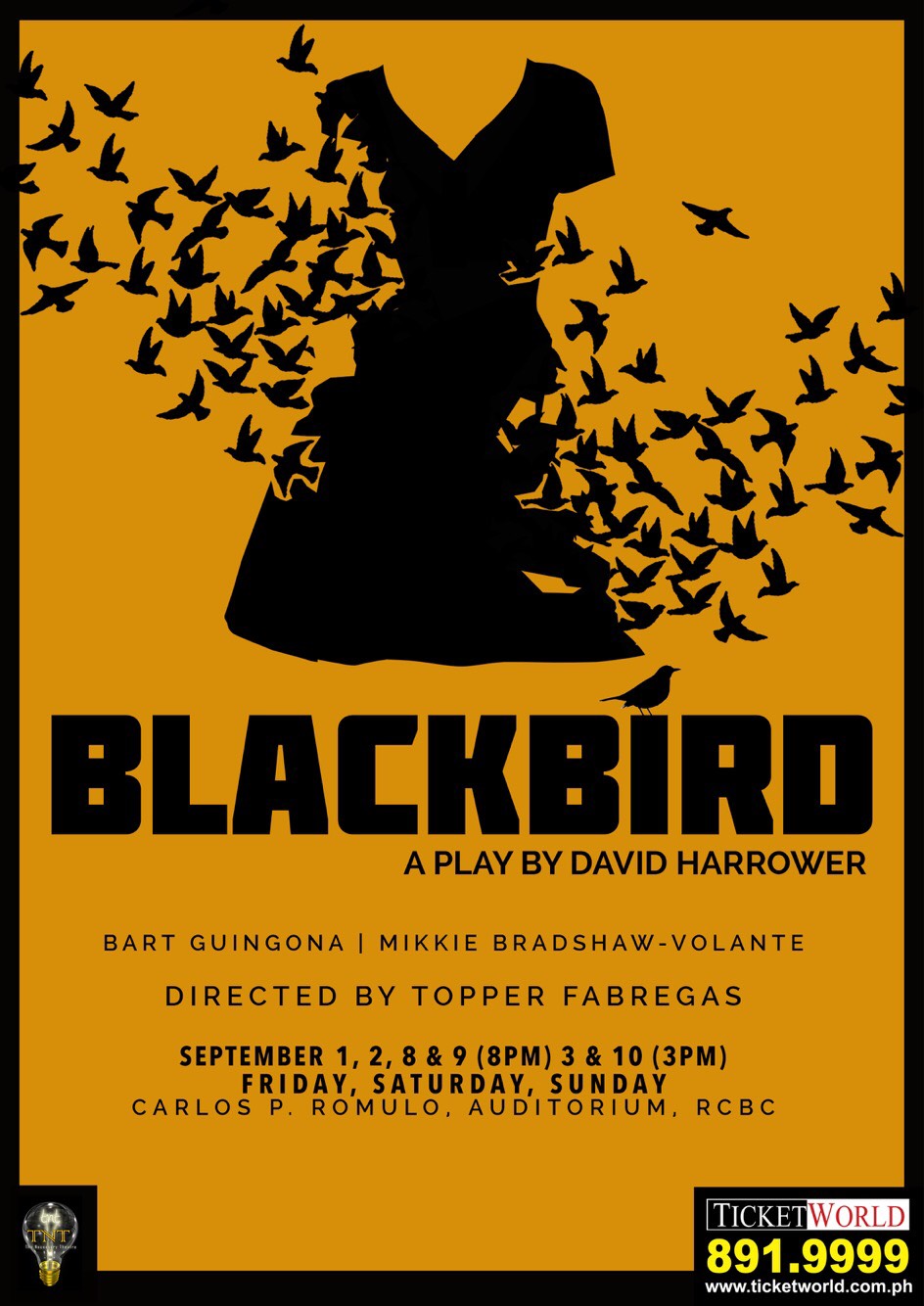 Bart Guingona and Mikkie Bradshaw-Volante Set to Star in 'Blackbird'
Bart Guingona and Mikkie Bradshaw-Volante will portray the roles of Ray and Una
in The Necessary Theatre's staging of the Olivier Award-winning play, Blackbird. The play is a deeply complex portrayal of two people whose ruined lives are inextricably intertwined.

About the Play
Una, a 27-year-old woman, comes to visit Ray, a 55-year-old man, at his office. They are clearly not comfortable in other's company, and we soon find out why: 15 years before, when Una was only twelve, Ray seduced Una over the course of three months and finally took her away to a hotel for the weekend. Ray spent several years in prison for statutory rape, and Una was ostracized from her community after the incident. Now, she has found him by accident, and the play delves into their complex feelings for each other. Though clearly, and definitional, sexual abuse has occurred, the play that ensues is also part of a love story — a horrible love story, but a love story all the same.
Cast
Artistic Team
Playwright David Harrower
Direction Topper Fabregas
Set design Joey Mendoza
Lights design John Batalla
Sounds design Jethro Joaquin
Photography Paul Lao
Poster Design Steven Tansiongco
Show Details
First Week:
September 1 (Friday) – 8PM
September 2 (Saturday) – 8PM
September 3 (Sunday) – 3PM
Second Week:
September 8 (Friday) – 8PM
September 9 (Saturday) – 8PM
September 10 (Sunday) – 3PM
Venue: Carlos P. Romulo Auditorium
4/F RCBC Plaza, Makati City
Ticket Price:
PhP 1,200.00 Orchestra center
PhP 1,000.00 Orchestra sides
and orchestra back
PhP 800.00 Loge
PhP 500 Balcony
You can buy tickets HERE.
For inquiries, please contact:
Dodo Lim Ivy Baggao
Producer Prod Manager
0928-5072924 0915-4676443
For more details about what's happening in the Manila theater scene, please view our Theater Calendar.
Erratum: An earlier version of this article mentions an 8pm show for Septembers 3 and 10. The producers have decided to cancel those shows as of this writing. The information has since been edited.
Comments