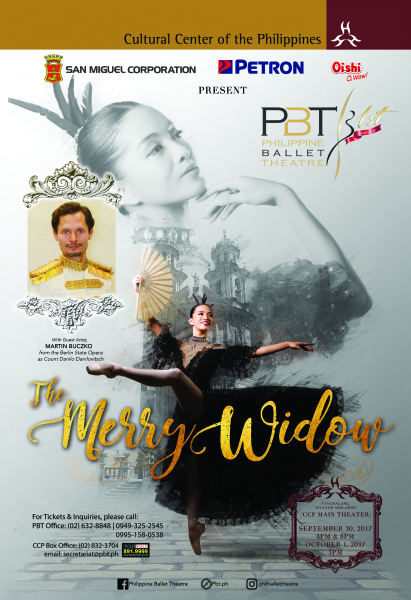 Award-winning Homegrown Dancers Topbill PBT's 'The Merry Widow'
Subtle strength, unbridled enthusiasm, and enduring grace are the hallmarks of Philippine Ballet Theatre's (PBT) young crop of dancers. Coming from a wellspring of Filipino talent, honed by the dedication of its Russian ballet master, Anatoly Panasyukov and its Artistic Director, Ronilo Jaynario, PBT's lead dancers for "The Merry Widow" add another layer of excitement through their take on the ballet's lush choreography.
"The Merry Widow" first delighted theater audiences as an operetta by Hungarian composer Franz Lehár, first shown in Vienna in 1905. The operetta was presented as a musical feast, marvelously capturing the contrast between the fiery, passionate nature of the Balkan Pontevedrians and the elegant sensibilities of Parisians, whose city is the backdrop for this story of love and intrigue.
Lehar's operetta has been used as the basis for several choreographic versions by ballet companies worldwide. This season, in its very own version, "The Merry Widow" is skillfully choreographed and presented by Philippine Ballet Theatre's Artistic Director, Ronilo Jaynario in way that's guaranteed to appeal to the Filipino audience's inherent eye for passion, melodrama and "vida/contravida" counterplay. The ballet dramatically fuses the plot's innuendoes of political intrigue with the characters' licentious and comical misadventures.
Through a series of intimate pas de deux and ballroom dance scenes, themes of courtship, romance, forbidden love and adultery receive both provocative and witty choreographic treatment. Franz Lehár's music remains as irresistibly appealing as when his operetta was first performed and provides a perfect foil for the subtlety and strength of this ballet's repertoire of characters. For this ballet, the dancers are called upon to employ their talents through not just classical ballet, but also through character dance, mime, and theater acting.
Supported by a powerhouse cast of homegrown talent, PBT's "The Merry Widow" features Irene Kim Abrogena, the highest awarded female dancer in the 2016 CCP Ballet Competition's Senior Solo Category and Veronica Atienza, 4th place winner at the 2016 World Ballet Competition (widely considered to be the Olympics of Dance) alternating in the lead role, with esteemed guest artist Martin Buczko, whose dancing and choreographic talents come to the Philippines from Germany, his current base in Europe.
It is worthwhile to note that prima ballerina Margot Fonteyn danced the role of Hanna Glawari when she was almost 60 years old, as her last major ballet role before her retirement. In an interesting counterpoint, PBT's "The Merry Widow" will be danced by young lead dancers, both between the ages of 19-21, who aim to show that they can essay this ballet's challenging mix of maturity and hilarity with grace and aplomb. It certainly is a show to watch out for!
Come and enjoy "The Merry Widow", PBT's second offering for its 31st Season, on Sept 30 at 3pm and 8pm and on October 1 at 3pm at the CCP Main Theater.
You can buy tickets HERE.
Comments