Artist Playground Set to Stage Rody Vera's 'Fly Me to the Moon'
In cooperation with the Japan Foundation, Artist Playground's latest production, "Fly Me to the Moon", is an original play penned by Carlos Palanca Memorial Awards for Literature Hall of Famer Rody Vera.
Directed by Paul Jake Paule, "Fly Me to the Moon" is the story of Melanie who embarks on a journey to Japan to help her family make ends meet. Using her charm, she boards on a ship full of flesh-hungry sea crew, and finds comfort in Jo, a karayuki-san who longs for her one true love Ibrahim. On the ship, the two draw parallels between their lives as they unfold their own stories. Soon, Melanie and Jo part ways to follow their own path, while still keeping a piece of each other's heart.
Cast
Fatima Cadiz and Dea Formacil will alternately play the role of Karayuki, Aldy Cadupay, Ai Hose Ji, and Xosh Adrio will alternately essay the role of Melanie, Clifford Gonzales, Ar Ar Ramilo, and BJ Ocampo will alternately play the role of Ibrahim, and Manu Gallardo and Jun Nayra will alternately play the role of the Captain.
The Players, Artist Playground's very own group of artists– Josh Adamero, Lliwel Agita, Aljean Badar, Leonardo Bania, Searl Escalona, Julia Garcia, Alleah Hugo, Vincent Macapobre, Reyn Mercado, Ariel Pan, Christopher Perez, Joyan Que, Beaulah Mae Saycon, Christian Silang, and Fernilyn Toladro, shall play various roles in the ensemble.
Artistic and Production Team
The Artistic Team of FLY ME TO THE MOON is led by Paul Jake Paule (Director), Roeder Camañag (Artistic Director & Choreographer), Jesse Lucas (Music By), Mailes Kanapi (Artistic Consultant) Jeffrey Camañag (Production Design Consultant) Searl Escalona (Assistant Director) John Mark Yap (Lay-out Designer & Projection Design) Aly Mondonedo (Photographer) Sem Pabion & Princess Tuason (Dramaturg) Rowena Jarito(Sound Designer), Kimberly Claire Somoza (Lighting Designer) and Reynoso Mercado (Production Designer).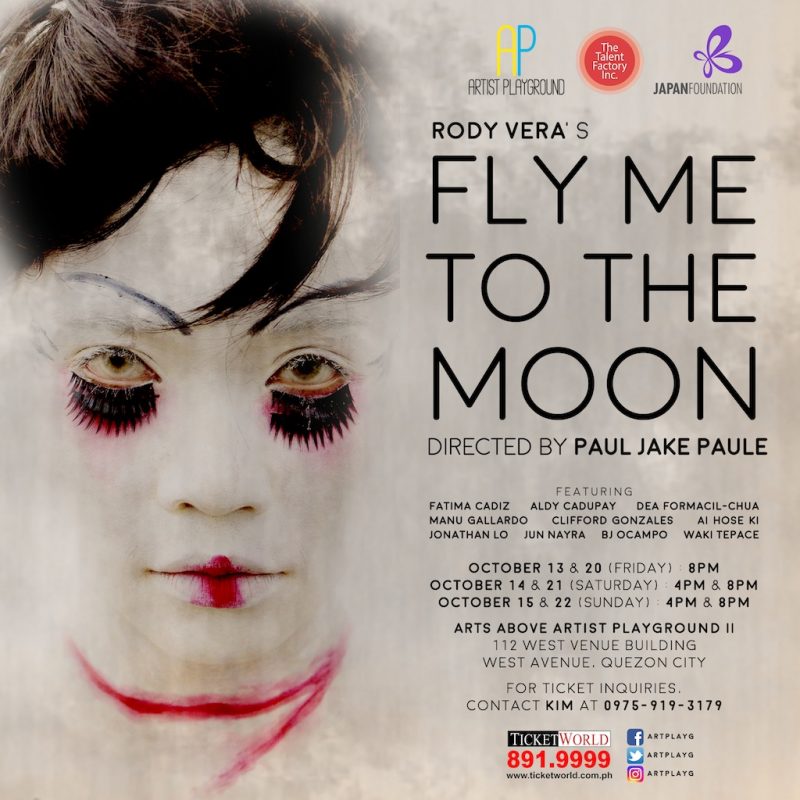 The Production Team OF FLY ME TO THE MOON is led by Kimberly Claire Somoza (Production Manager), Jessa Bisnar (Assistant PM), Joselito "Toots" Tolentino (Publicist), Mary Rose Agapito (Stage Manager), Ariel Pan (Deputy Stage Manager), Beaulah Mae Saycon (ASM ) , Star Alferez & Anna Clarisa Timbal (Spinner), Alex Gallo & Alleah Hugo (Costume Mistress) Julia Garcia & Christian Silang (Prop head), Fernilyn Toladro (Sponsorship) and Set team : Glenn Caspe, Josh Adamero and Joyan Kiu.
Show Details
'Fly Me to the Moon' will run from October 13 – 22, 2017.
Fridays (Oct 13 & 20) 8pm, Saturdays (Oct 14 & 21) 4pm & 8pm, and Sundays (Oct 15 & 22) 4pm & 8pm.
Venue: ARTIST PLAYGROUND, Arts Above, 112 West Venue Building, West Avenue, Quezon City.
You can buy tickets HERE.
For inquiries, please call 09759193179 c/o Kimberly Claire Somoza.
Visit Artist Playground's website at https://www.artistplayground.ph; Facebook, Twitter & Instagram : @artplayg
For more details about what's happening in the Manila theater scene, please view our Theater Calendar.
Comments