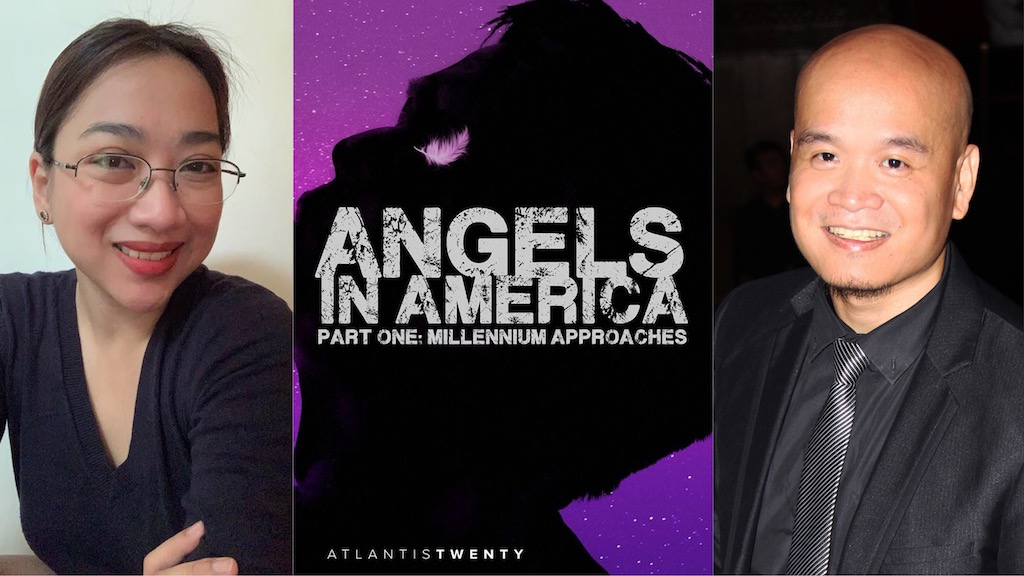 "Angels in America" to Feature Original Music
Tony Kushner's "Angels in America: Millennium Approaches" kicks off Atlantis Theatrical Entertainment Group's 20th Anniversary Season. Cast members include Art Acuña as Roy Cohn, Topper Fabregas as Prior Walter, Angeli Bayani as Harper Pitt, Nelsito Gomez as Louis Ironson, Markki Stroem as Joe Pitt, Cherie Gil as Hannah Pitt, Andoy Ranay as Belize, and Pinky Amador as The Angel.
Bobby Garcia, who first directed the Asian premiere of "Angels in America" close to 25 years ago, has enlisted the wife and husband team of Louise Ybañez-Javier and Ceejay Javier to score the magnum opus.  Garcia says, "As its subtitle suggests, 'Angels in America' is a fantasia, and its epic nature requires a sweeping and soaring musical score. I reached out to Ceejay to see if this was something he would have the time to do as our 20th Anniversary would be incomplete without him."
Ceejay Javier was Atlantis' music director for over 25 productions over 10 years.  He has since become Hong Kong Disneyland's Music Director. Together with his wife, Louise Ybañez-Javier, a film and television music scorer and composer, they established Maverick Music back in 2013. Some of their notable projects include DUP's "Ang Nawalang Kapatid".
Of joining the "Angels in America" creative team, Louise, whose musical influences include her mentor and conductor Chino Toledo, Gustav Mahler, Claude Debussy, and Arnold Schonberg, says, "The challenge of creating music for multiple storylines that occasionally intersect along with the very interesting characters was an opportunity I could not resist especially now that I am a full-time mom residing here in Hong Kong."
Ceejay, whose musical influences include Stephen Sondheim, Jason Robert Brown,  Serge Prokofiev, Lin-Manuel Miranda and Hans Zimmer, says that he couldn't pass up the opportunity to be a part of Atlantis' 20th Anniversary, even if it means acting more in an advisory capacity suggesting musical ideas and motifs while Louise does most of the actual composing work.
Listen to a snippet of the music by Louise Ybañez-Javier in the video below.
"Angels in America: Millennium Approaches" runs from March 22-April 7, 2019 at the Carlos P. Romulo Auditorium, RCBC Plaza, Makati.  
You can buy tickets
HERE
.
Comments