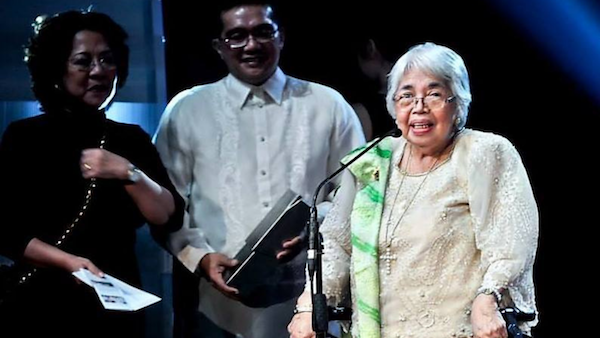 Amelia Lapeña-Bonifacio, National Artist for Theater, Dies at 90
Teatro Mulat ng Pilipinas has shared through a Facebook post that National Artist for Theater, Amelia Lapeña-Bonifacio, passed away at 7am this morning. She was 90 years old.
In lieu of flowers, donations may be given to Teatrong Mulat ng Pilipinas Foundation, Inc. through GCash 09189032040 (Ma Amihan R), BDO S/A 006520231060 (Ma. Amihan Ramolete), or LandBank S/A 3076 1038 86 (Ma. Amihan Ramolete).
The wake will be held from December 30-31, 9AM to 6 PM, at Imperial Classic, G/F Funeraria Paz Araneta Ave. IATF health protocols will be observed.
Lapeña-Bonifacio, known as the "Grand Dame of Southeast Asian Children's Theater," was officially conferred as a National Artist in 2018. She was the founding Artistic Director of Teatrong Mulat ng Pilipinas, the official theater company and puppetry troupe of the University of the Philippines, which she established in 1977.
She also received the 2015 Natatanging Gawad Buhay! award for Lifetime Achievement.
Comments