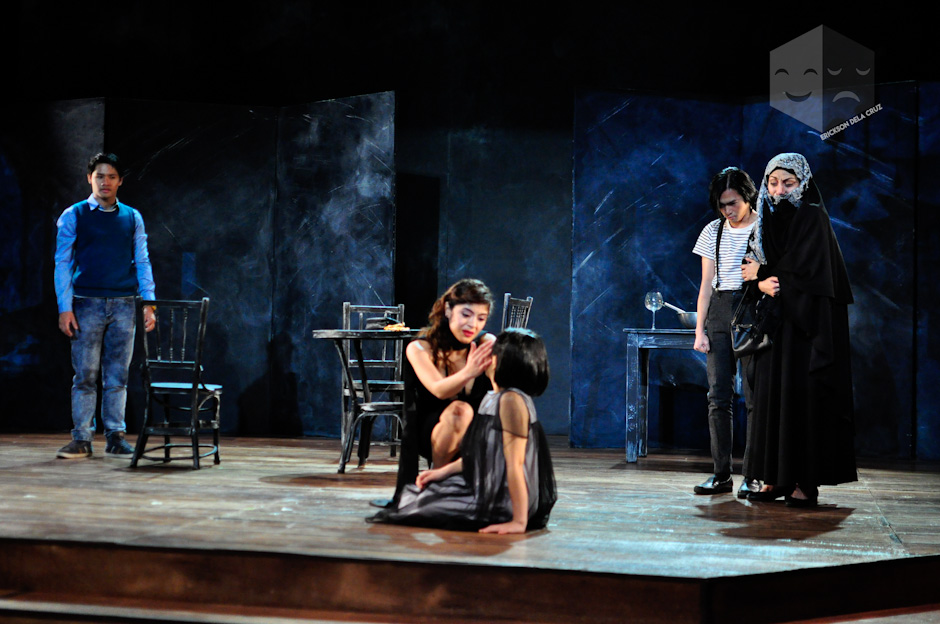 A Modern Classic, A Recent Hit, and New Work Mark Dulaang UP's 43rd season
Banaue Miclat-Janssen, who succeeds Dexter Santos as Dulaang UP's (DUP) new Artistic Director, introduced Dulaang UP's 43rd season during the press launch held at the Wilfrido Ma. Guerrero Theater.
The company's theme for this season is Hudyat, which Miclat-Janssen says means "…tanda o senyas upang simulan ang anuman."
Three plays will be featured this season—the first two by DUP and the third and final production by the UP Playwrights' Theatre (UPPT), a company founded under DUP to exclusively stage works of Filipino playwrights. The offerings are the companies' call to arms, a response to the signs of the times and an initiative towards innovation. "Three calls, I think, is enough of a hudyat for our students to prepare for exciting times ahead," adds Miclat-Janssen.
The first production is Luigi Perandillo's Six Characters in Search of an Author, with a Filipino translation by Rody Vera entitled Anim na Tauhang Naghahanap ng May-akda.
Written in 1921, the play is a meta-drama about six characters looking for an author to finish their tragic stories. According to Miclat-Janssen, it "…challenges the audience's perception about reality."
Tony Mabesa, Dulaang UP's Founding Artistic director, is set to direct the production. He shares that he did the play during the very first season of DUP. "It's a modern classic. It's almost a hundred years old." He adds, "It's a wonderful notion of exploring the mysterious dichotomy of illusion and reality, which is so perfect for theater."
The rest of the play's artistic team includes Ohm David (set design), Meliton Roxas, Jr. (technical direction and lights design), Bonsai Cielo (costume design), Carlo Pagunaling (make-up), Jack Alvero (sound and music design), Winter David (video design), Dino Dimar (photography), Steven Tansiongco (poster and graphics design) and Ian Ramirez (dramaturgy).
The cast includes Nico Varona, Issa Manalo Lopez, Hariette Damole, Tristan Bite, Reynald Santos, Jy Kim, Shenn Apilado, Joshua Ade Valenzona, Rachel Jacob, Esteban Fulay Jr., Almira Garcia, Alecks Ambayec, Andrew Estacio, Jeanne Ascue, Renz Bernardo, Jake Dangco, Enzo Abustan, Terry Gutierrez, Elaiza Toledo, and Christian Valencia.
The play will run from September 5-30 at the Wilfrido Ma. Guerrero Theater.
DUP's second play of the season is a rerun of  Shimizu Kunio's The Dressing Room: That Which Flows Away Ultimately Becomes Nostalgia/ Ang Dressing Room: Kung Saan Lubusang Pangungulila ang Dulot ng Agos ng Panahon. The play relives the aspirations, memories, and resolutions of four actresses waiting for their cue. By turns tragic and comic, this drama offers insights about actors, the theatre, aging, surviving and moving on. The show was last staged in 2016 and was directed by Alexander Cortez.
The play is adapted by Chiori Miyagawa, with English translation by John K. Gillespie and Filipino translation by Nicolas Pichay. It will run from November 7-25. Cortez will resume his role as director for the re-staging. Final casting has yet to be announced.
The third and last production is Nana Rosa, an original play by Rody Vera that will be staged under UPPT. It is a biographical work about the life of Rosa Henson, the first Filipino to publicly come out as a Comfort Woman in 1992.
Assistant director Issa Manalo Lopez says it's an important piece of work that gives us a look into the struggles of Filipino women during the war. "… iyung mga lola na nagkaisa para makapagpahayag ng kanilang katotohanan lalo na dahil napakapait nito at nirereflect din niya ang pinagdaanan ng Pilipinas noon sa panahon ng Japanese occupation." She adds,  "Importante rin na makita kung paano nabuo ang pagdedesisyon ni Nana Rosa para magpahayag ng kanyang katotohanan at kwento."
The show will run from February 20-March 10, 2019. Final casting has also yet to be announced. The play will be directed by Jose Estrella.
For tickets to the shows, please contact Erika Lava (0906 224 1034) or Gio Dexter Santos (0916 555 2782).
Comments