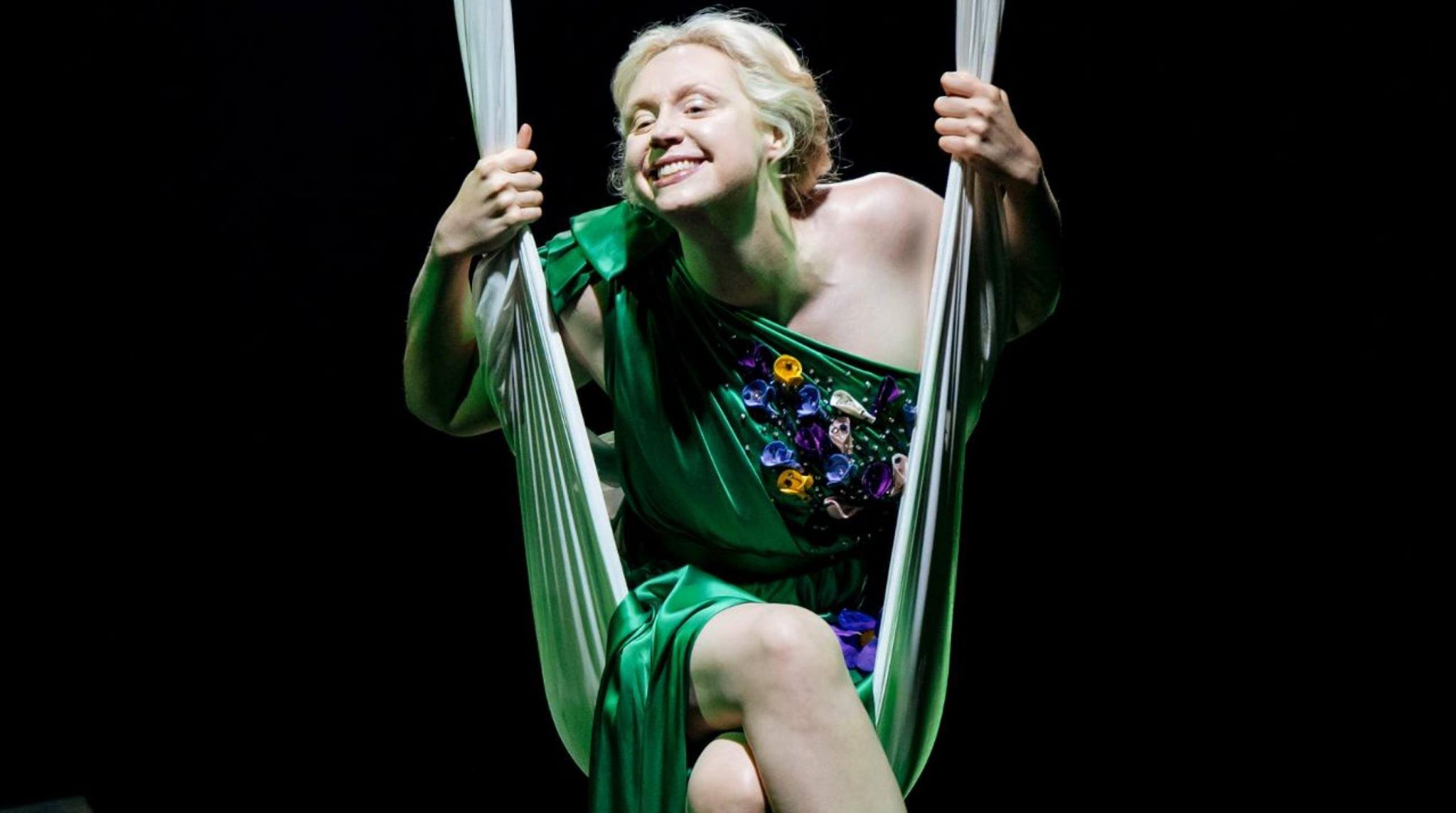 "A Midsummer Night's Dream" to Stream Online
Shakespeare's most famous romantic comedy about feuding fairy royalty, mixed-up love potions, runaway lovers, and amateur actors will be available online this week.
A Midsummer Night's Dream stars Gwendoline Christie (Game of Thrones) as Queen Titania, Oliver Chris (Twelfth Night) as King Oberon, David Moorst (Allelujah!) as Puck, and Hammed Animashaun (Barber Shop Chronicles) as Nick Bottom. Joining them in the cast are Tessa Bonham Jones as Helena, Isis Hainsworth as Hermia, Kit Young as Lysander, and Paul Adeyefa as Demetrius.
The play will be streamed as part of the UK National Theatre at Home initiative. The 2019 production was filmed live at the Bridge Theatre and directed by Nicholas Hytner. This particular production was an immersive experience, bringing the audience into the middle of the action and featuring exciting set pieces like levitating, ivy-entwined brass beds as well as elaborate circus acts to accentuate the magical setting of the play.
Other members of the creative team include Bunny Christie (Production Design), Christina Cunningham (Costume Design), Bruno Poet (Lighting Design), Paul Arditti (Sound Design), Grant Olding (Composer), Arlene Phillips (Movement Director), James Cousins (Associate Movement Director), and Susanna Peretz (Wigs, SFX, Hair & Make-up). 
A Midsummer Night's Dream tells several entwined tales all set in an enchanted forest. The King and Queen of the Fairies, Oberon and Titania, engaged in a fierce dispute, enlist the sly sprite Puck to sow chaos by administering a powerful love potion. Meanwhile, four runaway lovers and a troupe of actors just trying to rehearse a play get caught in the fray, leading to hilarious consequences. Magic, mischief, and mayhem ensue.
"The course of true love never did run smooth."
The stream will be available on the National Theatre's Youtube Channel from June 25 at 7pm (London time) to July 2.
This will be the fourth and final Shakespearean play to be streamed free by the National Theatre, following Coriolanus, Antony and Cleopatra and Twelfth Night. The latest to stream was the epic Small Island, following The Madness of George III, This House, A Streetcar Named Desire, Barber Shop Chronicles, Frankenstein, Jane Eyre, Treasure Island, and One Man, Two Guvnors.
Check out the trailer for A Midsummer Night's Dream below:
Comments