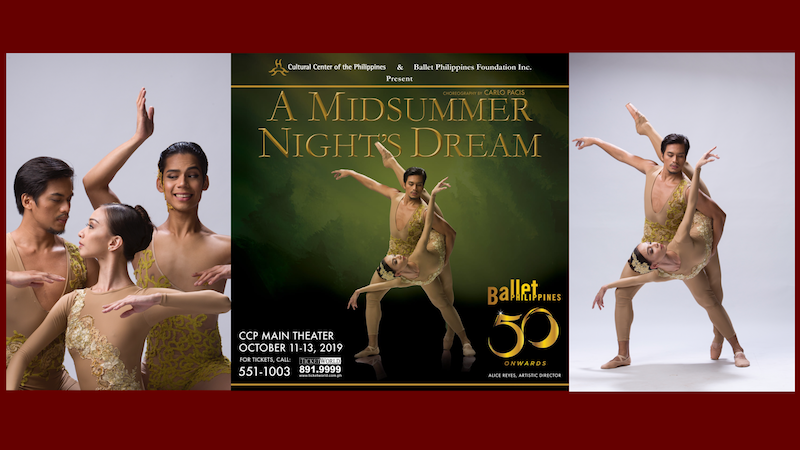 "A Midsummer Night's Dream" On Stage for Ballet Philippines' 50th
Hong Kong-based choreographer Carlo Pacis reimagines Shakespeare's A Midsummer Night's Dream for the CCP Main Theater stage. It marks Ballet Philippines' second production (after Swan Lake) for its 50th season.
Felix Mendelssohn's classic score is merged with Pacis' neo-classical spin on the classic tale, breathing new life to the enchanting story about fairies and sprites wreaking havoc on the fates of young lovers trying to find each other through the dark forests of love under the light of the moon. Pacis says in his choreographer's notes: "Perhaps it is this fascination and preoccupation we have about love that enables the artists of Ballet Philippines to so easily delve into the roles."
According to Pacis, love is the most prominent theme in Shakespeare's A Midsummer Night's Dream. Seemingly inescapable and being the great equalizer, it overlaps the royal, common, and supernatural characters in the story. He adds, "At a time when indifference, prejudice, and hate are all too common, it is the arts that can bring us to who we are and remind us of who we can be. I hope that our rendition of A Midsummer Night's Dream can help us all to remember what joy there is in love and that we all have the ability to love, no matter where we are from."
Ballet Philippines' homegrown dancers Denise Parungao, Ronelson Yadao, Jemima Reyes, and Victor Maguad will be sharing the roles of Oberon, Titania, and Puck. Joining Pacis in the creative team is Eric Cruz, who serves as scenic designer.
Pacis' early days can be traced back to dancing at the CCP Main Theater in the 80's as the dream child of Esther Rimpos in Anton Juan's Yerma for Ballet Philippines' Likha. He would then graduate as Valedictorian and Outstanding Artist in Dance of Batch Delarama ('93) from the Philippine High School for the Arts, and after graduating with a BFA in Dance with First-class Honours from The Hong Kong Academy for Performing Arts (HKAPA) in 1998, he joined the Hong Kong Ballet as a senior soloist.
He received the Hong Kong Dance Alliance Award in 2002 for his technical artistry and the depth of his dramatic reading of roles and in 2006, the company was invited to perform his work, There's a Fly in This Soup, at the 1st Asia Pacific Ballet Festival held in Seoul, Korea. He created the additional choreography in Act I for the company's production of Swan Lake in August 2007 as Choreographic Apprentice under John Meehan and in October that same year, he choreographed for Opera Hong Kong's production of Aida, which also toured to Seoul.
In 2009, Pacis earned his Master of Fine Arts in Dance degree from HKAPA and his work for Ballet Philippines, Shifting Wait, won the Gawad Buhay 2010 Philstage Award for Outstanding Choreography for a Dance Production. His full-length work of A Midsummer Night's Dream for Ballet Philippines also received five accolades from Gawad Buhay 2013, including the awards for Outstanding Modern Dance Production and Outstanding Choreography for a Dance Production. He was again awarded in 2017 for Outstanding Choreography for a Dance Production from Philstage for his work with Ballet Philippines, Weighted Whispers. Pacis was also the Commissioned Choreographer for the competition solos of The Royal Academy of Dance Genée International Ballet Competition when it was held in Hong Kong in August 2018. 
The show will be running from October 11-13 at the CCP Main Theater.

You can buy tickets HERE.
Comments