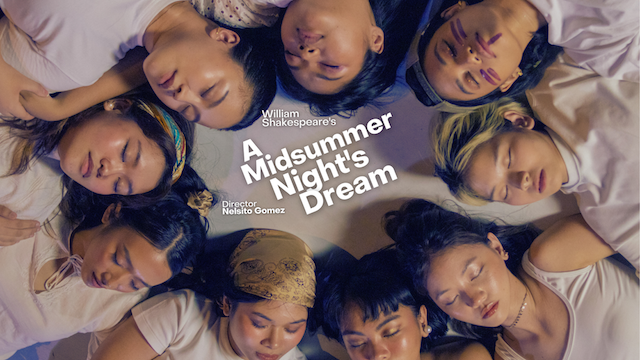 'A Midsummer Night's Dream' All-Female Cast to Run this July
The Playbook Club (PBC) is set to stage an all-female production of William Shakespeare's A Midsummer Night's Dream for a limited run this July.
Directed by Nelsito Gomez (who also serves as sound designer), the upcoming production is a reimagination of the Shakespeare classic that aims to explore the fun, the comedic, and the whimsical wildness of the drama. A Midsummer Night's Dream is the second production in PBC's Groundlings, the company's flagship program that aspires to invite audiences to experience classical and Shakespearean texts close to the ground. Its first production of Groundlings was held at the Casa Gorordo Museum in Cebu in 2022.

The cast features Nikki Bengzon as Oberon/Theseus, Erika Rafael as Titania/Hippolyta, Enna Yap as Bottom, Dippy Arceo as Puck/Philostrate, Barbara Jance as Egeus/Peter Quince, Chez Cuenca as Helena/Snob/Cobweb, Pia Cruz as Hermia/Starveling/Mustardseed, Giselle Georgia as Lysander/Peaseblossom, and Teia Contreras as Demetrius/Flute/Mote.
A Midsummer Night's Dream is a romantic comedy written by William Shakespeare that primarily takes place in a forest inhabited by fairies. The plot revolves around the adventures of four young lovers and a group of amateur actors who find themselves entangled in the magical world of the fairies. The play explores themes of love, illusion, and the unpredictable nature of human desire.
The Playbook Club (PBC) is an independent grassroots collection of actors and artists putting up small-scale productions for fun online and offline. The group was founded at the start of the pandemic by Enna Yap, Erika Rafael, and Agatha Enecio in their resolve to find connection through theater in isolation. Today, PBC continues as a theater collective for hosting script readings, writing original works, and providing talents for various media projects with passion, joy, friendship, and sustainability at its core.
PBC's primary team is now joined by Chez Cuenca, Teia Contreras, Nikki Bengzon, and Dippy Arceo. The community is built on voluntary participation, open to international members (i.e. Cebu, Los Angeles, London, etc.), as it proudly dons the title of being the safe space for "where people meet theater, and theater meets people".
Also in the artistic team of A Midsummer Night's Dream is Sarah Facuri, who serves as associate director and scenic designer.
The show will run on July 27, 29-30, 7pm at The Mirror Studio Theater, Kalayaan Avenue, Makati City. Tickets are P350 (free seating). You can reserve tickets here.
Comments