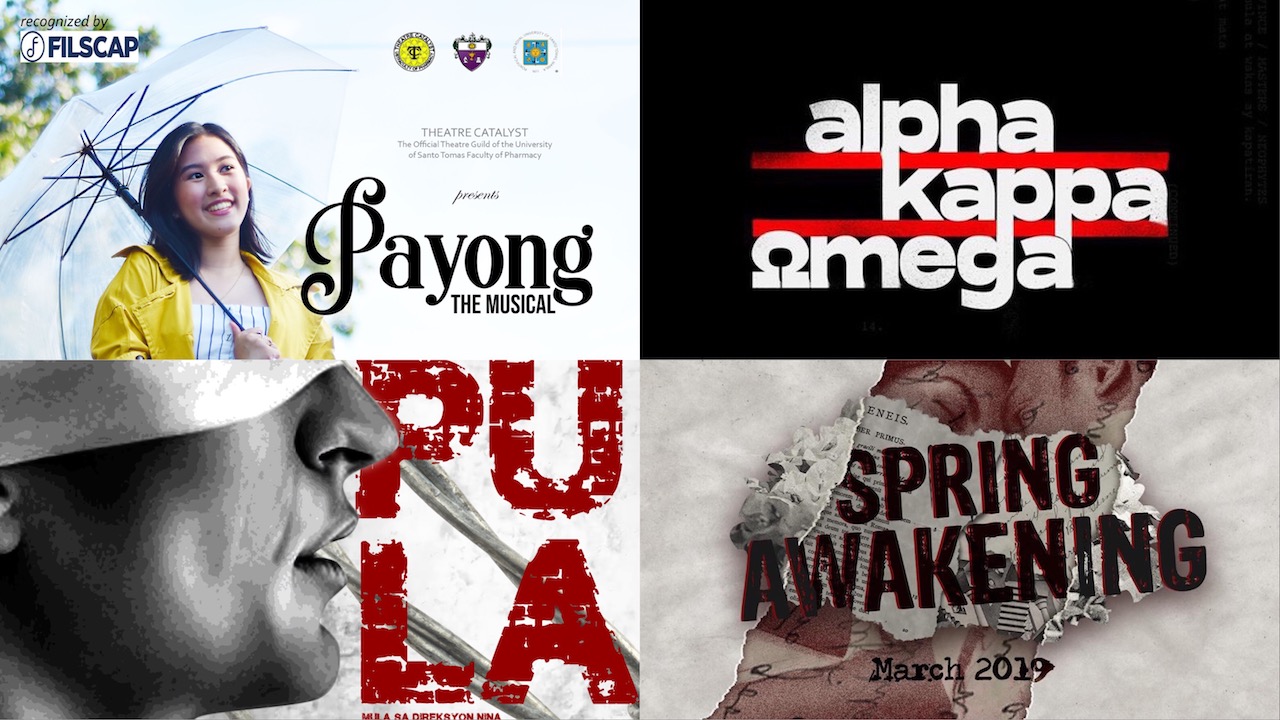 9 University-based and Independent Productions for March 2019
Here are 9 university-based, community theater, and independent productions that you can catch this March.
1. PULA by ACT MNL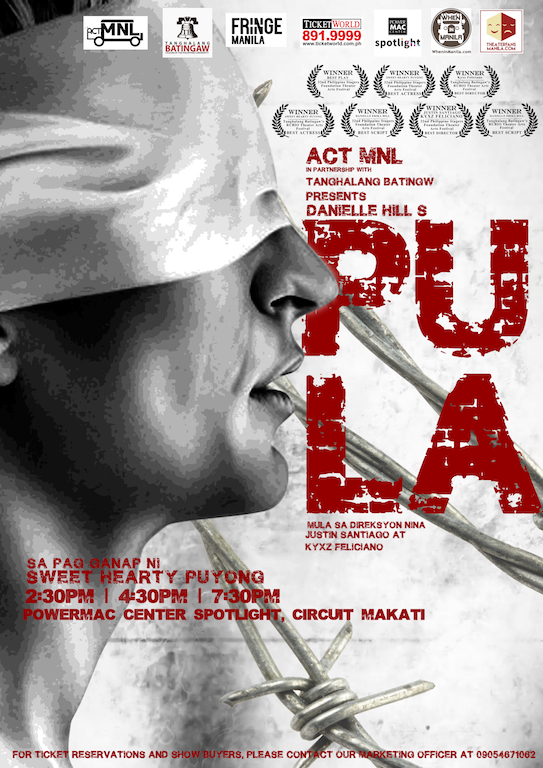 ACT MNL, a theater group composed of independent artists, will be staging Danielle Hill's PULA at the Power Mac Spotlight Center of Circuit Makati as part of Fringe Manila.
The story is set in January 26, 1970. Inside Malacanang Palace, moderate student leaders are having an audience with then-President Ferdinand Marcos, trying to talk him out of running for a third term and into addressing the issues raised by the citizenry. Meanwhile, radicalized civilians are outside, protesting and preparing to storm the palace. They are not interested in dialogue anymore.
Nobody knows who threw the first Molotov cocktail. But somebody did, and it would cause the meeting inside to be cut short, giving way to a full-on confrontation that history would call The Battle of Malacanang, the battle that heralded the violent First Quarter Storm.
The play is directed by Justin Santiago and Kyxz Feliciano. It will run from March 1-2 at 2:30, 4:30, and 7:30pm. Tickets are priced at P350 and P300 for students and Senior Citizens. For tickets, contact 0905-4671062.
2. Ang Pagsalubong sa Apatnapu by Teatro ni Juan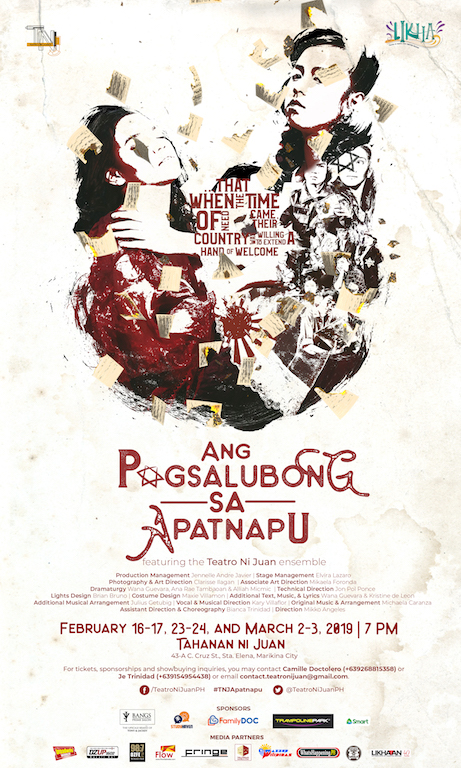 'Ang Pagsalubong sa Apatnapu', a new musical that re-envisions real-life events from the early '40s, officially opened on February 16 at Tahanan ni Juan (43-A C. Cruz St., Sta. Elena, Marikina City).  It will have its final two shows on March 2-3 at 7pm.
A deranged writer recounts how the Jewish refugees found their way to the Valley, escaping the terrors of Kristallnacht. President Manuel Quezon welcomes the 'Manilaners' to his abode in the small city of Marikina. Together with the Marikeños, they establish an intercultural nexus with a deeper bond as a community; a forewarning for the turmoil yet to come — the requisitioning of the Japanese Imperial Army over the islands.
Featuring the Teatro ni Juan ensemble, the musical is a tread through the remarkable contribution of Marikina to the Philippines' historical narrative — one that has long been unnoticed by the history books and one that is worth telling the generations to come.
The show is directed by Mikko Angeles. Other members of the artistic team include Jonpol Ponce (Technical Direction), Brian Bruno (Lights Design), Madeline Villamon (Costume Design), Wana Guevara & Kristine De Leon (Additional Text, Music and Lyrics), Julius Getubig (Additional Musical Arrangement), Kary Villaflor (Vocal and Musical Direction), Michaela Caranza (Original Music and Arrangement), Bianca Trinidad (Assistant Direction & Choreography), and Wana Guevara, Ana Rae Tambaoan and Alliah Micmic (Dramaturgy).
Tickets are available at P150 with limited seating. For tickets, contact Je Vincent Trinidad (+639154954438) or Camille Doctolero (+639268815358 ) or email contact.teatronijuan@gmail.com.
3. Kung Paano Maghiwalay by FEU Theater Guild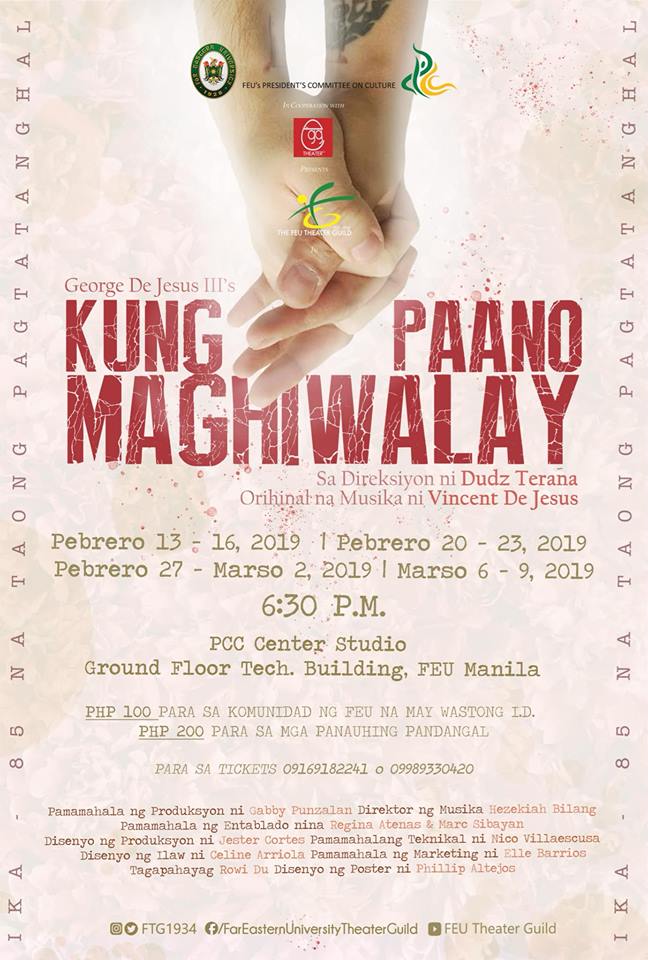 The FEU Theater Guild stages George De Jesus III's 'Kung Paano Maghiwalay', under the direction of the company's Artistic Director, Dudz Teraña. The play will tell multiple stories about love and separation.
The show, which started its run in February, continues its run on March 2, 6-9, 6:30pm at the PCC Center Studio of the Ground Floor of the FEU Technology Building, FEU Manila. Tickets are priced at P200, and P100 for FEU students.
For ticket inquiries, contact 09970765168.
4. Lampara by Dulaang Engineering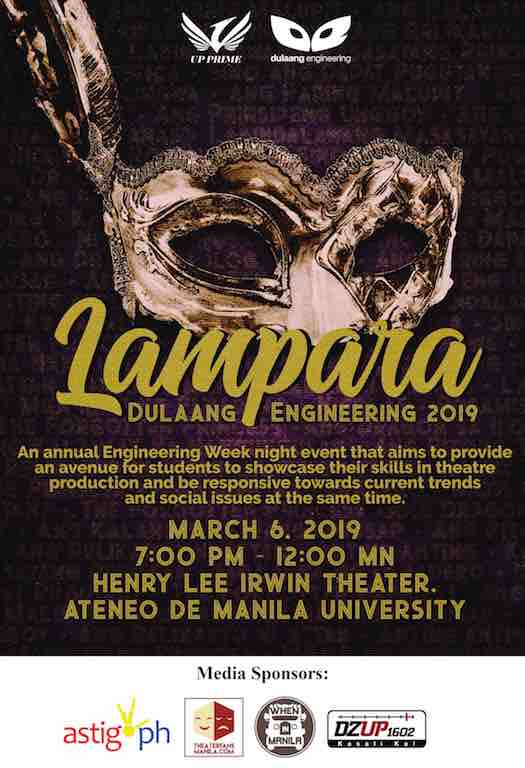 Lampara will feature a series of 10 original plays by 10 competing engineering organizations. It is an annual event that aims to provide an avenue for students to showcase their skills in theater production.
The titles of the plays include 'Mga Butong Nangungusap', 'Nicolas', 'Tandaan Ninyo ang Panadero', 'Labindalawa', 'Ang Nakalimutang Rebolusyonarya', 'Ang Hari sa Ahedres', 'Glasshouse', 'Tagu-taguan sa Paraiso', 'Ang Prinsipeng Unggoy', and 'Ang Huwaran ng Tapang'.
The event will be held on March 6, 7pm-12mn at the Henry Lee Irwin Theater of the Ateneo de Manila University.
5. Nana Rosa by UP Playwrights' Theatre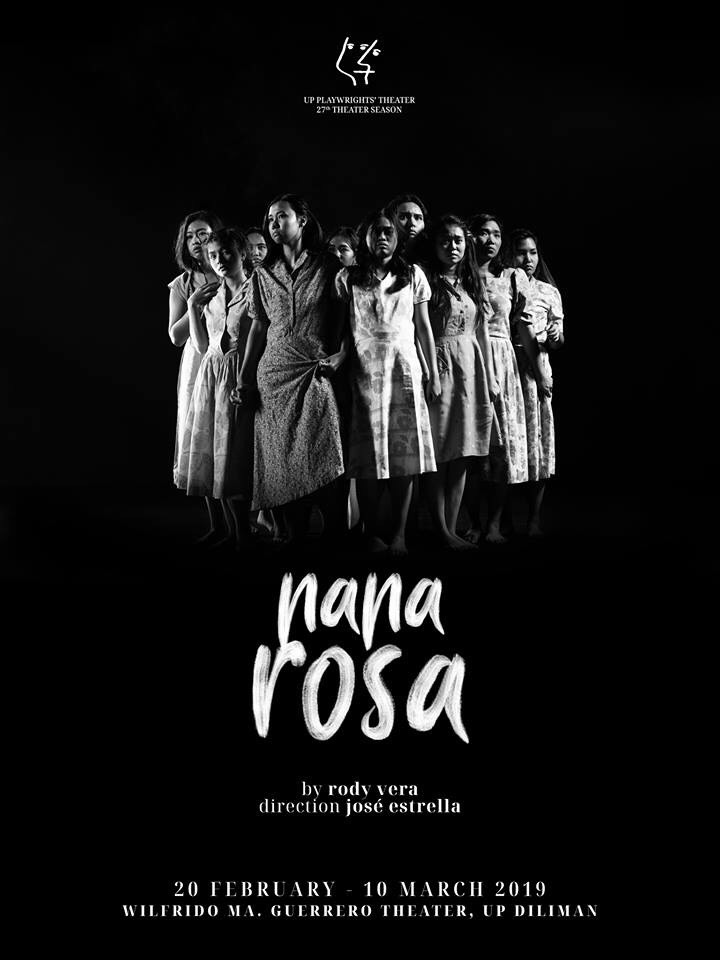 Directed by José Estrella and written by Rody Vera, 'Nana Rosa' tells the story of Maria Rosa Luna Henson, the first Filipino Comfort Woman to make her story public. The show recounts her life starting from WWII, where she became a comfort woman, up to 50 years later, when she decided to come out with her story. Upeng Galang Fernandez plays the titular role.

The play touches on the trafficking of women, the brutality of war, and the repeated attempts of denial and erasure of Comfort Women in history. The play started its run on February 27 (moved from the initially announced February 20) and will continue to run from March 1 to 17 at the Wilfrido Ma. Guerrero Theater, 2nd floor, Palma Hall, UP Diliman, Quezon City. Tickets are priced at P500, with discounts for bulk purchases and senior citizens.
6. Dula Salle 2k18: Panatang Makabata by DLSU Harlequin Theatre Guild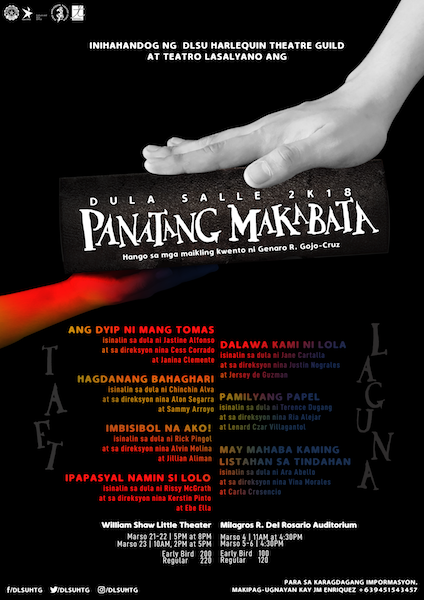 The DLSU Harlequin Theatre Guild will be staging a series of plays in two of its campuses– DLSU Laguna and DLSU Manila.
The first series of plays that will be staged in the Laguna campus include:
1. Dalawa Kami ni Lola by Jane Cartalla tackles the growth of a child from living innocently with his grandparent.
2. Pamilyang Papel by Terence Dugang tackles a child's longing for a real family in an orphanage.
3. May Mahaba Kaming Listahan sa Tindahan by Ara Abello embodies the significance of poverty in the daily lives of a Filipino and how a child can overcome it in his own simple ways.
These will run on March 4 (11am and 4:30pm), 5 (4:30pm), and 6 (4:30pm) at the Milagros R. Del Rosario Auditorium. Tickets are priced at P120.
The next series of plays that will be staged in the Manila campus include:

1. Ang Dyip ni Mang Tomas by Jastine Alfonso revolves around the inculcation of the jeepney culture in our society, especially in San Pablo.
2. Hagdanang Bahaghari by Chinchin Alva tackles the perspective of a children on mental health.
3. Imbisibol Ako! By Rick Pingol is about the death and subsequent mourning for a friend.
4. Ipapasyal Namin si Lolo by Rissy McGrath tackles the issue of filial piety and the art of letting your grandparents go.
These will run on March 21 (5pm and 8pm), 22 (5pm and 7pm), and 23 (10am, 2pm, 5pm) at the William Shaw Little Theater. Tickets are priced at P220.
DuLa Salle is a yearly exercise directed and staged by selected members and alumni of the guild. You can contact JM Enriquez (0945-1543457) for inquiries.
7. Ako: Alpha Kappa Omega by Tanghalang Ateneo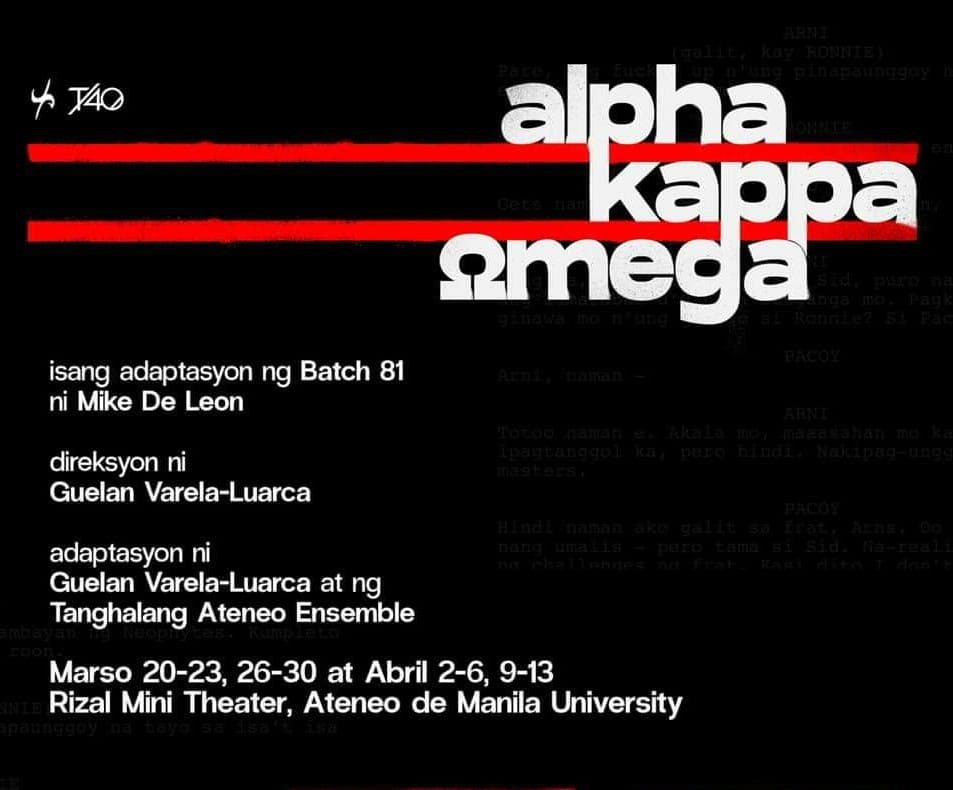 Tanghalang Ateneo's season-ender is an adaptation of Mike de Leon's classic film 'Batch 81', penned and directed by Guelan Varela-Luarca. Following the film's main themes, 'AKO: Alpha Kappa Omega' is a meditation on the social ills of fanaticism, fascism, and violence. Apart from being a direct critique of machismo and fraternity hazing, the play also indirectly investigates the phenomenon of Dutertismo and the rabid fascination with strongman rule and dictatorship.
Besides Varela-Luarca, the artistic team also includes Monica Sebial as Set Designer, D Cortezano as Lighting Designer, and Xander Soriano as Sounds Designer. Guest actors will be made up solely of Tanghalang Ateneo's alumni. The play will run from March 20-April 13 at the Rizal Mini Theater of the Ateneo de Manila University.
8. Payong: The Musical by The UST Pharmacy Theatre Catalyst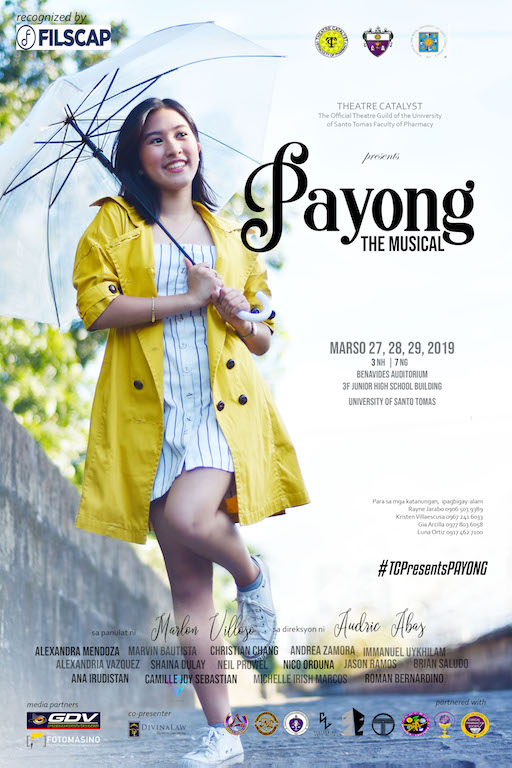 The UST Pharmacy Theatre Catalyst, the university's official theater guild for the Faculty of Pharmacy, stages "Payong: The Musical" this March 27 (7pm), 28 (3pm and 7pm) and 29 (3pm and 7pm) at the UST Junior High School Auditorium.
Finding love and true happiness amidst the storm that passed through their lives, Payong: The Musical is a reflection of every Filipino who gets through any tragedy with a smile and karaoke songs. It is a story of love, loss, and renewal told through OPM (Original Pilipino Music).The production started off as a simple ten-minute presentation at the University of Santo Tomas Clinical Division-Pediatrics Ward to educate patients about the preparations for a flood or calamity years ago. The book is written by Marlon Villoso, with musical direction by Cathryn Gargar and Pia Marie Paulican. It is directed by Audric Abas. The songs used in the production are recognized by FILSCAP.
For tickets and other inquiries, contact Rayne Jarabo (09065039389), Kristen Villaescusa (09672416033), Gia Arcilla (09778036058), or Luna Ortiz (09174627100).
9. Spring Awakening by Ateneo blueREP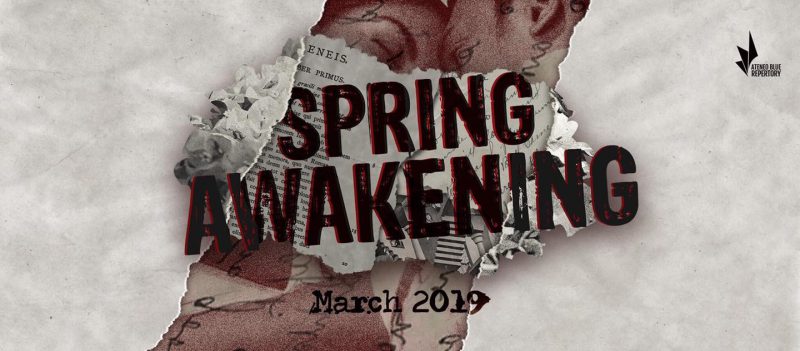 Ateneo blueREP stages the Broadway musical "Spring Awakening" this March 30-April 14. Set in 19th-century Germany, the production tells the story of teenagers who try to discover their sexuality amidst a highly conservative society. The music is written by Duncan Sheik, with a book and lyrics by Steven Sater.
The cast is led by Sandino Martin and Ian Pangilinan as Melchior, and KC Kane and Erika Rafael as Wendla. The show is directed by Missy Maramara and co-directed by Darrell Uy, with musical direction by Ejay Yatco, choreography by Mica Fajardo, set design by Ohm David, lighting design by Miyo Sta. Maria, and costume design by Gayle Mendiola and Leika Golez.
The musical will be staged at the Hyundai Hall of Arete in the Ateneo de Manila University. For ticketing details, contact Pia Ventura (09267145057) or Isagani Tan (09177906739).
Comments