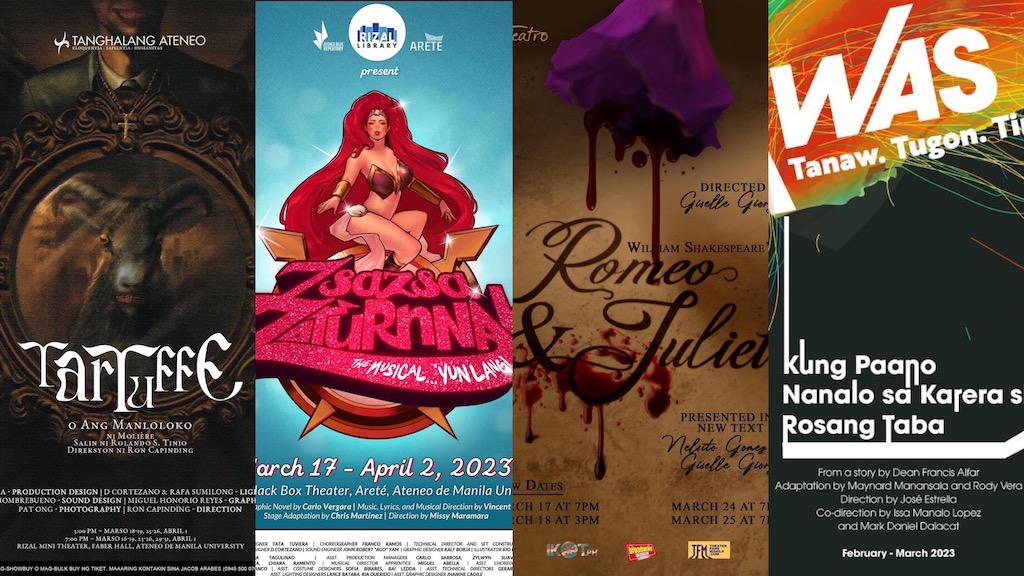 8 University-based Productions this March 2023
There are 7 live productions and 1 online production that you can watch this March across 7 universities. Here are the 8 university-based productions in chronological order of their respective runs.
1. "Halu Halo" by FEU Theater Guild (live production)
After a three-year hiatus from live theater, the FEU Theater Guild (FTG) returns with a major production that explores the depths of lived experiences, emotions, and circumstances of many and of the people behind the curtain.
Halu Halo consists of 10 original and adapted short plays written and directed by Mr. Dudz Teraña, the Artistic Director of the FTG. The production explores and challenges the notions of the current generation's diverse, contemporary, and ever-evolving views seen in its different faces; featuring the lives of people in theater, life borne from the stage, and its 'colorful' scenes, seen through the lens of the 1940's.
Halu Halo, which started on February 17, will run until April 28, 2023 at the FEU Center for the Arts Studio. The show dates are on February 24, March 3, 4, 10, 11, 17, 18, 24, 25 and 31, and April 1, 14, 15, 21, 22, and 28 at 6:30 PM. Tickets are priced at PhP 200 for FEU students, FTG and FEU alumni (with FEU alumni ID) and PhP 300 for non FEU guests. For inquiries, contact 0977 494 5944 / 0969 574 3548 or on FTG's social media accounts.
2. "Isko't-Iska" by Isko't-Iska Task Force (UPLB, live production)
Traditionally shown free of charge to University of the Philippines-Los Banos students and to the members of neighboring communities, the play aims to amplify the calls of the different sectors in our society, solidifying its title as the "Dulang mula sa Masa, Para sa Masa." This year, the production will focus on portraying the role of the people in the fight against disinformation and historical revisionism.
The production will be staged in the university's DL UMALI Auditorium on March 8-9, 2023, 7pm.
3. "Pabalik, Pahilaga"  by Artistang Artlets (UST, online production)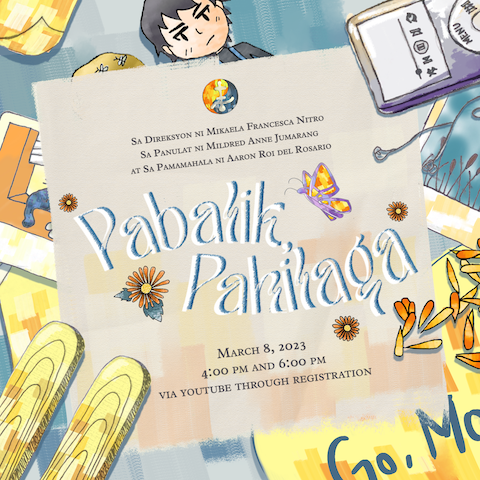 Written by Mildred Anne Jumarang, the play follows the story of two close friends navigating through their shared memories stored in a four-walled capsule.
Sa kabila ng matagal na panahon, tinupad pa rin ng magkaibigang sina Viv at Mori ang pangakong muling magkita at balikan ang ibinaon nilang time capsule. Kasabay sa paghukay nito ay ang mga alaalang iginuhit ng kahapon at mga pangarap na kinulayan ng ngayon. Ito na nga ba ang magbibigay kasagutan sa mga katanungang inihanda ng bukas?
Pabalik, Pahilaga is directed by Mikaela Francesca Nitro and produced by Aaron Roi del Rosario. It will be streaming on the group's YouTube channel for free on March 8, 4pm and 6pm.
4. "L.E.G.I.O.N." by Dulaang ROC (UA&P, live production)
Directed and written by Christian Vallez,
L.E.G.I.O.N.
is an action-comedy about a group of 5 kidnappers on the verge of getting caught, but they're harboring a deeper secret.

The show will run on March 10, 20, 22-24, 27, 29-31, and April 1.
5. "Tartuffe" by Tanghalang Ateneo (live production)
Tartuffe
o Ang Manloloko
, a classic theatrical comedy, will make use of Rolando S. Tinio's Filipino translation of the play, to be adapted and directed by Ronan B. Capinding. Its non-student cast comprises Goldie Soon while its student cast includes Yeshua Celebrado, Johnrick Noynay, Jurgen Coyoca, Lawrence Miranda, Alex Amansec, Noel Angelo Severa, Kenneth Delfin, Jazzel Ortiz, Ced Tolentino, Lars Salamante, Lawrence Viesca, Maliana Beran, Angelica Denise Dabon, and Erin Ty.
The pious fraud Tartuffe's influence over socially-conscious Orgon and his mother Madame Pernelle leads Orgon's family to make the pair discover Tartuffe's hypocrisy and pretentious divine authority. However, a series of events unintentionally embed Tartuffe, once a vagrant, well into the family that they risk losing everything if he gets his way. Together, Orgon's family tries to unravel the reality within Tartuffe and escape their family's impending disgrace and dispossession.
The production will run at the Rizal Mini Theater, Ateneo de Manila University on March 16-19, March 23-26, and March 29-April 1. Tickets will be priced at P300 for Ateneo students, P270 for scholars, and P350 for outsiders. These tickets can be purchased through Google Forms or onsite at Ateneo de Manila University.
For inquiries, contact Fie Isungga at 0917-553-0695 or via email at tanghalangateneo.externals@gmail.com.
6. "Zsazsa Zaturnnah the Musical… 'Yun Lang!" by Ateneo blueREP (live production)
Presented by Rizal Library, and Co-Presented by Areté,
Zsazsa Zaturnnah the Musical… 'Yun Lang!
is a cult classic comedy based on the graphic novel by Carlo Vergara, with music and lyrics by Vincent A. DeJesus, and stage adaptation by Chris Martinez.
The show deals with otherworldly proportions about what it means to be queer in the Philippines. Sometimes, in the end, it takes something out of this world to bring you the truth of who you are, the range of what you can do, and the love that's been right beside you this whole time.
The cast features Kim Molina as Zsazsa, Phi Palmos, Adrian Lindayag, and Shaun Ocrisma as Ada, Joshua Cabiladas, Almond Bolante, and Robert Bradley Hao as Didi, Juan Carlos Galiano, Jude Matthew Sevilla, and Elian Dominguez as Dodong, Kakki Teodoro and Anyah de Guzman as Queen Femina Suarestellar Baroux, Carlin Maximo, Jelena Evangelista, Dani Tan, and Heart Romeo as Amazonistas, Kyla Rivera as Aling Britney, and other members of the Ateneo Blue Repertory as ensemble.

The show is directed by Missy Maramara. Other members of the artistic team include Tata Tuviera (production and costume design), Franco Ramos (choreography), Adriane Ungriano (technical direction), D Cortezano (lighting design), Ralf Borja (graphics design),  and Rio Reyes (illustrations).

The show will run from March 17, 2023, to April 2, 2023, at the Doreen Fernandez Black Box Theater, Areté of Ateneo de Manila University. For ticket inquiries, contact Dani Villa 09171394640 or send an email to bluerep.house@gmail.com.
7. "Romeo and Juliet" by MINTeatro (Mint College, live production)
MINTeatro will be staging another Shakespeare production,
Romeo and Juliet
, in a newly edited text by Nelsito Gomez and debuting director Giselle Giorgia.
The show dates are March 17, 24, 25 at 7 PM and March 18 at 3 PM. All shows will be staged at MINT College Taguig Campus, Playhouse. Tickets are priced at P350.
8. "Kung Paano Nanalo sa Karera si Rosang Taba" by Dulaang UP (live production)
Dulaang UP is set to stage
Kung Paano Nanalo sa Karera si Rosang Taba,
based on Dean Francis Alfar's short story entitled
How Rosang Taba Won the Race.
It is adapted by Rody Vera and Maynard Manansala, and directed by Jose Estrella, with co-directors Issa Manalo Lopez and Mark Daniel Dalacat.
The short story won the Palanca Award in 2006 (Short Story for Children) and was published in English and Filipino by Lampara Books. The cast features theater veterans Peewee O'Hara, Skyzx Labastilla, Jojo Cayabyab, Victor Sy, and Aldo Vencilao, with Kiki Baento playing the title character.

It will run from March 23 to April 2 at the UP Theater Main Hall Stage. You can get tickets at Ticket2Me. For inquiries, contact 8981-8500 local 2449 or 09178811591 (Camilo De Guzman) / 09175198879 (Nico Varona). You can also email dulaangup.upd@up.edu.ph.


Comments