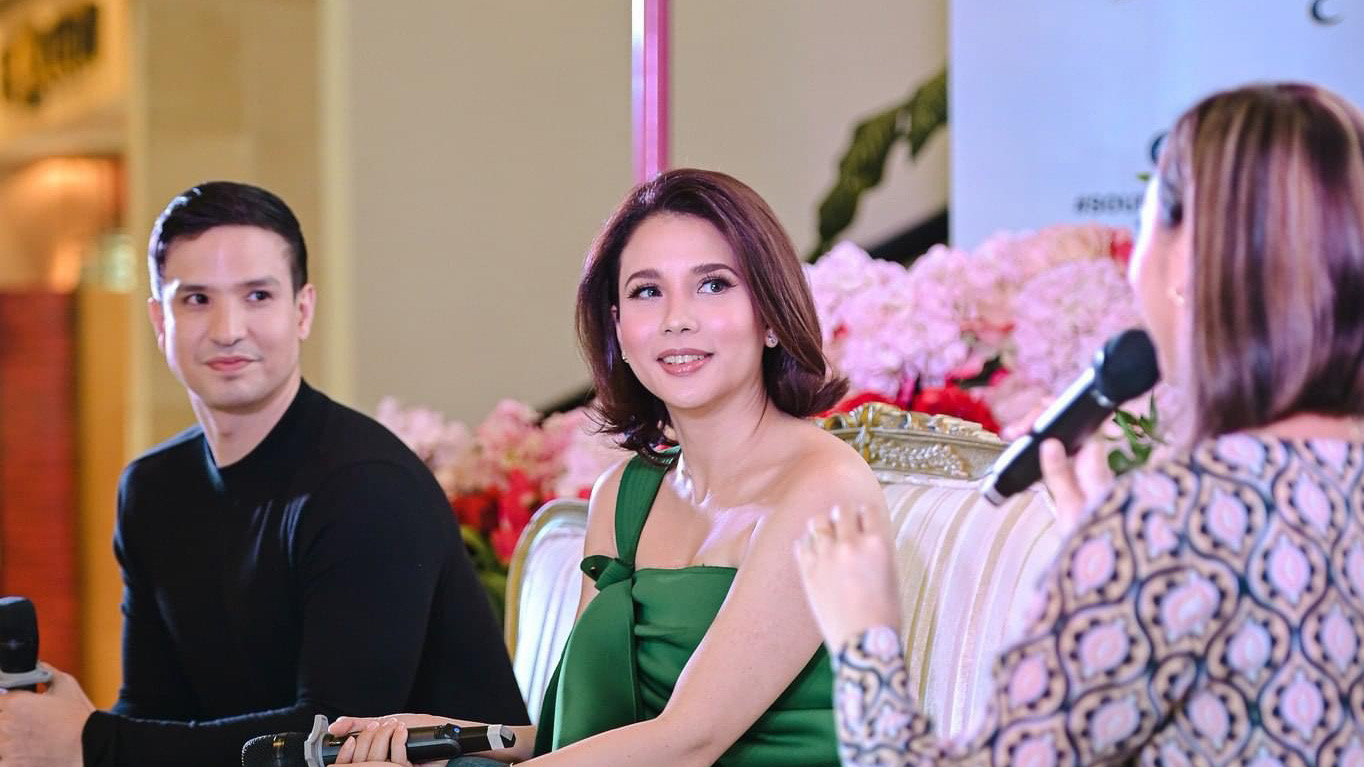 Karylle and Markki Stroem Talk 'Sound of Music' Experience
The Sound of Music is returning to Manila at the Samsung Performing Arts Theater in Circuit Makati this March. Last February 17, GMG Productions announced that the Manila leg of the international tour will include a couple of homegrown talents in Karylle Tatlonghari and Markki Stroem as Baroness Elsa von Schraeder and Rolf.
The Sound of Music was Rodgers and Hammerstein's final musical and focuses on the adventures of the Austrian Von Trapp family, whose lives are forever changed by the arrival of the incomparable Maria as the children's new governess. Maria brings music back into their lives and eventually becomes a part of the family. The show opened on Broadway in 1959 and won five Tony Awards, including Best Musical.
The show was previously staged in the Philippines in 1975, 1980, and 2006 by Repertory Philippines, in 2011 to 2012 by Resorts World Manila, and most recently, in 2017 by Concertus Manila.
Tatlonghari's Baroness von Schraeder is Maria's rival for Captain Von Trapp's affections, while Stroem's Rolf is the love interest of Liesl, the eldest Von Trapp child.
The road that led these two talented performers to The Sound of Music was a long one, with an extensive audition process and an anxious wait for the results. When they finally learned that they had gotten the parts, they were ecstatic and eagerly shared the news with those closest to them. After the formal announcement of their casting, they expressed their eagerness and excitement to be a part of a show that means so much to them.
Childhood connection to the show
Both Tatlonghari and Stroem grew up with The Sound of Music. 
Tatlonghari reminisces fondly about listening to all the songs from the show with her family. "And whenever we go to Baguio, kailangan kakanta ng 'the hills are alive.' Sa [Camp] John Hay," said Tatlonghari, "So [during] Christmas break, there was always singing 'the hills are alive.'  So now the hills are alive in Manila."
Stroem shared that The Sound of Music was the first stage musical he ever watched, and he did so in Germany, where he lived from the age of 9 to 12. He added that having seen the show in Germany gave him some invaluable insights into playing his character Rolf, a Nazi soldier who is torn between his love for Liesl and his loyalty to his political party.
"That is the conflict of the story, and that is where my character usually takes a lot of it from," said Stroem, "He's a soldier and having watched it in Germany, I understand how much they were so against this regiment. And having seen that, I was able to understand it in a different way from people who were part of the opposition and how they were trying to come back from that, from what they did in the past and trying to make amends for what they did. All I can say is that, getting both sides, I get to understand who Rolf is much more."
He also credits The Sound of Music for getting him into theater because three of his aunts, who were nuns, recognized his musical talent and enrolled him in a Repertory workshop. "That's why I teared up when I found out because it's just like a full circle thing," Stroem added.
New mountains to climb
This will be the first international production for both Tatlonghari and Stroem, and they are looking forward to learning as much as they can from the experience. Stroem mentions that this will truly test their skills as theater performers as they "climb every mountain to follow their dreams."
"It's great because we'll get to learn and we get to meet different people from other countries. We'll get to learn from them and step into a musical that was already staged elsewhere and really integrate ourselves into that which I find fascinating and the only way to be able to do something like that is to have had the experience that maybe Karylle and I have had," Stroem adds.
Tatlonghari admits that she didn't expect to do another musical so soon after Carousel, where she played the female lead, but she is grateful and excited to take this new journey, "I don't know what I'm most excited about. One, the [Samsung Performing Arts] theater, the sound, is amazing. Two, of course, being in an international touring group, that's something I never imagined I could do. And three, just hearing the music from The Sound of Music all the time. Ang sarap sa pakiramdam. And four, just having everyone be excited with me. It's a gift," she shares.
The enduring appeal of Rodgers and Hammerstein's musicals
This will be Tatlonghari's third time headlining a Rodgers and Hammerstein's musical, following Cinderella in 2013 and Carousel in 2022. 
When asked what makes Rodgers and Hammerstein shows so timeless, she talks about the power of musicals that people grew up with to bring them joy and heal the wounds they acquire in adulthood. "So I think when a lot of people are excited about Sound of Music, it's because it brings them back to a simpler time, to their inner child that just goes around and sings and twirls and enjoys life," muses Tatlonghari.
She also mentions that the show is essentially the story of a family. Growing up as part of a musical family herself, with her mother Zsa Zsa, her sisters Zia and Coco, and being married to a rock musician, Tatlonghari understands the power of families making music together.
She describes how special it is to watch performances by other musical families, such as those of Jose Mari Chan and Gary Valenciano. "So that's also the magic of The Sound of Music. You see a family singing together, and there's this beautiful thing that's happening, and that's why the story is still so relevant to this day," reflects Tatlonghari.
Stroem adds that The Sound of Music is a good starting point for people who have never seen musical theater and goes so far as to call it a rite of passage. "It has the basics of theater in all ways, shapes, and forms. It is so well-created, so well-formed, and [has so many] fantastic characters that you will root for each and every single one of them, even the bad guys," says Stroem, "There's a part of you that wants something to happen or wants that redemption for all of these characters."
Tatlonghari and Stroem are looking forward to bringing this timeless classic back to the stage, both to welcome back audiences who already love the show and to also introduce a new generation of theater fans to this story of a family who triumphs over adversity because of love and the power of music. Along with the show's full company, these two performers are ready to make the hills come alive with The Sound of Music.
Comments