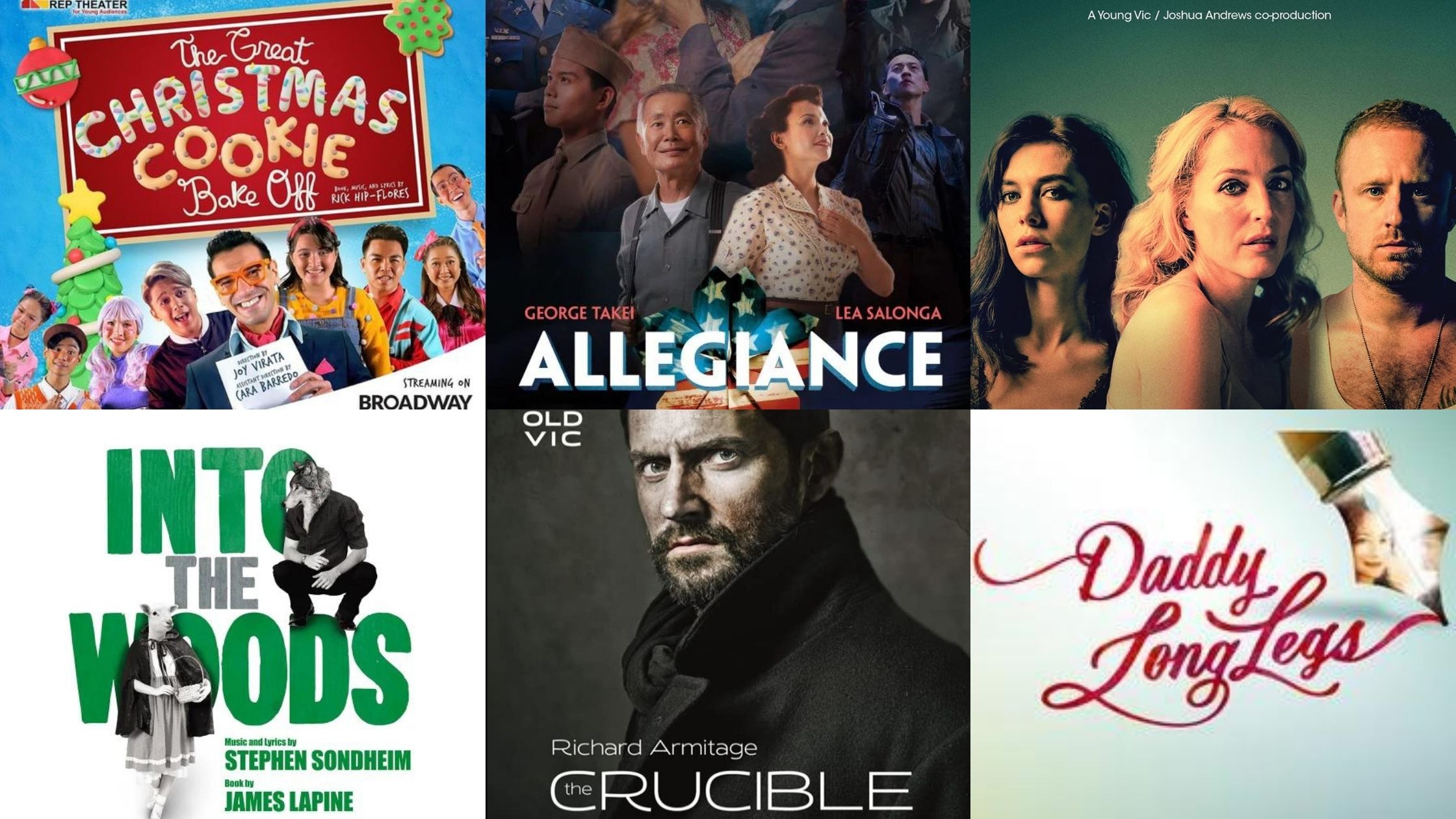 8 Sites to Stream Proshots
There's nothing like watching a stage show live but while we're still on lockdown, we have the next best thing. 
Luckily, many productions on Broadway, the West End, and other venues have been recorded professionally and we can access them online. Several streaming services have large catalogues of filmed musicals which can be enjoyed by audiences all over the world.
In this list we are referring to productions that have been professionally filmed on stage and not those that have been adapted to movies (of which there are many these days, another gift to theater fans). Audiences can sometimes get the treat of seeing the original Broadway or West End casts performing iconic roles and songs while also being able to appreciate the elaborate sets and other production values of these stage shows.
Some major streaming services may have stage musical pro-shots in their catalogue, such as Netflix with the upcoming Diana the Musical, Apple TV+ with Come from Away, Amazon Prime with Spongebob the Musical, and Disney+ with Hamilton. There are also documentaries about musicals that are currently streaming. The sites on this list offer a curated catalogue of legally accessible pro-shots. 
Check them out:
Digital Theatre has a considerable catalogue of professionally-filmed productions. The site has The Crucible with Richard Armitage, a production of Into the Woods, and many Shakspearean productions including the popular version of Much Ado About Nothing starring David Tennant and Catherine Tate. Other theatre content includes productions from the RSC, Stage Russia, and shows from the West End and across the United Kingdom.
Launched in December 2020 by the UK's National Theatre, this brand-new streaming platform makes their acclaimed productions available online to watch anytime, anywhere worldwide. Over the last several years, the National Theatre has already been professionally filming their productions and then distributing these in cinemas around the world. 
For 16 weeks from the beginning of April until the end of July 2020, productions were made available for free on the National Theatre's YouTube channel every Thursday, which were then available on demand for the following seven days. 
Following the response from the audience, NT decided to launch this streaming platform to provide access to more of their shows including Amadeus (2016) with Lucian Msamati, Coriolanus (2014) with Tom Hiddleston, Medea (2014) with Helen McCrory, Othello (2013) with Adrian Lester, Phèdre (2009) with Helen Mirren, The Cherry Orchard (2011) with Zoë Wanamaker, and Yerma (2017) with Billie Piper.
Founded in 2015, BroadwayHD is a streaming service for theater fans that was, according to a company statement, "created with the goal of making high-quality theater accessible to everyone globally." 
As previously reported, BroadwayHD offers a free 7-day trial of its services such as access to an extensive library of productions from Broadway, the West End, and other venues around the world. These include musicals like An American in Paris, Oklahoma!, Kiss Me Kate, She Loves Me, and Jekyll and Hyde; straight plays like Long Day's Journey into Night, Incident at Vichy, and Shakespearean productions like King Lear, Macbeth, and Othello.
Marquee TV bills itself as the "premium streaming services for arts and culture," boasting of a catalogue that includes performances from the Royal Opera House, New York City Ballet, Opera Zurich, the Royal Shakespeare Company, London Philharmonic Orchestra and many more. 
As previously reported, the Shakespearean productions include Antony and Cleopatra, Coriolanus, Cymbeline, Hamlet, Henry IV Part 1 & Part 2, Henry V, Julius Caesar, King Lear, Love's Labour's Lost, Love's Labour's Won (Much Ado About Nothing), The Merchant of Venice, Othello, Richard II, The Tempest, Titus Andronicus, and The Two Gentlemen of Verona.
Launched in 2020, Broadway On Demand has an extensive catalogue including original series, educational content, and filmed live productions. Aside from recordings of over 100 shows from around the world, the streaming service also features a library of video lessons from leading theatre instructors, and allows users to watch some live performances.
Soon it will include Repertory Philippines' The Great Christmas Cookie Bake-Off in their library from November 12 to December 12!
Launched in September 2020, this is the British division of Broadway on Demand and it has similar aims of making theater content accessible to all. Among the productions in its catalogue are NAMT's 32nd Annual Festival of New Musicals, two concerts filmed live at St Paul's Church – A West End Christmas and We Need a Little Christmas, and E15 Jazz Sessions recorded live from Stratford Circus Arts Centre. 
Founded in 2018 by Paul Gordon (composer of Daddy Long Legs), Tom Polum and Stacia Fernandez, the streaming platform has a growing catalogue of musicals, from one filmed live and several "soundstage" musicals which were filmed without an audience. Included in their catalogue are musical adaptations of Jane Austen's Pride and Prejudice and Emma as well as the modern Charles Dickens adaptation Estella Scrooge.
More than just a vast library of audiobooks, Audible also has a division that offers streams of stage productions from one-man shows to multicast performances, from psychological thrillers to heart wrenching and inspiring personal stories. Many of these shows are Audible originals such as Men's Health starring Tony Shalhoub and Santino Fontana, Legal Immigrant starring Alan Cumming, The Year of Magical Thinking performed by Vanessa Redgrave, and many more!
Comments