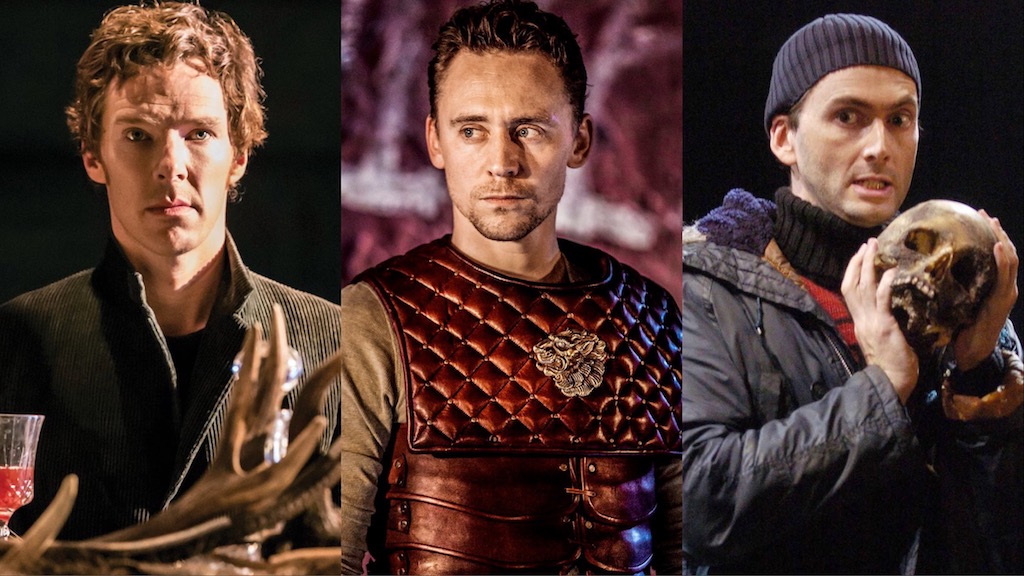 10 Shakespeare Streams for Halloween
"By the pricking of my thumbs, Something wicked this way comes…"
Blood and betrayal, murder and mayhem – nothing like the tragedies of Shakespeare to celebrate the most haunted time of year.
But more than the witches, ghosts, prophecies, and doomed romances, these plays continue to be staged because of their profound exploration of humanity's darkest impulses. While some stories end with redemption, most conclude with characters coming face-to-face with futility and frailty. Themes of jealousy, madness, rage, and revenge remain timeless and the Bard's takes on these always give artists much to work with in the most creative ways and they relish the opportunities to interpret the complex characters and elaborate plots.
Luckily for Shakespeare fans, there is a rich variety of productions of almost all plays currently streaming online on various platforms (some sites even have multiple productions to choose from!) You may opt to rent the play for a limited viewing time or to buy a copy of the show.
Here are ten haunting Shakespearean plays and where to stream them:
1. Merchant of Venice 

Set in 16th century Venice,
The Merchant of Venice
tells the adventures of the titular merchant, Antonio, who, in an attempt to help his friend Bassanio win the hand of wealthy heiress, Portia, decides to take a loan from the Jew Shylock. The deal is a deadly one because if Antonio is unable to pay, he will owe Shylock a pound of his own flesh. This is one of Shakespeare's most controversial plays with debates still raging over whether or not it was actually anti-semitic. But the play did cement Shylock as one of the most fascinating characters in the Bard's repertoire.
Where to stream it:
Pound of Flesh: Mga Anak ng Lupa, a local production by the Ikarus Theater Collaborative, will stream from Oct 28 to November 4 on www.ikarustheater.com
2. Macbeth
The Tragedy of Macbeth
tells the tragic tale of the titular Thane of Cawdor who, driven by his wife's machinations, a fatal prophecy by witches, and his own ambition, murders the king and takes the throne for himself. But his victory is short-lived as he is soon racked by guilt and paranoia, spurring him to commit more crimes and to ultimately descend into madness. Witches and ghosts haunt this story, making it perfect to revisit at this spooky time of year.
Where to stream it: 
3. Hamlet
One of Shakespeare's most famous plays, Hamlet tells the tale of the Danish prince who must murder his mother and uncle to avenge his father's death. While he hesitates on this path to bring justice to his family, he goes on a journey that leads to madness and more bloodshed, with much death following his every move. A man doomed from the moment he listened to his father's ghost.
Where to stream it:
4. Othello 
Othello
tells the tragic tale of the titular Moorish general who marries a beautiful Venetian noblewoman named Desdemona. Iago, one of Othello's vicious soldiers, manipulates the latter into believing his wife is unfaithful, and Othello's jealousy and rage drive lead to fatal consequences. This play was also one of the earliest explorations of racism in theater.
Where to stream it:
5. Coriolanus
Coriolanus
is set in ancient Rome, where the people suffer from a famine and demand drastic changes to the ruling system. Caught in between conflicts at home and abroad, distinguished general Caius Martius (later called "Coriolanus" after a decisive victory) finds himself embroiled in his mother's political ambitions. Betrayal and banishment drive him to form an alliance with a former enemy as he vows revenge on Rome. But this ill-fated campaign leads to his downfall.
Where to stream it:
6. Titus Andronicus
This bloody Roman epic is sometimes thought of as Shakespeare's first tragedy. It tells the tale of the general Titus, who takes prisoners of war who vow revenge upon him. What follows is a brutal cycle of murder and violence as each faction takes turns in destroying the other, leaving no one unscathed.
Where to stream it:
7. King Lear
The foolish King Lear banishes his dutiful daughter Cordelia, leaving her devious sisters Goneril and Regan to betray him. As the two daughters and their husbands struggle to gain more power and influence, their father goes into exile and begins to descend into madness. Even though Lear eventually realizes Cordelia's worth, he is helpless against the power-hungry forces around them and the entire family eventually meets their doom.
Where to stream it:
8. Julius Caesar
Julius Caesar
is a dark tale of political intrigue and jealousy as Brutus plots with other co-conspirators to murder Caesar to prevent the latter's ascent to power. The play tracks the historic figure's brutal murder and its bloody aftermath, boasting of some of the most memorable Shakespearean speeches. This tragic tale of betrayal and revenge is why people warn us to beware the
Ides of March
.
Where to stream it:
9. Antony and Cleopatra
After the death of Julius Caesar and his assassins, General Mark Antony takes charge of Rome while Queen Cleopatra reigns over the war-torn Egypt. When their paths cross and they fall madly in love, they will struggle to choose between devotion and duty, with the shadow of war looming on the horizon.
Where to stream it:
10. Romeo and Juliet
The classic tale of star-crossed lovers from opposing houses, Romeo and Juliet meet and fall in love against all odds. But any plans for their future happiness are doomed by renewed violence between their two families, the Montagues and Capulets who are so preoccupied with their own affairs that they fail to prevent the tragedy about to unfold.
Where to stream it:
Comments