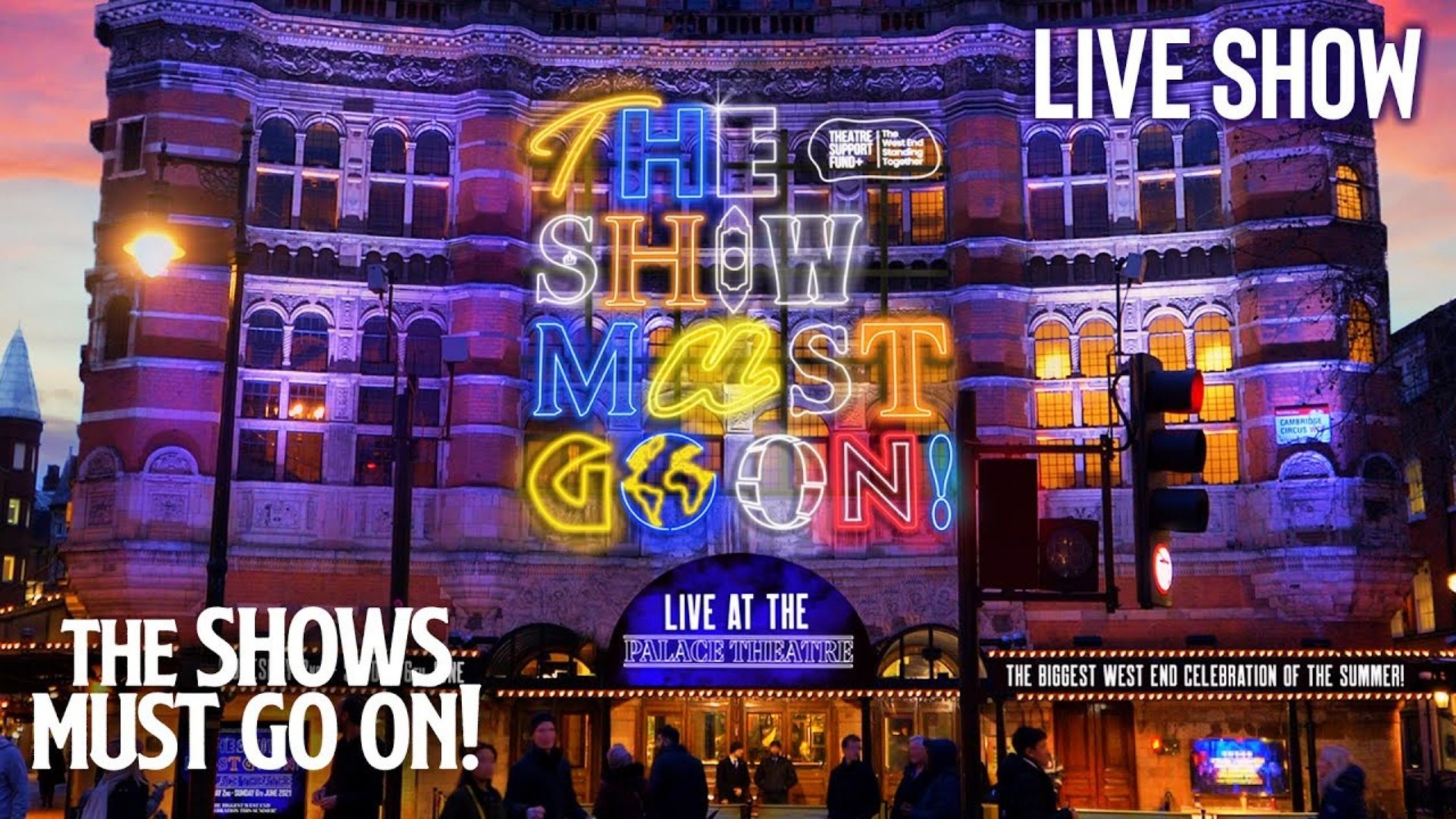 8 Best Moments from 'The Shows Must Go On!' Concert
The Show Must Go On! Live at the Palace Theatre is currently streaming and is a celebration of everything we love and miss about live theater. 
The special concert features performances from 18 different musicals, with every artist clearly thrilled to be back on stage doing what they love. But as the hosts mentioned during the opening spiels, "it's not just a passion, it's a profession" and the re-opening of the West End is a welcome sign that countless workers in the arts industries now have their lifelines restored. 
Slowly but surely, the world is beginning to recover from the worst effects of the pandemic even as everyone recognizes that things will never quite return to the way they used to be. But as Broadway and the West End have opened their doors once more, there is hope that the curtains will rise for the Philippine stage too someday.
Every song is a showstopper like "The Wizard and I" from
Wicked
, "For Forever" from
Dear Evan Hansen
and "The Winner Takes It All" from
Mamma Mia!
, familiar hits that bring an undeniable energy to the stage when performed. There is something special about seeing artists in their element again, something that lends greater power and authenticity to every number. 
We've put together a short list of some of the highlights of the show. While every performance is great, there are certain songs that hit differently given the world's current circumstances, that serve as a reminder that there are better days to come, and that demonstrate the power of musical theater to uplift the spirit even in the darkest of times.
1. The Show Must Go On (Original) – Bonnie Langford & Trevor Dion Nicholas
"The show must go on, the curtains must rise again
With tears in our eyes again, the show must go on…"
The opening number is a catchy, hilarious original song all about the struggles of the pandemic as well as fun references to the different shows represented in the concert. Bonnie Langford and Trevor Dion Nicholas perform with glee and it's an apt way to kick off this wonderful celebration.
2. You'll Be Back (
Hamilton
) – Trevor Dion Nicholas
"You'll be back, soon you'll see
You'll remember you belong to me
You'll be back, time will tell…"
An interesting choice considering all the memorable songs from Hamilton, but this number stands out not just because of Nicholas' charismatic and cheeky performance but also because of what the lyrics imply. Given the current context, the song takes on a new life, and it's less about a colonial power saying it's colony will be back,but it feels more like the stage reassuring us that we will be back in the audience soon and it's strangely comforting.
3. I Can't Go Back (
Pretty Woman: The Musical
) – Aimie Atkinson
"I can't go back
To who I was before
I can't go back
I always wanted more…"
This song is all about the main character's decision to become someone new and someone better than she ever expected to be. Beyond an anthem for self-discovery, this song also feels appropriate because it is reminiscent of our own journey to a different way of living as a result of this pandemic. And there is no way we can ever go back.
4.
When I Grow Up (
Matilda the Musical
) – Carly Thoms, Alex Munday, Alyssa D'Souza, Tilly Raye Bayer & Imogen Cole
"When I grow up
I will be brave enough to fight the creatures that you have to fight
Beneath the bed each night
To be a grown up…"
The number is performed by all four "Matilda's" as well as Miss Honey and is always one of the more touching numbers from the show. It strikes a particular chord nowadays because we all pretty much feel as lost and afraid as small children and we're all still trying to find the strength to face the monsters of reality. 
5. Beautiful/Spotlight (
Everybody's Talking About Jamie
) – Sharan Phull
"Out of the darkness, into the spotlight
Everyone's waiting, jamming
In a place where you belong…"
This medley from Everybody's Talking About Jamie is all about learning to embrace one's true self and then proudly showing it to the world. The pandemic has prevented many artists from sharing their talents with a live audience and though there have been some alternative, digital channels that have allowed for them to perform, there is nothing like live theater and the indescribable energy that the audience shares with the star. Hopefully, our artists will be back in their well-deserved spotlight soon. 
6.
Bring Him Home (
Les Misérables
) – John Owen Jones
"He is young
He's afraid
Let him rest
Heaven blessed.
Bring him home…"
A classic number from Les Miz and another song that hits really differently during the pandemic. John Owen Jones reprises the role of Valjean, one he took on when he was only 26 (the youngest actor to ever play the role). The song always tugs at the heartstrings but when one adds the element of bringing us all home to the theater, it's even more affecting. 
7.
When You Believe (
The Prince of Egypt
) – Alexia Khadime & Christine Allado
"There can be miracles
When you believe
Though hope is frail, it's hard to kill
Who knows what miracles you can achieve?
When you believe, somehow you will
You will when you believe…"
This moving number from The Prince of Egypt is a reminder to never lose hope and could not be more fitting to the current circumstances. The duet is a breathtaking performance from Allado and Khadime, and every lyric hits hard and is a great comfort during these days of uncertainty and fear. In spite of everything, we're all still hoping for a miracle. 
8. The Show Must Go On (
We Will Rock You
) – Full Company
"The show must go on, yeah
The show must go on
I'll face it with a grin
I'm never givin' in
On with the show…"
The finale of the concert is a classic song by Queen and is a rousing number that reinforces the theme of the entire show. It's another reminder that nothing is going to stop the return of musical theater and nothing can hamper its ability to shine a light during our darkest hours. 
The concert is raising funds for UK organizations Acting for Others and The Fleabag Support Fund. It will be available to stream until Sunday, June 13.
Comments