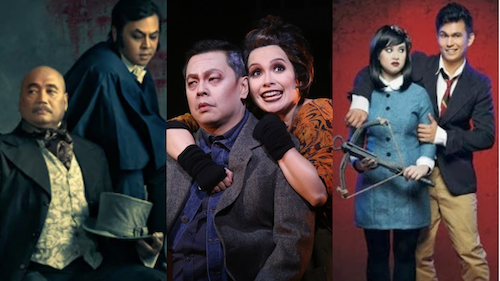 6 Spooky Broadway Musicals for Halloween Fans
Although theaters still remain closed for the foreseeable future, we can still celebrate the creepy creativity of the medium by remembering the musicals that have made our skin crawl even as we sang along to their spine-chilling songs!
Broadway musicals have always explored the whole gamut of human nature and the darker impulses are no exception. Monsters, ghosts, ghouls, witches, warlocks, fairies, phantoms and other fantastical creatures make frequent appearances in stage shows and are even portrayed sympathetically. After all, art can be very effective in revealing both the humanity in monsters and the monstrosity in man. 
Give in to your dark side and check out these six macabre musicals that have not shied away from celebrating everything eerie. 
The Rocky Horror Show
The musical, with music, lyrics, and book by Richard O'Brien, opened on Broadway in 1975. The show was put together with elements of science fiction and horror B-movies from the 1930s to 1960s.
The Rocky Horror Show centers on a newly engaged couple, Janet and Brad, who one night stumble upon the home of the pansexual, transvestite mad scientist, Dr. Frank-N-Furter. The scientist has created a Frakenstein-style monster named Rocky who is actually a physically perfect, muscly man. Weird shenanigans ensue as Janet and Brad find themselves trapped in a peculiar new world that defies logic and flouts sexual conventions. Before the adventure is over, they discover a great deal about themselves and try to figure out what lies ahead.
Among the memorable musical numbers in the show are "Sweet Transvestite," "Time Warp," and "Touch-a, Touch-a, Touch-a, Touch Me." The Rocky Horror Show is credited to have had a significant influence on the countercultural and sexual liberation movements that began in the 1960s.
The show was nominated for one Tony Award. The original Broadway cast included Tim Curry as Dr. Frank-N-Furter, Abigail Haness as Janet Weiss, Bill Miller as Brad Majors, and Richard O'Brien as Riff Raff.
The show was adapted into the 1975 film The Rocky Horror Picture Show with Curry reprising his role while O'Brien played Riff Raff. The film has achieved cult classic status. Listen to the album here.
Sweeney Todd: The Demon Barber of Fleet Street
This show, with music and lyrics by Stephen Sondheim and book by Hugh Wheeler, premiered on Broadway in 1979. It is based on the 1973 play of the same name by Christopher Bond that explores the murderous revenge of an abused barber.
Benjamin Barker had everything taken from him by the villainous Judge Turpin. Returning to London and assuming the identity of Sweeney Todd, he conspires with his landlady, Mrs. Lovett, to enact his revenge on the corrupt judge. Their elaborate plan involves murdering customers who come to the shop for a shave and baking them into meat pies. As Todd's desire for vengeance consumes him, events spiral out of control and everything ends in greater tragedy. 
Among the most memorable songs from the show are "Not While I'm Around," "A Little Priest," "Pretty Women," "Johanna," and "The Worst Pies in London."
The original Broadway cast included Len Cariou as Sweeney Todd, Angela Lansbury as Mrs. Lovett, Victor Garber as Anthony Hope, Sarah Rice as Johanna Barker, Edmund Lyndeck as Judge Turpin, and Ken Jennings as Tobias Ragg.
The show was adapted into the 2007 film directed by Tim Burton and starring Johnny Depp as Todd and Helena Bonham-Carter as Mrs. Lovett. Listen to the album here.
Little Shop of Horrors
The show, with music by Alan Menken and lyrics and book by Howard Ashman, is loosely based on the 1960 black comedy of the same name. This show first opened Off-Broadway in 1982 before being revived on Broadway in 2003. This small, macabre project was one of Menken and Ashman's earlier works, prior to their collaboration on Disney animated musicals.
Little Shop of Horrors focuses on timid florist shop worker, Seymour, and his beautiful co-worker, Audrey. When Seymour decides to nurture a mysterious plant that resembles a Venus fly-trap, he discovers too late that it feeds on human flesh and blood and seeks world domination. The vicious plant, named Audrey II, manipulates all those around to do her bidding and soon humanity falls prey to her murderous glee.
Among the memorable songs from the show include "Somewhere That's Green," "Suddenly, Seymour," and "Mean Green Mother from Outer Space."
The musical was adapted into the 1986 film of the same name, directed by Frank Oz and starring Rick Moranis as Seymour Krelborn, Ellen Greene as Audrey, and Levi Stubbs as the voice of Audrey II. Listen to the album here.
Jekyll and Hyde
This musical by Frank Wildhorn and Leslie Bricusse opened on Broadway in 1997 and ran for over 1,500 performances. The show is loosely based on Robert Louis Stevenson's novella Strange Case of Dr. Jekyll and Mr. Hyde and it explores the duality of man.
The show centers on Dr. Henry Jekyll, a scientist who believes that man has both good and evil in him and that he might be able to separate the two. After conducting a dangerous experiment on himself, a violent, aggressive persona emerges calling himself Mr. Edward Hyde. As Jekyll struggles to keep his murderous alter-ego in check, he also gets involved in a love triangle with a young noblewoman and a prostitute. The experiments go out of control leading to tragic consequences.
Among the memorable songs from the show include the uplifting "This is the Moment" which has become the staple in singing competitions in the past decades as well as the love songs "Take Me As I Am" and "Someone Like You."
The original Broadway cast included Robert Cuccioli as Jekyll/Hyde, Linda Eder as Lucy Harris, and Christiane Noll as Emma Carew. Listen to the album here.
The Addams Family
The show, with music and lyrics by Andrew Lippa and book by Marshall Brickman and Rick Elice, premiered on Broadway in 2010. It is based on the iconic
The Addams Family
characters from the single-panel gag cartoons created by Charles Addams, depicting an eccentric, ghoulish American family with an affinity for the macabre. The characters have appeared in various forms of media over the decades including live-action and animated films as well as an animated television series.
The stage show centers on Wednesday Addams' decision to introduce her normal boyfriend, Lucas, and his family to her own, unusual clan. Hilarious and spooky antics ensue as the two families try to reconcile their differences and rekindle their relationships.
The original Broadway cast included Nathan Lane as Gomez Addams, Bebe Neuwirth as Morticia Addams, Kevin Chamberlin as Uncle Fester, Krysta Rodriguez as Wednesday Addams, and Wesley Taylor as Lucas Beineke.
Among the show's memorable songs are "When You're an Addams," "Pulled, "Crazier Than You," "Live Before We Die," and "Tango de Amor." Listen to the album here.
Beetlejuice the Musical
This show, with music and lyrics by Eddie Perfect and book by Scott Brown and Anthony King, premiered on Broadway in 2019. It is based on the 1988 film of the same name about a dead couple haunting the new tenants of their home who summon a bio-exorcist ghost named Betelgeuse (pronounced "Beetlejuice"). 
Beetlejuice is an ancient demon who is also invisible to all living beings unless a mortal utters his name three times. When the recently deceased Maitland couple seek his help to haunt Charles Deetz, the new inhabitant of their home, the demon sees this as an opportunity to break his curse. Charles's daughter, Lydia, still grieving for her dead mother, discovers Beetlejuice and the ghosts and conspires with them to haunt her own home. A series of supernatural adventures ensue that also teach the characters about the value of life (even in the afterlife.)
The original Broadway cast included Alex Brightman as Beetlejuice, Sophia Anne Caruso as Lydia Deetz, Rob McClure as Adam Maitland, and Kerry Butler as Barbara Maitland. Listen to the album here.
Comments