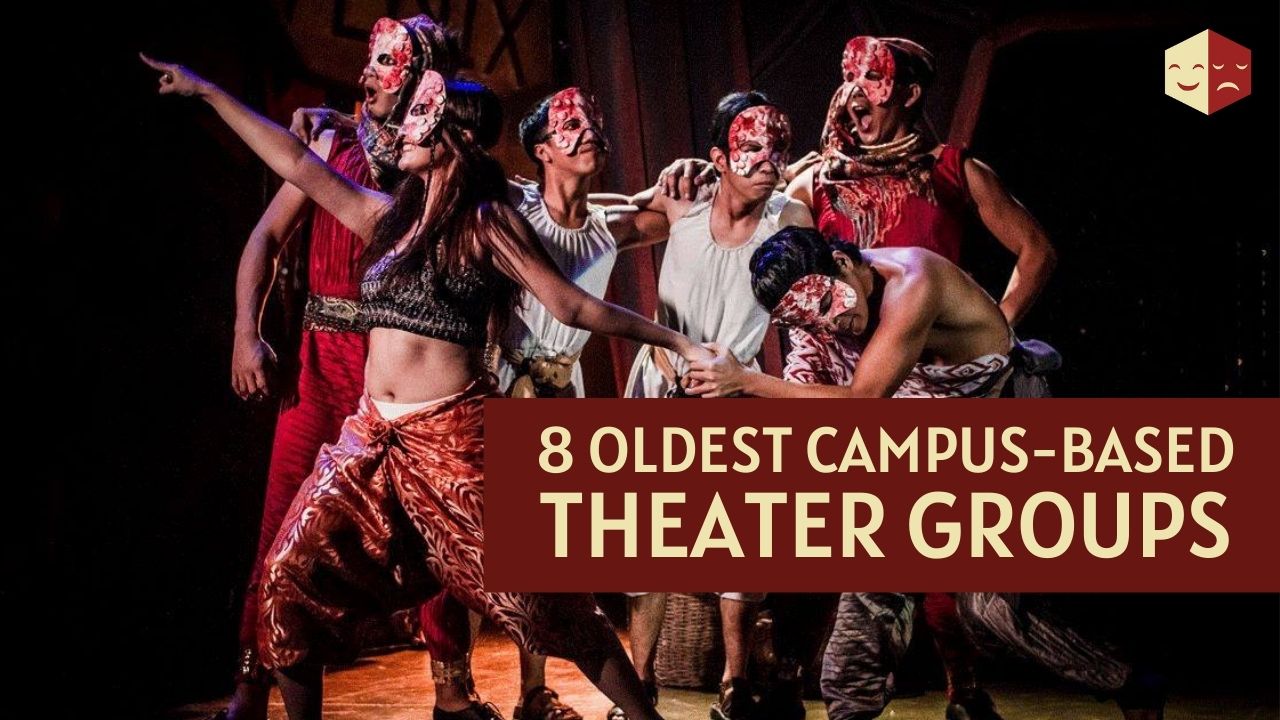 WATCH: 8 Oldest Campus-Based Theater Groups in the Philippines
For nearly a hundred years now, back-to-back classes and demanding rehearsal hours haven't stopped Filipino students and faculty members from telling stories that matter on stage. To them, theater was way more than an extracurricular to pad the resume.
Campus-based organizations in the Philippines have been training youths in production and performance long before the first Bachelor of Arts in Theater program was even established in UP. You may have already seen a few shows at a school near you — but how well do you know the histories of the groups behind the curtains? 
We're taking you way back to the dawn of student theater, from the roots of modern collegiate groups in the seventies to the very first campus-based guild founded in 1933:
1. Teatro Tomasino founded in 1977
[University of Santo Tomas]
It was 1977 when twenty-five engineering students of the University of Santo Tomas formed what would be the first and only theater guild on campus. With the help of faculty and theater professionals like director Maryo J. de los Reyes and the late Soxie Topacio, the group held theater workshops before unveiling their debut performance: a staging of Ang Awit na Hindi Matapos-tapos by Orlando Nadres.
Today, the guild prides itself in its alumni of media practitioners like comedian John "Sweet" Lapus, newscaster Arnold Clavio, and — wait for it — Piolo Pascual. 
In fact, UST unveiled a 'QuattroMondial' monument in 2011 with four figures, one a male student modeled after Pascual to represent one of the university's core values: excellence. Pascual would later reveal in an interview about the sculpture that it was his friends in Teatro Tomasino that "paved the way [for him] to enter show business".
2. Dulaang UP founded in 1976
[University of the Philippines – Diliman]
We can't talk about Dulaang UP without first mentioning Tony Mabesa who founded the organization in 1976. He previously studied theater in various universities in the United States where he observed up close how campus-based theater organizations were run. 
He returned to the Philippines to teach at UP, establish the first Baccalaurete theater program, and form a student group of his own: DUP. Over the years, the four resident directors of the guild — Alexander Cortez, Dexter Santos, Jose Estrella, and the late Mabesa — have set high standards in producing shows of diverse genres, from Shakespeare to Kabuki to Sanskrit literature. 
If you're curious, or perhaps an aspiring iskolar ng bayan, here's the rundown on how theater at DUP works: Production work is evenly distributed among freshmen and sophomore students, while juniors and seniors are cast in most productions. 
3. Sining Kambayoka founded in 1974
[Mindanao State University – Marawi City]
During the seventies, members of PETA played an active role in bringing theater to Visayas and Mindanao with their three-day arts workshops. Among the organizers was Frank G. Rivera, an actor and playwright who wondered at the richness of Maranao culture upon visiting Mindanao State University. 
Rivera believed he would be in Marawi for three days, but stayed for many years after he was asked to serve as a play director, then as a visiting professor of MSU. In 1974, he founded the Sining Kambayoka Ensemble, where he produced traditional Filipino plays that celebrated Mindanao tales and traditions.
The first folktale that the group staged was about a character resembling the 'Juan Tamad' of the South, who carried with him a flying banig. Remember, this was decades before Disney had Lea Salonga singing A Whole New World in Aladdin. Today, the ensemble's members often act as cultural ambassadors for local and international events like the DFA Eid'l Fitr Diplomatic Reception in 2018. 
4. Tanghalang Ateneo founded in 1974
[Ateneo de Manila University]
Tanghalang Ateneo, or TA, was the first collegiate theater company to be formed in the Ateneo. How did it happen? A group of friends started staging skits in the university cafeteria in 1974, going on to press the school administration for a better performance venue. It was formally recognized as a university org five years later, in 1979. 
The group's mission is to expose audiences to Filipino originals, world classics, and dramatic masterpieces, both classical and modern. Under the artistic direction of Guelan Luarca, TA fluidly integrates social commentary into these plays, as seen in productions like Sabrina Basilio's Antigone vs. the People of the Philippines.
Today, TA is braving the coronavirus pandemic with a virtual staging of Oedipus Rex directed by Ron Capinding and starring Marian Rivera-Dantes in her theater debut.
5. UP Repertory founded in 1972
[University of the Philippines – Diliman]
Under martial law, the Marcos administration prompted a shutdown of many student councils and publications across the country. Seeing the repression of students from self-organizing, progressive director Behn Cervantes realized the need for a "socially responsible performing group" that represented the plight of the masses in staged productions. 
Thus, before there was DUP, Cervantes established the UP Repertory in 1972. The guild is still active as a distinct formation that performs outside campus every so often to further its goal of bringing theater closer to the masses.
One of its popular shows is a musical entitled Lean, which revisits scenes from the martial law era from the perspective of young, influential student leader Leandro Legara Alejandro. UP Rep staged it in 2013 to "bring the life of Lean closer to the youth through music…while inspiring them to act for change," as musical director Karl Ramirez said.  
6. USA Little Theater founded in 1965
[University of San Agustin]
In 1965, at Iloilo's University of San Agustin, Rev. Fr. Eduardo Perez founded one of the first theater companies of Western Visayas: USALT. The group incredibly staged nine shows in its inaugural year, going on to incorporate a mix of straight plays, musicals, and poetry in motion in their yearly lineups. 
Aside from organizing theatrical productions and festivals within the university, USALT has actively done cultural presentations across the country, making a 2003 debut in Manila with a staging of Visayan poetry play Dagway sang Binalaybay during the Department of Tourism's 'Best of the Best of the Regions' showcase at Intramuros. 
The guild was also recognized one of the country's Ten Accomplished Youth Organizations in 2015 for their project IMAGINE|A|NATION. It was a series of creative works performed across Western Visayas to connect with disaster victims in the wake of supertyphoon Yolanda. 
7. De La Salle Dramatics founded in 1960
[De La Salle University]
You may know the org today as DLSU's Harlequin Theatre Guild, but this university theater group was initially called the De La Salle College Player's Guild before it was formally established as the De La Salle Dramatics in 1960. 
The multiple name changes were also accompanied by a drastic evolution in the company's repertoire over the decades: From only staging Western plays in the sixties, the guild has gone on to perform original works, improvisations, Filipino translations of plays — and they even staged Broadway musicals by the early 2000's! 
Like Ateneo's TA, HTG launched its own online production called Unmute in September 2020, offering glimpses of life in the coronavirus pandemic that tied in with bigger social narratives on issues like LGBTQ+ rights, voter awareness, and online education. Some alumni of the guild that you may know are business leader Ramon del Rosario, entertainment reporter MJ Felipe, and even Imago vocalist Aia De Leon!
8. FEU Theater Guild founded in 1934
[Far Eastern University]
Finally, we cap off our list with the premier theater group of Far Eastern University, founded in 1934 by Sarah K. Joaquin, actress, director, and sister-in-law to National Artist Nick Joaquin. That makes the group eighty-six years old!
The FEU Theater Guild's lineup of plays is highly anticipated by students every year, with shows ranging from reimagined folktales to experimental plays and original musicals. PETA artist-teacher Dudz Teraña has been FTG's artistic director for the past eleven years, often writing shows for the guild as well. 
And that's a wrap for our dose of theater history! Which of these historic campus-based guilds have you already seen? Alternatively, if you're new to student theater, we hope this video reminded you to never underestimate your local school musical ever again.
Comments