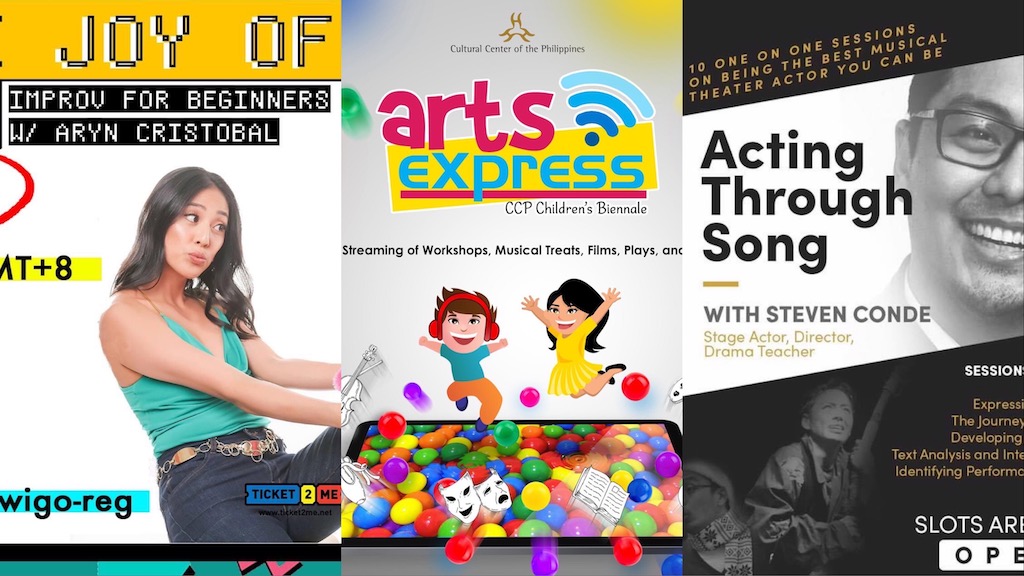 5 Online Workshops You Can Join this November
On our 8th month of quarantine, arts organizations and theater artists continue to educate online. This month, kids as young as 8 years old, to teenagers, and to adults, all have the opportunity to hone their skills in the comfort of their homes. 
1. ARTS eXPRESS by the CCP
ARTS eXPRESS, which is part of this year's
Children's Bienalle
by the CCP, will be holding arts workshops for children aged 8 to 12 years old. Kids will be able to learn shadow play from The Anino Shadow Collective on November 6 at 10am, as well as the basics of rondalla playing on November 13 at 10am. There will be follow-up classes on zoom on November 14, 21, 28, and December 5 at 10am. You can learn more about it
HERE
.
2. Dance Play by CCP Dance Workshop
Also part of Children's Bienalle is Dance Play, a basic dance movement class for young kids, organized by the CCP Dance Workshop School. It will be conducted on November 7 and 28 at 10am. You can go HERE for more information.
3. Artist Development Program by Trumpets Playshop
Trumpets Playshop is collaborating with Broadway Weekends to bring Broadway and West End performers together. Participants can take
three classes for the price of one under these programs:
Acting Through Song with Emma Kingston

Scene Study with Philippa Stefani

Acting Through Dance with Genevieve Nicole
Click this LINK to register. Message the Trumpets Playshop Facebook page or call 0917-586-4177 for inquiries.
4. Improv for Beginners with Aryn Cristobal by Third World Improv
Through eight synchronous sessions, students are introduced to the fundamental principles of improv and its practical applications, with short form games that inculcate the philosophies and methods unique to Third World Improv. The course is open to participants, 18 years old and above, in and outside of the Philippines. No performance experience is necessary. 
Aryn Cristobal has been performing with SPIT since 2006 and is a founding member of Third World Improv. Zoom will be the online medium for the workshop. Go to this LINK for more information.
5. Acting Through Song by Steven Conde
Acting Through Song,
which focuses on solo song interpretation and performance in musical theater, is being conducted by theater actor and director Steven Conde.
Classes will have 10, 1.5 hour, one-on-one sessions, catered to 13 years old and above. Interested parties can email
stevencondedirector@gmail.com
or text 0919-0009169. Click
HERE
for more information.
Comments