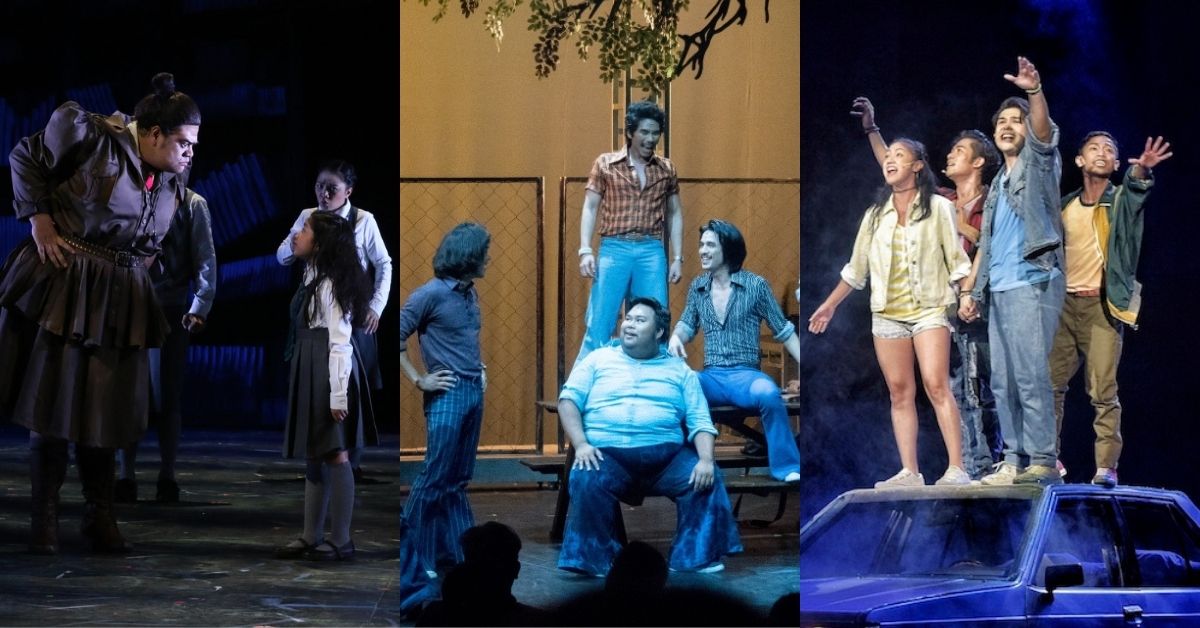 6 Musicals Set in Schools
Today is International Day for Education, proclaimed by the United Nations General Assembly to celebrate the role of education in global peace and development. The event highlights the importance of access to inclusive and equitable quality education in order to improve the lives of all people in the world. 
Art plays a crucial role in education and bringing stories to life on the stage is an effective way of understanding the human condition. And the classroom or school grounds often figure in stage plays and musicals because of how impactful one's time in these places can be in the future.
Many coming-of-age adventures feature a lot of action taking place in the main characters' schools, from the cutthroat competitions, intense rivalries, peer politics, budding romances, first heartbreaks, realizations of identity, and so many other memorable moments. Much learning takes place both within and outside the classrooms, also making for very entertaining musical numbers.
These experiences are crucial parts of the characters' stories and help shape them into the people they will become beyond the halls of their alma mater. And as the audiences join them in these journeys, they pick up a lesson or two along the way.
So here are six musicals mostly set in schools:
1. Ang Huling El Bimbo the Musical
Ang Huling El Bimbo the Musical is an original musical based on the songs of the Eraserheads. The musical tells the story of three friends who have drifted apart in adulthood until fate reunites them to confront their haunted past. A significant chunk of the story takes place during their days at their university and the important decisions they make during this period have serious repercussions as they grow older.
The show is written by Dingdong Novenario, with musical direction by Myke Salomon, dramaturgy by Floy Quintos, set design by Gino Gonzales, lighting design by Monino Duque, sound design by Rards Corpus, costume design by Marlon Rivera, and direction and choreography by Dexter M. Santos. 
Initially opening in July 2018, the production has had three runs at the Newport Performing Arts Theater, with the most recent run closing in August 2019. A filmed performance also streamed in 2020 and a live concert took place last December 2021 which was also streamed online.
2. Eto Na! Musikal nAPO! 
Eto Na! Musikal nAPO! is an original musical based on the songs of APO Hiking Society. Written and directed by Robbie Guevara, the show follows college barkada on their road to win a songwriting and singing competition. 
The story is set in a university in the 1970s, and tackles all the complexities of youth and love. Despite the oppressive Martial Law as a backdrop, the spirit and passion for music persists for some of the characters. The songs of Danny Javier, Jim Paredes, and Boboy Garrovillo enjoy brand-new arrangements by Daniel Bartolome and Orly de la Cruz.
Other members of the creative team include Jonjon Martin as dramaturg, Dingdong Rosales as assistant director, Daniel Bartolome as musical director, PJ Rebullida as choreographer, Shakira Villa Symes as lightning designer, Joey Mendoza as set designer, Eric Pineda as costume designer, Dong Calingacion as technical director, Rards Corpus as sound designer, Myrene Santos as hair and makeup designer, Ronan Ferrer as vocal supervisor and Cathy Azanza-Dy as stage coach.
The show was first staged in 2018 by 9 Works Theatrical with a re-run in 2019.
3. School of Rock the Musical
School of Rock the Musical is based on the 2003 movie written by Mike White and starring Jack Black, which follows failed, wannabe rock star Dewey Finn who decides to earn a few extra bucks by posing as a substitute teacher at a prestigious prep school. He turns a class of straight-A fifth graders into a rock band, in an attempt to win the upcoming Battle of the Bands contest. The music is written by Andrew Lloyd Webber, with lyrics by Glenn Slater, and a book by Julian Fellowes.
The musical opened on Broadway at the Winter Garden Theatre on December 6, 2015, and in the West End on November 14, 2016. It features 14 new songs as well as all the original songs from the feature film. It was nominated for 4 Tony Awards, including Best Musical, in 2016, and 3 Olivier Awards in 2017, winning Outstanding Achievement in Music.
A local production was supposed to have run at The Theatre at Solaire in 2020 but this did not push through due to the global pandemic.
4. Mean Girls the Musical
Mean Girls the Musical is based on the 2004 movie written by Tina Fey (who also penned the book for the musical) starring Lindsay Lohan, Rachel McAdams, and Amanda Seyfried and follows Cady Haron, a teenager who grew up on an African savanna. She moves to the suburb of Illinois with her scientist parents and gets sucked into the peer politics of high school including the machinations of a popular female group known as the Plastics.
The show opened at the August Wilson Theatre on April 18, 2018 and was nominated for 12 Tony Awards including Best Musical. A film adaptation is currently in the works with  composer Jeff Richmond, lyricist Nell Benjamin, and Fey returning to the creative team, with Fey and Lorne Michaels producing. 
5. Matilda the Musical
Matilda the Musical is based on the beloved 1988 Roald Dahl novel about a precocious little girl who loves learning but who is ignored and oppressed by her ignorant, overbearing parents and by her school's tyrannical headmistress, Miss Trunchbull. Many of the most memorable scenes take place in Crunchem Hall Elementary School. Matilda finds solace in books and in the love of her kindhearted teacher, Miss Honey. She later finds the strength to challenge the unjust system in her school and she emerges triumphant.
The musical, written by Dennis Kelly and Tim Minchin, opened in the West End in 2011 and on Broadway in 2013, winning numerous Olivier Awards including Best New Musical and several Tony's including Best Book of a Musical. A film adaptation is in the works at Netflix with Alisha Weir as Matilda, Emma Thompson as Miss Trunchbull, and Lashana Lynch as Miss Honey.
A local staging by Atlantis Theatrical Entertainment Group also ran at the Meralco Theater in 2017 and the international tour of the Royal Shakespeare Company, presented by GWB Entertainment, along with GMG Productions & Virtus Live, opened a limited run in 2020 which was sadly cut short by the government's mandated community quarantine in March.
6. Bring It On the Musical
Bring It On the Musical is loosely based on the 2000 movie by Jessica Bendinger starring Kirsten Dunst, and it follows Campbell, the captain of the cheerleading squad in Truman High School. An unexpected redistricting has forced her to spend her senior year at the neighboring hard-knock Jackson High School. Despite having the deck stacked against her, Campbell befriends the dance crew girls and, along with their headstrong and hardworking leader, Danielle, manages to form a powerhouse squad for the ultimate competition — the National Championships.
The original story was written by Jeff Whitty, with music by Tom Kitt, lyrics by Amanda Green, and music and lyrics by Lin-Manuel Miranda. It was nominated for Best Musical and Best Choreography at the 2013 Tony Awards. 
Ateneo BlueREP staged this musical in 2019 for its 28th newbie production.
Comments