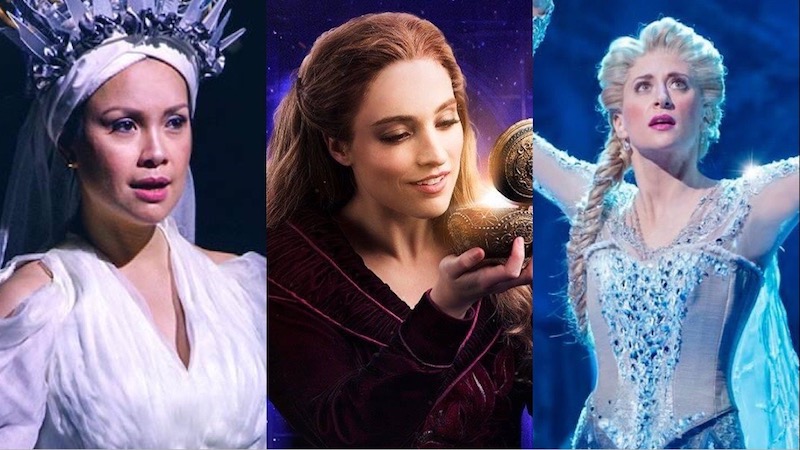 17 Songs from Musicals to Get Hyped for 2022
2022 is nearly upon us.
The past year has been a lot, to say the least. But since we've all made it this far, that should be cause enough to celebrate.
Here's to those endless days and sleepless nights, eyes glued to your screens, being constantly plugged in and sometimes needing to disconnect, emotional rollercoasters, binge-watching, friendships that faded and those that endured, new discoveries, and revelations about what you never thought you could do. The year shaped us and, whether we noticed or not, we grew. 
It's time to make our peace with 2021 and to look ahead to whatever 2022 might bring and what better way than to sing along to our favorite showtunes, in true theater fans fashion. Whether we're ending the year with a triumphant bang or are quietly hopeful for a kinder time, we've got the song for you.
So here's a playlist of songs that will help usher in the new year.
1. "Somewhere" from West Side Story
Someday, somewhere

We'll find a new way of living

We'll find there's a way of forgiving

Somewhere, somewhere, somewhere
2. "Louder than Words" from Tick, Tick…Boom!
If we don't wake up

And shake up the nation

We'll eat the dust

Of the world wondering why
3. "It's Time to Dance" from The Prom
Build it now

Make people see how the world could one day be

It might come true if we take a chance

But 'til that day comes
4. "Everybody Say Yeah" from Kinky Boots
A life of broken heels, got you down

Well we've got your solution

Get up, get it on and get in step

With our kinky revolution
5. "Being Alive" from Company
Somebody need me too much

Somebody know me too well

Somebody pull me up short

And put me through hell

And give me support

For being alive
6. "Me and the Sky" from Come From Away
The news talked, it made headlines across the world

Suddenly it stopped

No one saying, "You can't" or "You won't"

Or "You know you're not anything 'cause you're a girl"
7. "Waiting for Life" from Once on This Island
How it must feel to go racing wherever you please

Flying as free as a bird with its tail in the breeze

Even the fish in the sea must be longing to fly

Catching a glimpse of a stranger in white racing by
8. "Good Morning, Baltimore" from Hairspray
Good morning Baltimore

And some day when I take to the floor

The world's gonna wake up and see

Baltimore and me
9. "Carnaval del Barrio" from In the Heights
From Puerto Rico to Santo Domingo

Wherever we go

We rep our people and the beat go

Esa bonita bandera!

Contiene mi alma entera!
10. "Six" from Six the Musical
We're free to take

Our crowning glory

For five more minutes

We're SIX!
11. "When I Grow Up" from Matilda the Musical
When I grow up, when I grow up (When I grow up)

I will be strong enough to carry all

The heavy things you have to haul

Around with you when you're a grown-up!
12. "Fabulous, Baby" from Sister Act the Musical
Look while you can,

'cause I'm on my way!

Me, I'm fabulous, baby

I got fabulous things to do!
13. "So Much Better" from Legally Blonde the Musical
But you might look up to find

I've gone on to better things

Better jobs or bigger rings

I don't have the time to cry
14. "Journey to the Past" from Anastasia
One step at a time,

One hope, then another,

Who knows where this road may go

Back to who I was,

On to find my future.
15. "Let it Go" from Frozen
Let it go, let it go

I am one with the wind and sky

Let it go, let it go

You'll never see me cry
16. "Laban Lang" from Kung Paano Ako Naging Leading Lady
Walang basahan

Lahat ay may dahilan

Hindi sa lahat ng pagkakataon ay talo…

Huwag kang susuko, laban lang!
17. "Victoria! Winner! Tagumpay!" from Zsa Zsa Zaturnnah
Panalo na ako! (Victoria!)

Panalo na ako! (Winner!)

Walang ka-effort-effort oh!

Panalo na ako!
Listen to the full playlist here:
Comments