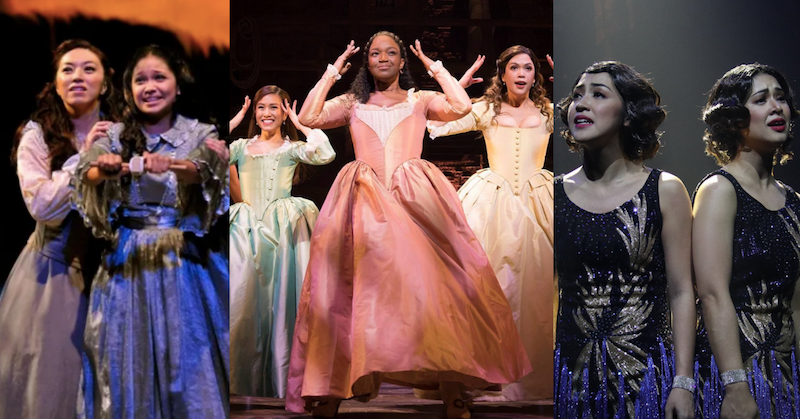 13 Songs to Celebrate Galentine's Day
Galentine's Day is the day before Valentine's Day and is a celebration popularized by the American sitcom Parks and Recreation way back in 2010, during its second season. Leslie Knope (played by Amy Poehler) introduces her friend, Ann Perkins (Rashida Jones), to the holiday and they continue the tradition with the other female characters through the years.
This holiday is all about "ladies celebrating ladies," focusing on the strong female relationships whether familial or friendly. The event has transcended its origin from a plot point in a sitcom to become an important piece of pop culture and an opportunity for women to get together to solidify their relationships and to remind each other that they are all amazing.
To get a better sense of what Galentine's Day is all about, check out this video from the Parks and Recreation team:

Broadway musicals have no shortage of powerful female friendships, as we
explored last year
. And with every wonderful relationship comes an unforgettable song or two. So whether it's sisters or girlfriends or mothers and daughters and supportive co-workers, women are out there supporting women through all life's ups and downs.  If characters can sing about romantic or familial love, they can very well sing about the female friendships that have seen them through the years of happiness and hardship.
So we've put together a list of songs from our favorite Broadway musicals that we feel are in the spirit of Galentine's Day. Gather your girlfriends and maybe belt out some of these!
1. "For Good" from Wicked
It well may be
That we will never meet again
In this lifetime
So, let me say before we part
So much of me
Is made of what I learned from you
You'll be with me
Like a handprint on my heart
And now whatever way our stories end
I know you have rewritten mine

By being my friend
2. "Six" from Six
We're one of a kind, no category
Too many years lost in history
We're free to take our crowning glory
For five more minutes

We're Six!
3. "Sister Act" from Sister Act
And with my sisters standing strong,

I'm on the stage where I belong.

And nothing's ever gonna change that fact.

I'm part of one terrific sister act.
4. "I Just Might" from 9 to 5 the Musical
But I just might make it work.

I just might make it after all.

I just might make it

I just might rise above the hurt

Though I've suffered quite a fall.
5. "The Schuyler Sisters" from Hamilton
Look around, look around at how

Lucky we are to be alive right now!

Look around, look around at how

Lucky we are to be alive right now!

History is happening in Manhattan and we just happen to be

In the greatest city in the world!

In the greatest city in the world!
6. "I See Stars" from Mean Girls
I see stars

You shine as bright as day

I will look out for you

We'll light each other's way

You're all stars
7. "I Got You" from Bring It On
Hey girls, we killed and we know it

Don't need that gold to show it

When we know it inside


We got the people screamin'

Just like we were dreamin'

I know I'm satisfied
8. "I Will Never Leave You" from Side Show
I will never leave you

I will never go away

We were meant to share each moment

Beside you is where I will stay

Evermore and always

We'll be one though we're two

For I will never leave you
9. "Too Beautiful for Words" from The Color Purple
You hide your head under your wings

Just like a little bird

Oh, don't you know you're beautiful?

Too beautiful for words

Ooh, Celie, you're too beautiful for words
10. "A Little Bit of You" from Frozen the Musical
A little bit of you, a little bit of me

A part that loves to dream

A part that swings from a tree

A little like me, a little like you

A part that's nice

A part that's naughty too

A loyal friend who is there no matter what
11. "The Fire Within Me" from Little Women
Even angels would have listened,

"But we've got each other."

Everything I promised them is here

All of us we used to be

We will always have each other

They will always be the fire in my heart
12. "Sisters" from White Christmas
All kinds of weather

We stick together

The same in the rain or sun

Two different faces

But in tight places

We think and we act as one
13. "Welcome to the 60s" from Hairspray
Don't you let nobody try to steal your fun

'Cause a little touch of lipstick never hurt no one

The future's got a million roads for you to choose

But you'll walk a little taller in some high-heeled shoes

And once you find the style that makes you feel like you

Something fresh, something new
Listen to the full playlist here:
Comments