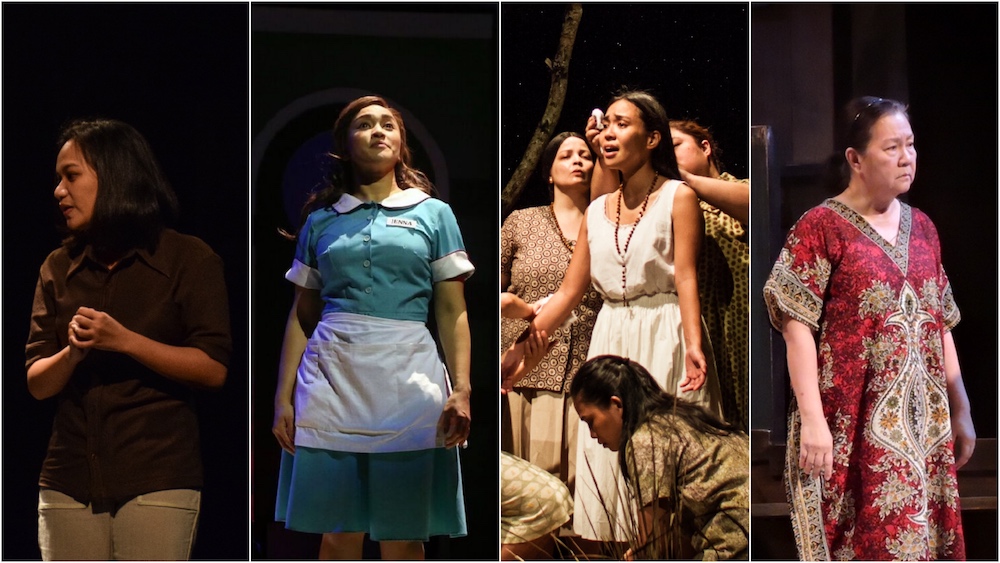 6 Best Musicals and Plays of 2018
2018 was such a great year for theater. Between international fares like the iconic The Lion King and the riotous Mamma Mia to jukebox musicals like Eto Na! Musikal nAPO! and the always entertaining Rak of Aegis, there was something awesome for everyone, regardless of interest or taste.
Just as our roundup of best performances were dominated by women, this year's best gems also put women at the fore like Silent Sky, The Kundiman Party, Side Show, and The Vagina Monologues. One acts like Ang Dalagita'y Sang Bagay na Di Buo, and Labor Room from this year's Virgin Labfest also proved that shows don't need long running times to tell a compelling story.
The year's best are shows radically different from each other, from Broadway imports to powerful adaptations staged in blackboxes; tales of female empowerment to social commentaries, local theater is rife with eclectic stories and storytellers.
Before this year's crop of shows start, TFM editors Nikki Francisco and Elfrida Tan look back at the year that was and celebrate the best of 2018:
Best Musical:
"Waitress"
(Atlantis Theatrical Entertainment Group)
NIKKI: "One of last year's most timely and contextually relevant shows was an import. It was technically a great show, and well worth the ticket price. But what makes it excellent is more than how close it is to 'Broadway quality' (whatever that means), but the rippling impacts of Bobby Garcia's directorial choices, and the performances by each and every one of the actors. It's emotional, cathartic, unforgettable and possibly a career high for both Bobby Garcia and Joanna Ampil."
FRIDA: "Director Bobby Garcia and his creative team went to the heart of Waitress and made it an intimate, relatable, and riveting experience for local audiences. Accompanied by Sara Bareilles' beautifully written music and lyrics, Garcia put together a strong cast that helped tell the stories of women trying to find happiness and escape in a place with limited options. At the center of it all is Jenna, played by an outstanding Joanna Ampil, whose range of emotions take 180 degree turns from the first act to the second. Her poignant performance of 'You Matter to Me' with Bibo Reyes as Dr. Pomatter, and a powerful 11 o'clock number of 'She Used to be Mine', are easily two of the show's highlights."
2nd Best Musical:
"Himala"
(The Sandbox Collective)
NIKKI: "Aicelle Santos had big shoes to fill, and fill it she did, cementing her as one of theater's top leading ladies. Director Ed Lacson Jr.'s deliberate hand in the production design made sure the show had a distinct look and feel that was a perfect fit for the story being told: a Cupang that was barren, but peopled. It even closely recalled Ishmael Bernal's film. This musical is the perfect example of a singular vision, exceptionally executed."
FRIDA: "Director Ed Lacson Jr. certainly made his mark on this Filipino classic. Choosing to use an almost bare stage with no microphones on any of the actors, the show was transformed into an immersive experience, where audience members became participants in the talked about barangay. With the help of the strong cast led by a brilliant Aicelle Santos, the show felt fresh and relevant, as if Ricky Lee and Vincent de Jesus had just written it as a current social commentary."
3rd Best Musical:
"Eto Na! Musikal nAPO!"
(9 Works Theatrical)
NIKKI: "The attention to detail in this show is what made Robbie Guevara's APO musical the best jukebox of the year. It's the 70s in a way that isn't just in the superficial (dramaturg is JonJon Martin), or in the costumes or exposition. It's the world-building that made it quite exemplary. And that reveal at the end just gives it a heartwarming and satisfying image for audiences to part with. Everyone loves a good twist!"
FRIDA: "Eto na! Musikal nAPO! is one of those shows where first impressions just do not apply.
From what seems like a light, romantic comedy set in the 70's, director Robbie Guevara's patient and shrewd direction slowly turns it into something deeper and more relevant without notice, setting the stage for surprising plot twists and reveals. His execution felt smooth and unassuming, backed up by a tight book (also by Guevara) and seamless choreography (by PJ Rebullida). Jobim Javier's breakout performance is also an easy standout."


Best Play:
"Desaparesidos" 
NIKKI: "The imagery, the soundscape (Arvy Dimaculangan), the theatrical devices employed by Guelan Luarca in this staging shows his mastery of theater's rules, and his ingenuity to break them. The performances, too, and the adaptation of Lualhati Bautista's work–all pitch-perfect. It's harrowing, impactful, important. You feel the rightful anger, and fear, and urgency that Martial Law isn't just our recent past, but also looms over our present, and could take over our future."
FRIDA: "Guelan Luarca gives a masterclass in direction in his adaptation of Lualhati Bautista's Martial Law novel. He utilizes a bare stage with harrowing video projections and audio testimonials to provide painful context to the story of a family's heroism and tragedy. The staging felt so intimate that the whole experience in Arete, accompanied by a brave cast led by Brian Sy and Chic De Guzman, was palpable and scarring; a rousing call not to allow history to repeat itself."
2nd Best Play:
"'Night, Mother"
(Philippine Educational Theater Association)
NIKKI: "Melvin Lee's brand of auteurism for "'Night, Mother" is to stage realism so detailed that audiences feel like observers of real life, and that made this show leave its lasting mark throughout the year. From orchestrated everyday movements, to the set design (by Ben Padero), to the original piece's superb adaptation (by Ian Lomongo), it's as intricate and thought out as any grand musical. Central to its success, of course, are Sherry Lara and Eugene Domingo, who were giving masterclass performances."
FRIDA: "PETA's staging of Marsha Norman's 'Night Mother', with adaptation by Ian Lomongo, came in perfect timing, when issues of depression and mental health have never been more relevant. The show ran for exactly 90 minutes (as seen through a clock on center stage) set in a house designed by Ben Padero. The actresses knew exactly what their motivations were—Eugene Domingo as Jessie was clearly resigned to her fate, while Sherry Lara as her mother Thelma was desperate to save her daughter from killing herself. The exchanges between mother and daughter humanized the issue and made room for conversation."
3rd Best Play:
"A Doll's House, part 2"
(Red Turnip Theater)
NIKKI: "Cris Villonco chose her directorial debut well–a piece that was memorably feminist and quintessentially Red Turnip. There was something about this show that was so cutting edge. Maybe it's the anachronistic production design (by Joey Mendoza), maybe it's Nora's ideas of a post-marital society (written by Lucas Hnath), but Villonco put all the elements together and helmed something unique and gripping that it's only downside was that it ended far too quickly."
FRIDA: "Cris Villonco made her directorial debut in Lucas Hnath's A Doll's House Part 2, a story about a progressive woman in the 19th century named Nora who left her family. Menchu Lauchengco-Yulo gave a confident and unflinching performance in the lead role while sparring with a formidable Sheila Francisco (as Anne Marie, the caretaker of the house).  The play was an empowering back and forth about marriage, family, and divorce that puts everything on the table– a rare, welcomed change in a conservative, patriarchal Philippines."
Comments