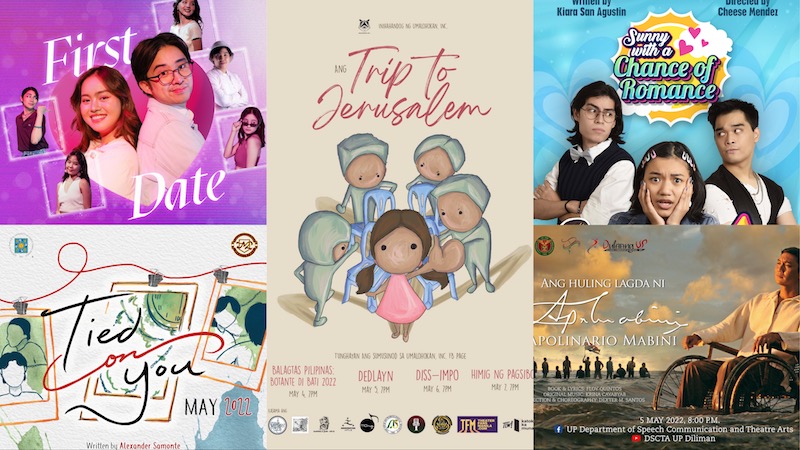 5 University-Based Theater Productions this May 2022
Audiences can watch five diverse online productions by five university groups this May. From a Broadway production, to an interactive series, to political theater, there is definitely something for everyone.
1. Trip to Jerusalem by Umalokohan Inc.
Trip to Jerusalem
is
a
series of performances aligned with various topics about the upcoming elections. The title of the
production is based on a well-known game of musical chairs where participants fight over the limited number of chairs; much
like
the
nationwide battle of candidates o
v
er seats in the senate
and the government during elections
.
From endorsements to
debunking disinformation, this production aims to promote the
active and critical participation of voters in choosing which candidates deserve their votes
. 
One of the performances in the production revolves around the rampant distortion of information and history during 1972 to 1981. The Marcosian machinery promulgating fake news has been well established in institutions such as in the media and education. The performance counters the dissemination of fake data and the spread of fake news. 
Another performance tackles the recent questionable decisions of the Commission on Elections (COMELEC) that raises current and possible issues for the upcoming 2022 Elections. This performance revolves around topics including vote-buying, unclear platforms, debate absenteeism, and most importantly, the evident favorable actions of COMELEC to the Marcoses. 
Lastly, the production offers a performance about the endorsement of the Leni-Kiko tandem focusing on Kiko Pangilinan as a Vice Presidential bet. By tackling the importance of discourses about voter's education and ethical campaign practices, this performance aims to push forth messages on who deserves our votes in the upcoming elections.
The performances will be released on Umalokohan Inc's Facebook page with the following schedule:
May 4, 7 PM – Performance 1
May 5, 7 PM – Performance 2
May 6, 7 PM – Performance 3
May 7, 7 PM – Performance 4
Umalohokan, Inc. is a socio
–
cultural organization based in the University of the Philippines Los Baños. Founded in 1977 at the
height
of
Martial Law
,
the organization has since then and
until
now utilized the diverse aspects of art and media in portraying
social issues and empowering the Filipino people
.
2. Ang Huling Lagda ni Apolinario Mabini by Dulaang UP
Dulaang UP of the UP Department of Speech Communication and Theatre Arts (DSCTA) will be streaming Floy Quintos'
Ang Huling Lagda ni Apolinario Mabini
on May 5, 2022 on the UP Department of Speech Communication and Theatre Arts
Facebook Page
and on the DSCTA UP Diliman
YouTube Channel
. It will be followed by a talkback with Floy Quintos (Librettist), Krina Cayabyab (Composer), and Dexter M. Santos (Director), to be moderated by Marvin Olaes.
Ang Huling Lagda ni Apolinario Mabini was first staged in UP's Wilfrido Ma. Guerrero Theater in 2014. It chronicles the last days of Mabini's exile in Guam and explores the conditions which spurred him to return to his homeland. Ang Huling Lagda ni Apolinario Mabini's is a reminder to the Filipino electorate that the narrative of the country in the next years lies in their votes.
3. First Date by Ateneo blueREP
The Broadway musical 
First Date
will be produced by Ateneo blueREP, streaming online on May 7, 14, and 28. Written by Austin Winsberg, with music and lyrics by Alan Zachary and Michael Weiner, the story follows blind date newbie Aaron, who is set up with serial-dater Casey. See how a casual drink at a busy New York restaurant turns into a hilarious high-stakes dinner.
Carlos De Guzman stars as Aaron and Julia Santiago stars as Casey. This production will be directed by Topper Fabregas, with musical direction by Rony Fortich.
4. Tied on You by Mediartrix

Mediartrix, the university-wide Multimedia Organization of UST, will be streaming Tied on You on May 20 and 21 at Mediartrix's YouTube account. Tied on you is an experience of life's biggest lessons. It explores the path towards one's passions and desires. It tackles relationships and one's deepest connections with one another. It teaches us how to value all our memories, good or bad. Tied on You is about you, your life, and your place in this world.
The production premiere will be made visible for registered viewers. Follow Mediartrix's Facebook page for more information.
5. Sunny with a Chance of Romance by UA&P's ViARE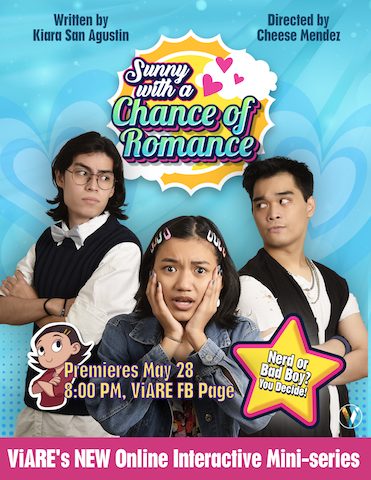 UA&P's ViARE will be streaming a new, online, interactive mini-series entitled Sunny with a Chance of Romance, which also doubles as a fundraiser and outreach project for the organization's beneficiary, Saint Rita Orphanage.
Written by ViARE's Kiara San Agustin, Sunny with a Chance of Romance is a four-part limited series. In four episodes, the series invites audiences to immerse themselves in the story and help the main character, Sunny, choose between bad boy Mark and "adorkable" Joaquin by voting on what Sunny should do next after every episode.
The series stars ViARE's Jam Elloso as Sunny, Matty Puno as Mark, and newcomer Enrique Torres as Joaquin, alongside ViARE's Anne Lamug and Seth Velarde. It will be directed by Cheese Mendez.
Catch the online premiere of each episode every Saturday evening from May 28 to June 18, 2022 on ViARE'a
Facebook page
.
Comments