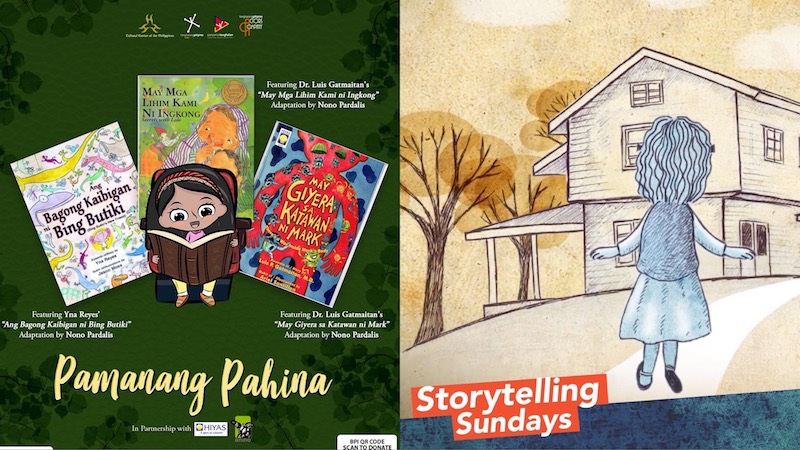 2 Online Theater Series for Young Kids
If you've been enjoying the frequent news of online streams of your favorite shows, you'd be glad to know that the young kids in your life don't have to miss out on 'New Normal Theater'! Two theater companies continue to put out regular content geared towards young audiences. 
These storytelling series combine theater and digital techniques to bring audiences local children's stories. They learn about different forms of theater like puppetry, and familiarize themselves with Philippine literature to boot!
1. Storytelling Sundays by PETA
PETA releases new content once a week through its online series called
Storytelling Sundays
.
Every Sunday since May, the series has tackled different stories by local authors,
becoming more and
more innovative as the medium progresses,
using
music, shadow puppetry, and animation. The stories are
narrated by some of today's biggest theater stars, including Pepe Herrera, Jerald Napoles, Bodjie Pascua, Audie Gemora, Menchu Lauchengco-Yulo,
Noel Comia Jr., Noel Cabangon, Vic Robinson, Teetin Villanueva, Shiela Valderrama-Martinez, Lorenz Martinez, and many more. 
The most recent stories feature Jomike Tejido's Me Me Mi Mumu, performed by Leo Rialp and Kiki Baento, and Ma. Corazon Remigio's Bru-ha-ha-ha-ha-ha… Bru-hi-hi-hi-hi-hi…, illustrated by Roland Mechael Ilagan and performed by Upeng Galang-Fernandez and Matel Patayon.
Storytelling Sundays streams live every Sunday starting at 7:00pm via PETA's Facebook Page. You can also watch all prior entries on the company's  YouTube Channel.
2. Pamanang Pahina by Tanghalang Pilipino
Tanghalang Pilipino has released the three installments of their
Pamanang Pahina
online series,
an initiative in partnership with OMF Literature that features
children's literature also written by local authors. The stories are narrated and performed by members of the Tanghalang Pilipino's Actors Company,
with visuals from the Anino Shadowplay Collective.
The three stories feature Mga Giyera sa Katawan ni Mark, written by Dr. Luis P. Gatmaitan and illustrated by Ariel Santillan, Ang Bagong Kaibigan ni Bing Butiki, written by Yna Reyes and illustrated by Jason Moss, and May Mga Lihim Kami ni Ingkong, written by Dr. Luis P. Gatmaitan and illustrated by Beth Parrocha-Doctolero. All stories have been adapted for online streaming by Nono Pardalis.
You can watch three stories on Tanghalang Pilipino's YouTube channel.
Comments