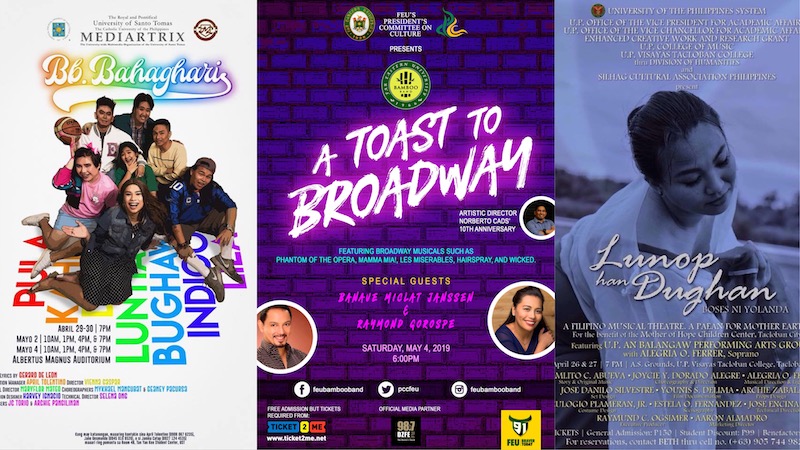 5 Independent and University Productions this April to May
You can catch these concerts and original productions from university organizations and independent groups this summer!
1. A Toast to Broadway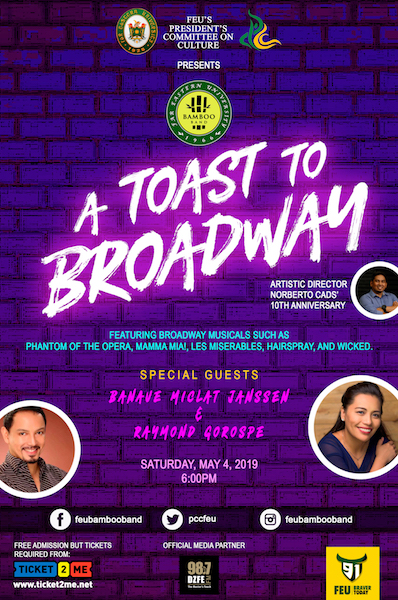 Far Eastern University President's Committee on Culture presents the FEU Bamboo Band in a concert entitled, "A Toast to Broadway" on Saturday, May 4 at 6:00 p.m. in the FEU Auditorium. Known as the cultural center of the country in the 1950's, the FEU Auditorium celebrates its 70th Anniversary throughout 2019.
The FEU Bamboo Band is composed of students from the different institutes of Far Eastern University under the artistic direction of Norberto Cads, who is celebrating his 10th anniversary with FEU. Cads has extensive knowledge on bamboo music and has participated in numerous international expositions and festivals together with the Banda Kawayan Pilipinas.  
"A Toast to Broadway" features classics from The Phantom of the Opera, Mamma Mia!, Wicked, and Les Miserables on bamboo instruments. The concert will also feature guest artists Raymond Gorospe and Banaue Miclat-Janssen.
"A Toast to Broadway" is a free concert that also celebrates the ninety first year of Far Eastern University. You can buy tickets from www.Ticket2Me.net or call the PCC Center from Monday to Friday, 8am-6pm at (632) 849-4145.
2. Bb. Bahaghari by UST Mediartrix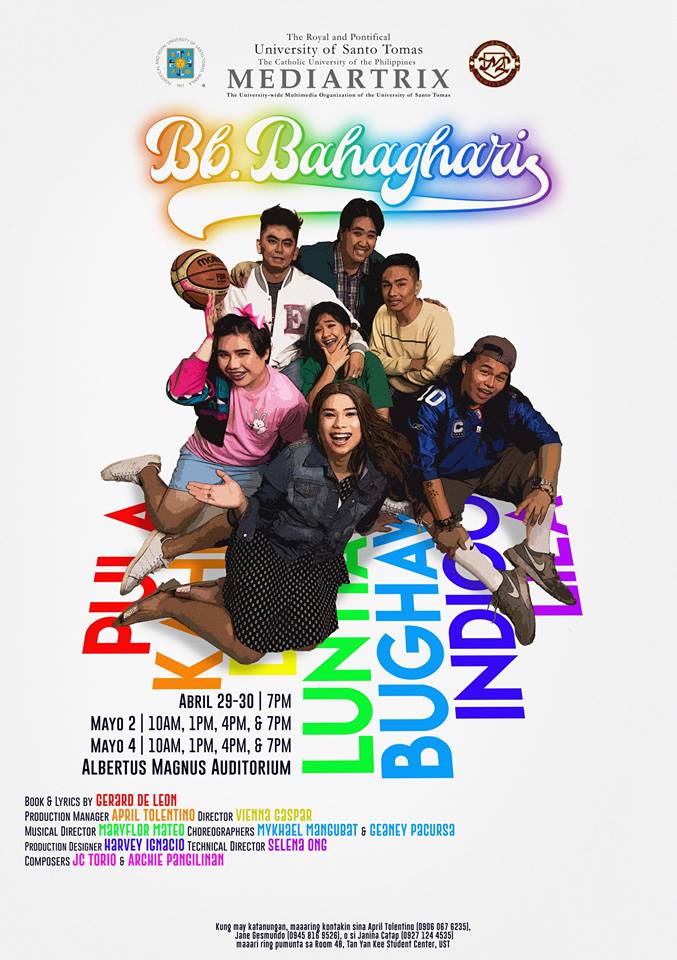 In 1994, during the period when the LGBT were largely swept under the rug, Red-who had a wide sense of understanding and determination- was determined to bring exposure to the LGBT community through his poems. His natural talent in writing became his instrument in declaring their rights, sharing their experiences and introducing who and what they are as a community. He dreams of the day when they'll be accepted and understood by society.
This original musical is written by UST Mediartrix members Gerard de Leon (book and lyrics), JC Toro, and Archie Pangilinan (composers), with musical direction by Maryflor Mateo, and direction by Vienna Gaspar.
The show will run from April 29-30, May 2-4 at the Albertus Magnus Auditorium of UST. For tickets, contact Janina Catap (0927-1244535), Jane Gesmundo (0945-8169526), April Tolentino (0906-0676235).
3. Hello Gorgeous! By OperaJuan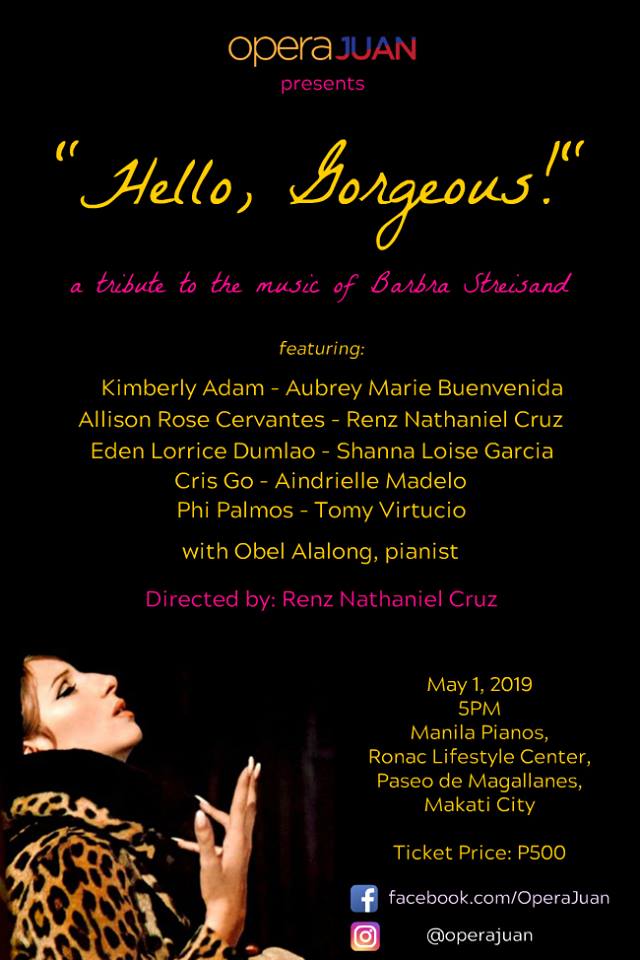 OperaJuan is staging a Mother's Day concert entitled "Hello, Gorgeous", a tribute to the music of theater, film, TV, and recording artist, Barbra Streisand.
The show is intimate in nature and will feature selections from Barbras' extensive song catalogue, which includes musical theater standards, pop hits, movie theme songs, and select arias and art songs taken from the "Classical Barbra" album.
The show will run for one day only at the Manila Pianos on May 1, 5pm. Kimberly Adam, Aubrey Marie Buenvenida, Allison Rose Cervantes, Renz Nathaniel Cruz, Eden Lorrice Dumlao, Shanna Loise Garcia, Cris Go, Aindrielle Madelo, Phi Palmos, and Tomy Virtucio, with pianist Obel Alalong, will be performing.
The show is directed by Renz Nathaniel Cruz. For ticket inquiries, contact 09651951007, 09566757186, or 09172578998.
4. Lunop Han Dughan by UP Tacloban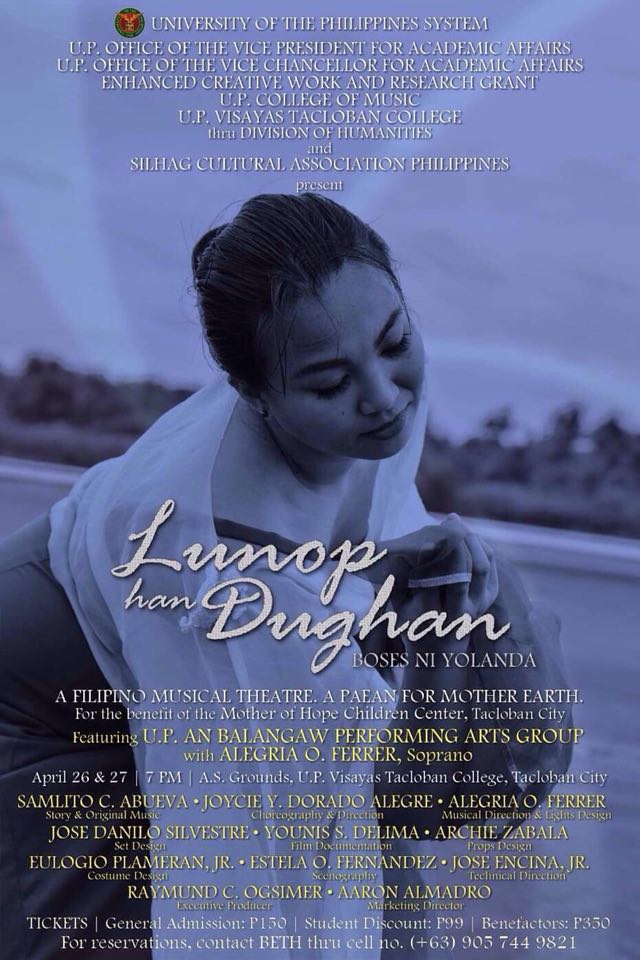 Lunop Han Dugan is a contemporary Waray sarswela that is set to open in Tacloban, Leyte. Through the inception of the University of the Philippines System and its Office of the Vice Chancellor for Academic Affairs- Enhanced Creative and Research Grant, Professor Alegria O. Ferrer, the UP Visayas-Tacloban and Silhag Cultural Association of the Philippines will present Lunop Han Dughan (voice of Yolanda) written and composed by Samar-born Samlito Abueva. An inter-campus collaboration between Joycie D. Alegre and music director Alegria O. Ferrer, the sarswela will be performed at the UP Visayas-Tacloban AS Grounds on April 26 and 27, 7pm.
5. Padayon: The 22nd Dulaang ROC's Playfest

For 21 years, Dulaang ROC has held its tradition of welcoming non-ROC members to a play competition at the end of the academic year. This 2019, the theater organization will have its annual Play Competition entitled "Padayon: The 22nd Dulaang ROC Playfest."
Participating teams from inside and outside UA&P must produce the chosen script of the same theme provided for them and compete against each other for the Best Overall Production Award with a cash price of Php 10,000. This year, chosen scripts will revolve around the common theme Padayon, a Visayan word that means "moving forward" or "onward".
The festival will showcase 5 plays: 'Bulong,' 'Away Bata', 'Bangkay Bust,' 'Kapit-Bisig,' and 'Liwanag ng Mata'.
The first play entitled 'Bulong', written by Kimverly Jane M. Javier, Alexandra M. Santelices, Jenn Keizha C. Tena and also directed by Kimverly Jane M. Javier (all members of Teatro Paulino SPCP), is a play about the Filipino culture of "bulong". Kitty, Celine, EJ, and Prescila discover their wishes as they whisper on the tombs of people who cared for them, of whom they love and loved, of strangers, and of whom they could have met. But will they really be able to realize what they want for their own lives?
The second play, 'Away Bata,' is written by John Encela and directed by Diosary Timbol (both members of Tanghalang Lykeion LPU – Cavite). It is based on the creationism story of Bathala, Ulilang, and Galana. It is about two chieftains of two rival tribes in ancient Cordillera who must unite for one purpose. Little do they know, this pact of unity might bring danger to both tribes. Will the two tribes successfully create a pact which could lead them to their goal?
Written by Nico Vicente and directed by Paul Lou Guerrero (both members of Dulaang ROC), the third play is a Filipino folklore entitled 'Bangkay Bust.' The story is about Julius, who is being hunted down by "aswangs" for blessing dead bodies, making them inedible for "aswangs." After being cornered into an abandoned warehouse, he makes a bet with the "aswangs" chasing him. Tensions start to arise with each challenge being thrown but only one thing seems to be clear.
The fourth play entitled 'Kapit-Bisig', written by Juan Cabrera and directed by Timothy Guevara (both members of Dulaang ROC), is inspired by the story from the strike of the Sumifru Banana Corporation workers. In the play, plantation farmers and factory workers of the Del Sanay Banana Corporations plan to go on strike after facing harsh working conditions, unlivable wages, lack of benefits, and harassment from paramilitary forces. Led by union leaders Minda and Eric with solidarity from church people and militant youth activists, they lay out their plans, discuss their problems, and highlight the importance of going on a strike in the first place. Will they succeed or will their efforts be put to waste?
The last play entitled 'Liwanag ng Mata' is written by Jesca Canto and Red Hernandez and directed by Jesca Canto (UA&P). In this story, Bathala's death causes conflict with his sons and daughters after leaving without any will. Apolaki, the prideful eldest son, and Mayari, the eldest daughter, justify their position to replace their father as the next powerful deity of the Sky. Who will win and replace their father's position?
The festival will run from April 24-26, 2019 at UA&P's Dizon Auditorium.
Ticket prices are P250 (regular/outsider/alumni), P200 (UA&P/SPCP/LPU student), and P180 (UA&P/SPCP/LPU Scholar). Contact Janelle Marcelo (0916 218 0698) or Isaac Ramento (0906 904 8614).
Comments