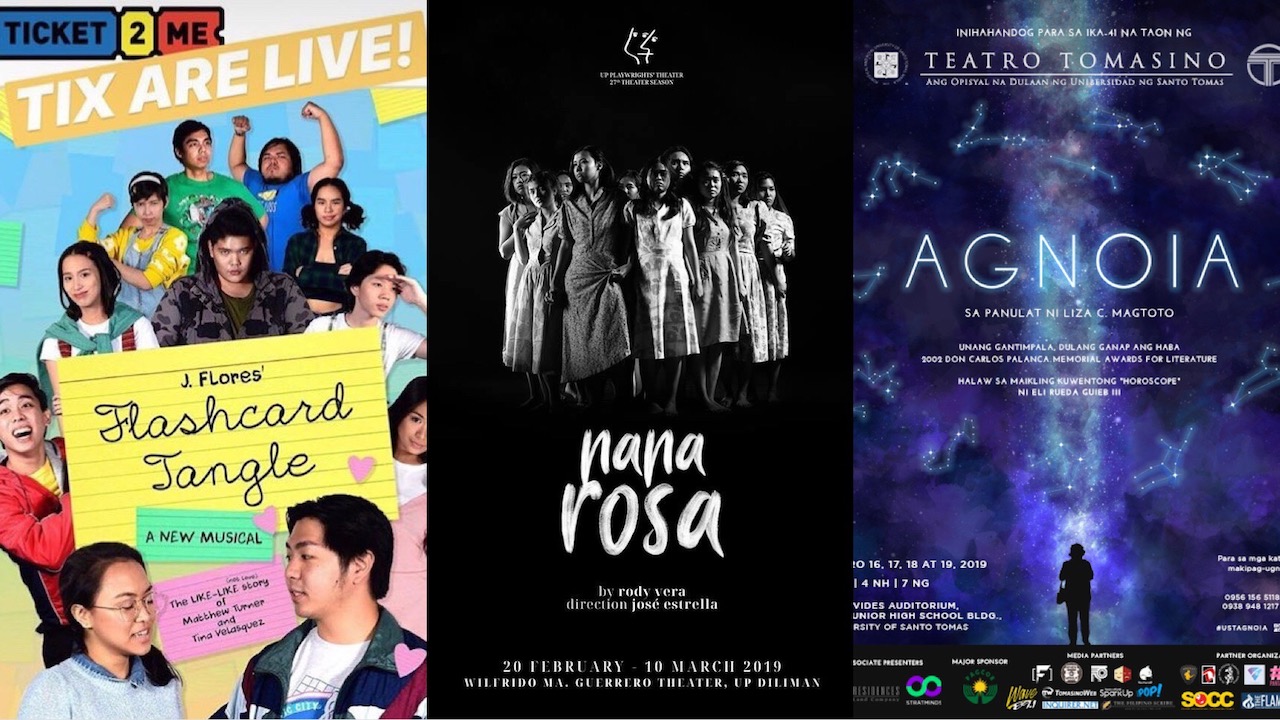 5 Independent and University-based Productions to watch this January to March 2019
These are 5 productions from some of Manila's university and community-based, as well as independent organizations, that you can catch from January to March.
1. Flashcard Tangle by Jef Flores

Theater actor Jef Flores, writes, composes, produces, and directs his first production. 'Flashcard Tangle' is a new, original musical about young love (or in the show's case, 'like-like').
Matthew Turner had been in love with Tina Velasquez ever since he saw her on the first day of school. So when he finally got the chance to tell her how he felt, he did the only sensible thing: he lied! But that little lie is about to complicate things – everyone around Matthew is about to start lying, too. Soon, Matthew and his friends will have to sort through the lies in order to stop all the drama around them – or else the pajama dance is going to turn into a HUGE FIGHT!
The production stars Martti Uy and Gabby Concepcion, featuring Gab Pangilinan, Chino Veguillas, J.P. Mercado, Jiano Magdaraog, Pau Jaravata, Kiara Dario, L.J. Galvez, Dani Idea, Moreen Guese, Timothy Racho, and Tory Cortez.
Joining Flores in the creative team are Ed Lacson Jr. (Production Design), Joseph Matheu (Lighting Design), Aji Manalo (Sound Design), PJ Rebullida, Gia Gequinto, Jourdan Bartolome, and Paul Fausto (Choreography), Ian Cartalaba (Costume Design), and Joee Mejias (Projections).
The show will run from January 12-13 at the Power Mac Center Spotlight. You can buy tickets through ticket2me.net or by calling +639176406689.
2. Agnoia by Teatro Tomasino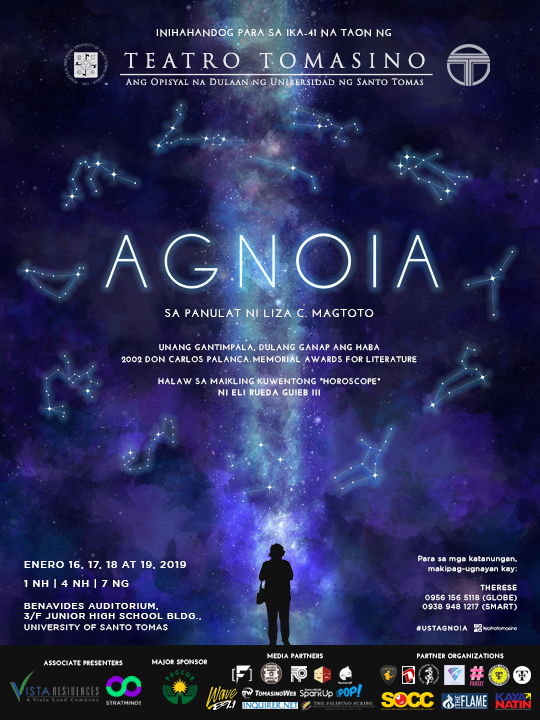 Teatro Tomasino, the official university wide theater guild of the University of Santo Tomas (UST), stages Liza Magtoto's 'Agnoia'. Based on Eli Rueda III's short story 'Horoscope,' the story revolves around eleven characters in an intricate web of relationships.
The production plays with the idea of entrusting one's future to the cosmos, causing agnoia– ignorance caused by willful blindness. It also explores themes about family, love, and fate.
The show will be directed by the company's alumnus, Lendro J. Enore.

The play will run from January 16 – 19, 2019 (1pm, 4pm, and 7pm). Tickets are at P170.00, with special discounts for bulk purchases. For inquiries and reservations, contact Elijah at 0926 822 6084 (Globe) or Therese at 0956 156 5118 (Globe) / 0938 948 1217 (Smart).

3. Ang Pagsalubong sa Apatnapu by Teatro ni Juan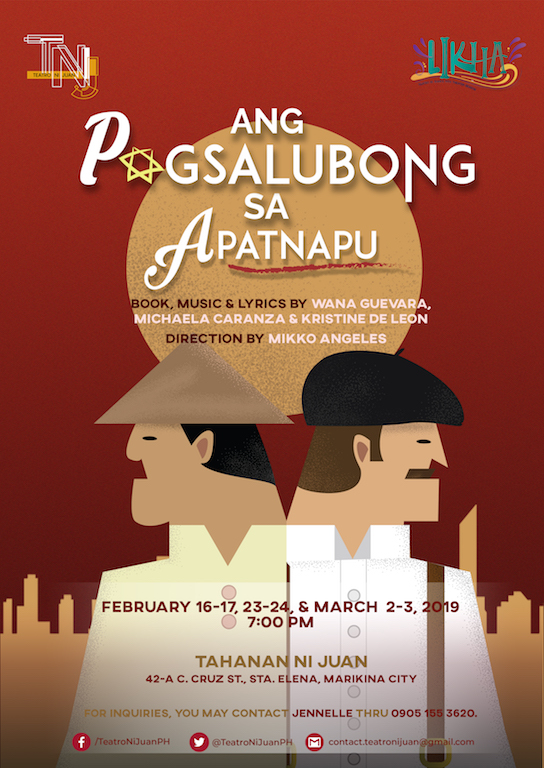 Teatro Ni Juan, Marikina City's premiere community theatre, wraps up its 11th Season with 'Ang Pagsalubong Sa Apatnapu', a new musical with book, music and lyrics by Wana Guevara, Michaela Caranza, and Kristine de Leon.
Inspired by true events, the musical commemorates the Philippines opening its doors to the Jews who sought refuge from the terror of Kristallnacht. The production recounts the efforts of President Manuel Quezon who welcomed the 'Manilaners' to start anew. Building a diverse community, the 'Marikeños' and 'Manilaners' found themselves to be one and the same as the Japanese Imperial Army took over the islands.
The show will run from February 16-17, 23-24, March 2-3, 7pm at Tahanan ni Juan (42-A C. Cruz St., Sta. Elena, Marikina City). Tickets are priced at PHP150.
For tickets, sponsorships and showbuying inquiries, you may contact our publicity manager, Ms. Ana Rae Tambaoan (+639050768071) or e-mail contact.teatronijuan@gmail.com.

4. Nana Rosa by UP Playwrights' Theatre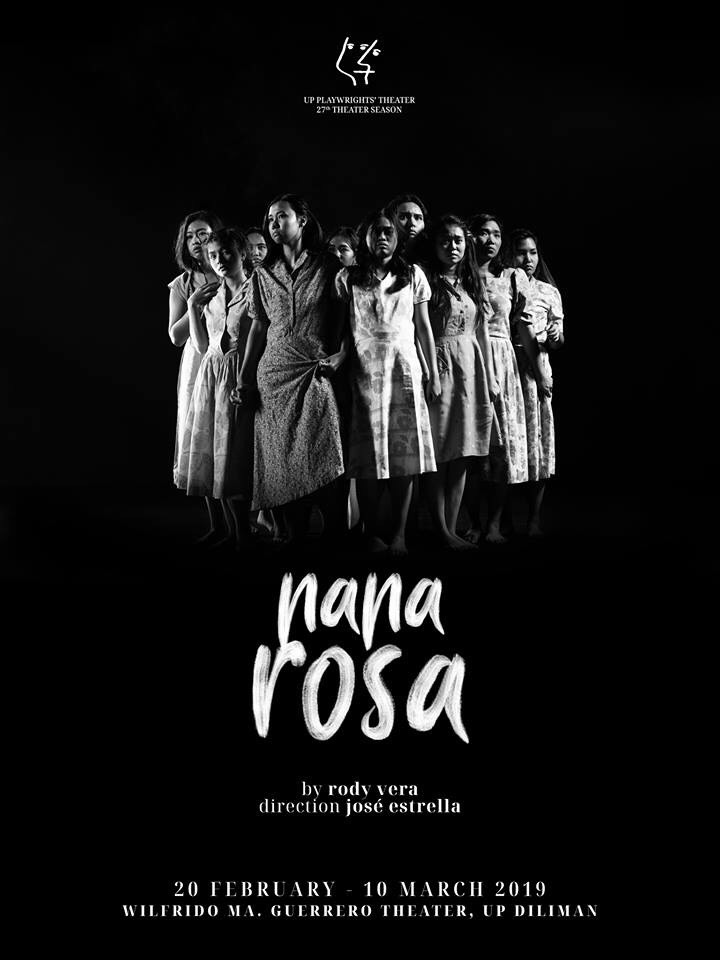 'Nana Rosa' is based on the life of Maria Rosa Luna Henson, the first Filipino Comfort Woman to make her story public. The show recounts her life starting from WWII, where she became a comfort woman, up to 50 years later, when she decided to come out with her story.
The play touches on the trafficking of women, the brutality of war, and the repeated attempts of denial and erasure of Comfort Women in history. Directed by José Estrella and written by Rody Vera, the play will run from February 20 until March 10, 2019 at the Wilfrido Ma. Guerrero Theater, 2nd floor, Palma Hall, UP Diliman, Quezon City.
5. Ako: Alpha Kappa Omega by Tanghalang Ateneo

Tanghalang Ateneo's season-ender is an adaptation of Mike de Leon's classic film 'Batch 81', penned and directed by Guelan Varela-Luarca. Following the film's main themes, 'AKO: Alpha Kappa Omega' is a meditation on the social ills of fanaticism, fascism, and violence. Apart from being a direct critique of machismo and fraternity hazing, the play also indirectly investigates the phenomenon of Dutertismo and the rabid fascination with strongman rule and dictatorship.
Besides Varela-Luarca, the artistic team also includes Charles Ivan Yee as Set Designer, D Cortezano as Lighting Designer, and Xander Soriano as Sounds Designer. Guest actors will be made up solely of Tanghalang Ateneo's alumni. The play will run from March 20-April 13.
Update, 1/10/19: Monica Sebial is the new set designer for AKO: Alpha Kappa Omega.
Comments