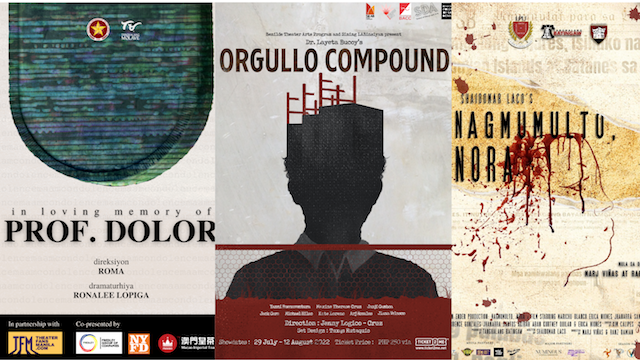 3 University Productions this July to August 2022
You can catch these three productions from the Lyceum of the Philippines, the De La Salle-College of St. Benilde, and the Polytechnic University of the Philippines.
1. Lumayag by Tanghalang Batingaw

Tanghalang Batingaw, the university theater organization from the Lyceum of the Philippines University, will be presenting two stories based on the concept of "Lumayag", defined as breaking free from the chains that bind freedom. It is defined as such because the said stories deviate from what we know about our world, and it transpires the stories outside our perceived reality in our current universe.
Nagmumulto, Nora by Shaidomar Laco will stream on Tanghalang Batingaw's Facebook Page on July 18, 7pm and WCI022 by Jennylyn Francisco will stream on July 20, 7pm. Each show will range at least 15 to 20 minutes. 
Nagmumulto, Nora by Shaidomar Laco
Isang taon matapos ipatupad ang Military Rule ng Administrasyong Pajares, ikalawang taon na ni Nora sa kolehiyo sa UP Diliman. Pinahinto siya ng kaniyangama sa pag-aaral at pinanatili sa kanilang tahanan sa Tundo sapagkat siya'y naging aktibong manunulat at retratista ng Kulé at CEGP.
WCI022 by Jennylyn Francisco
YEAR 2035. Two middle-aged gay men went on their last date.
2. Orgullo Compound by Sining LABinsiyam (SiLAB)

Orgullo Compound is Sining LABinsiyam (SiLAB) third production, written by Layeta Bucoy and directed by Ms. Jenny Logico-Cruz. The two-act play revolves around the story of Teofie Orgullo, a professor who has a lot on his plate. Surrounded by the problems with his apartment compound, tenure, and intimate relationships, an inner battle unfolds wherein Teofie's idealism leads to his self-deterioration, and the implosion of his intimate relationships and environment.
The show will be streamed via Ticket2Me from July 29 to August 12, 2022, open from 12:00 AM to 11:59 PM. SiLAB is a production house under De La Salle-College of St. Benilde's Theater Arts Program formed in May 2021 by a group of batch 119 student-artists.

For more information, visit Sining LABinsiyam on Facebook.
3. In Loving Memory of Prof. Dolor by Tanghalang Molave

PUP Tanghalang Molave, the academic theatre organization of Polytechnic University of
the Philippines Department of Performing Arts, closes its season with the graduating batch's thesis production,
In Loving Memory of Prof. Dolor,
streaming on July 30, 2022 on the PUP Tanghalang Molave
Facebook Page
.
The play takes place after the untimely death of a college theater professor who succumbed to COVID-19 in the mid 2020's. We follow four different students who have to deal with their grief towards the professor's death in their isolated spaces because no public funeral ceremonies are allowed to be conducted during the global pandemic.
Comments