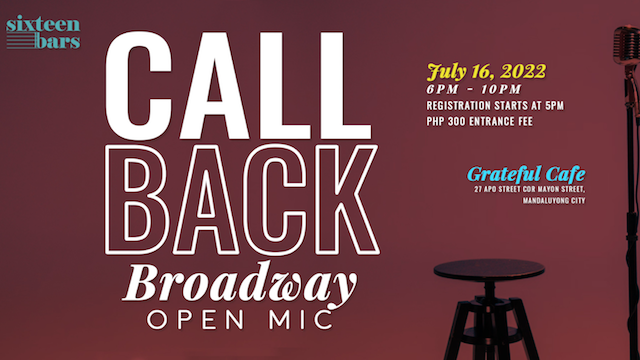 Broadway Open Mic Happening This Weekend
Sixteen Bars' Broadway Open Mic series is back with its first live, face-to-face engagement after more than two years.
Entitled Callback: Broadway Open Mic, this latest installment is a celebration of regaining physical safe spaces where interested parties can come together once again to revel in their shared passion.
Guests are invited to bring selections—songs and scenes—from any of their favorite theatrical works. Slots for waitlist are still open. Interested participants can register here.
Callback: Broadway Open Mic will be held on 16 July 2022 at Grateful Cafe (27 Apo St. cor. Mayon St., Mandaluyong City). Registration opens at 5:00 PM, and the event proper runs from 06:00 PM to 10:00 PM. Entrance fee is PhP 300, inclusive of a free drink and one non-transferrable performance slot per guest.
For everyone's safety, the wearing of face masks will be required for the entire duration of the event.
Comments