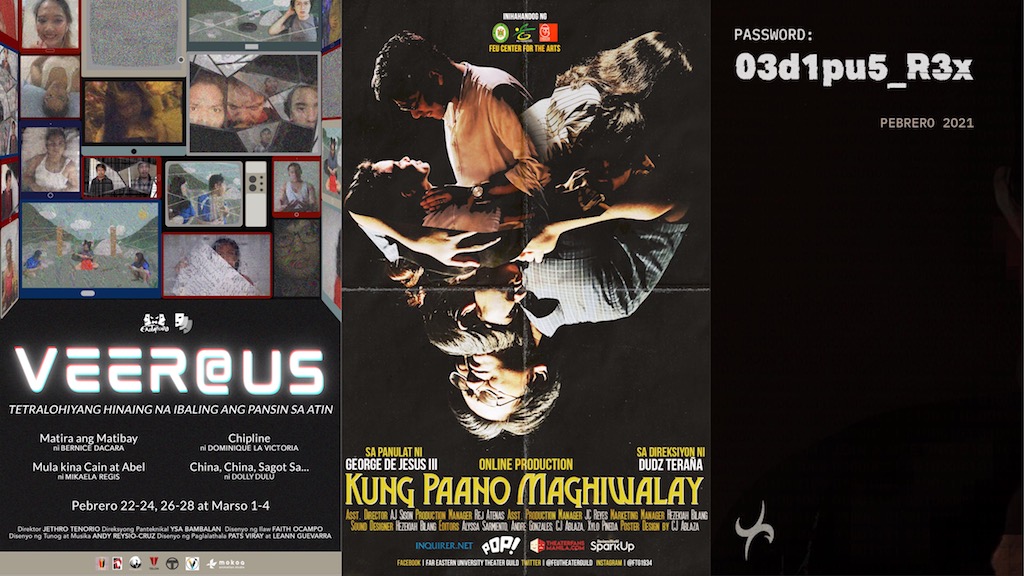 3 University-Based Theater Productions Online this February 2021
The following student organizations will be streaming a series of Filipino plays, coming to your screens this February.
1. Password: 03d1pu5_R3x by Tanghalang Ateneo
Password: 03d1pu5_R3x is a present-day adaptation of Sophocles' classic, Oedipus Rex. The production makes use of Rolando S. Tinio's Filipino translation of the play, to be adapted and directed by Ronan B. Capinding. Its cast features Miren Alvarez-Fabregas, Katski Flores, Gabe Mercado, Marlon Rivera, Marian Rivera-Dantes, and Yan Yuzon, together with its student cast– Dani Capinding, Nicole Chua, Miguel Datu, Trixie Dela Cruz, Kat Dizon, Shaun Ocrisma, and Lars Salamante.
The play takes place in a country struck by a pandemic, with Oedipus serving as the nation's President. Faced with the need to resolve the murder of Congressman Laio, as well as determine where he is situated in the narrative of this crime, Oedipus sets out to unveil the truth, only to find out that the truth is not what he had envisioned it to be. 
The show will stream on February 22, 25, and 27, 2021. Tickets are worth P150 for general viewing and P250 for general viewing, coupled with a souvenir program. You can buy tickets through https://www.ticket2me.net/.
2. Kung Paano Maghiwalay by FEU Theater Guild
The FEU Theater Guild (FTG) ends its 86th theater season with Egg Theater Company's Kung Paano Maghiwalay, written by George de Jesus III. The play tells the story of 12 individuals whose lives are intertwined through their respective romantic advances and consequent breakups. It was previously staged by the student organization in 2019.
The play is directed by the organization's Artistic Director, Dudz Teraña. It will be streaming from February 21 until April 27, Sundays and Tuesdays, on FEU Theater Guild's Facebook page.
3. VEER@US: Tetralohiyang Hinaing na Ibaling ang Pansin sa Atin by Ateneo ENTABLADO
The production showcases a series of one-act plays that tackle prevailing socio-political issues in the country– Mikaela Regis' Mula kina Cain at Abel, Bernice Dacara's Matira ang Matibay, Dominique La Victoria's Chipline, and Dolly Dulu's China, China, Sagot Sa…
Veer@Us is directed by Jethro Tenorio. It will be streaming on KTX.ph from February 22-24, 26-28 and March 1-4, 2021. Tickets are priced at 80 pesos for single plays, 250 pesos for the weekday bundle, and 300 pesos for the weekend bundle.
Comments