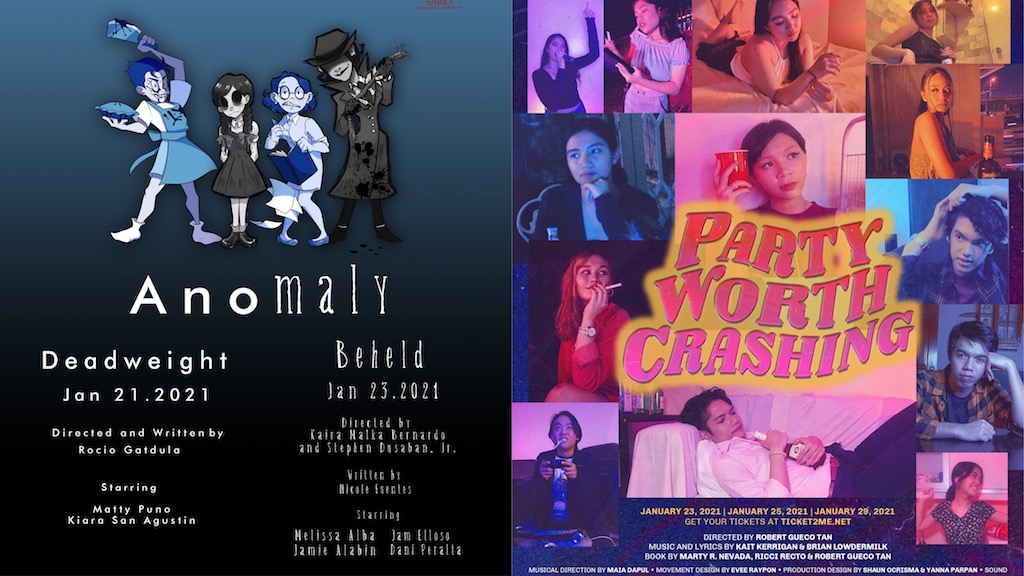 2 University-Based Theater Productions Online this January 2021
This month, two university-based theater organizations will be releasing productions online– one, a twin-bill of one-act plays, and the other, an original musical. 
1. Party Worth Crashing by Ateneo blueREP
Featuring music by Kait Kerrigan and Brian Lowdermilk and an original book by Marty R. Nevada, Ricci Recto, and Robert Gueco Tan, Party Worth Crashing is Ateneo blueREP's newbie production (a show that features the organization's new members) for its 29th season.
Remotely filmed and directed over Zoom, the musical follows a group of twenty-somethings who are forced to confront their struggles with love, relationships, loss, and growing older — all as the future closes in.
It is directed by Robert Gueco Tan, with Maia Dapul serving as musical director. They are joined by Evee Raypon (movement designer), Shaun Ocrisma (production designer), Yanna Parpan (production designer), Arvy Dimaculangan (sound designer), Ariel Ignacio (graphic designer), Dana Lee (graphic designer), and LJ Galvez (musical scorer). 
Tickets are available on Ticket2Me.net for January 23, 25, and 29, 2021. The show will be open for viewing any time between 8PM-12AM only. For inquiries, contact Harley Nufable at 0998-8600813. A talkback featuring the Artistic Team will be streamed on blueREP'S Facebook page on January 27, at 8-9:30PM.

2. Anomaly by UA&P's ViARE
Anomaly is a free twin-bill production featuring two one-act plays. The first play, entitled Deadweight, follows a trained assassin named Tom, who finds himself unoccupied due to the seemingly endless pandemic. His growing anxiety calls for the attention of a psychiatrist, with whom he engages in an unconventional therapy session of sorts. It is written and directed by Julia Rocio Gatdula, and will premiere on ViARE's Facebook page on January 21 at 8m.
The second play, entitled Beheld, tells the story of an innocent young girl who meets an eerie and somber stranger in a carnival, where a serial killer is on the loose. It is written by Nicole Fuentes and directed by Stephen Dusaban Jr. and Kaira Malka Bernardo, and will premiere on ViARE's Facebook page on January 23 at 8m.
For inquiries, contact Gianna Zafra at 0917-8890153.
Comments