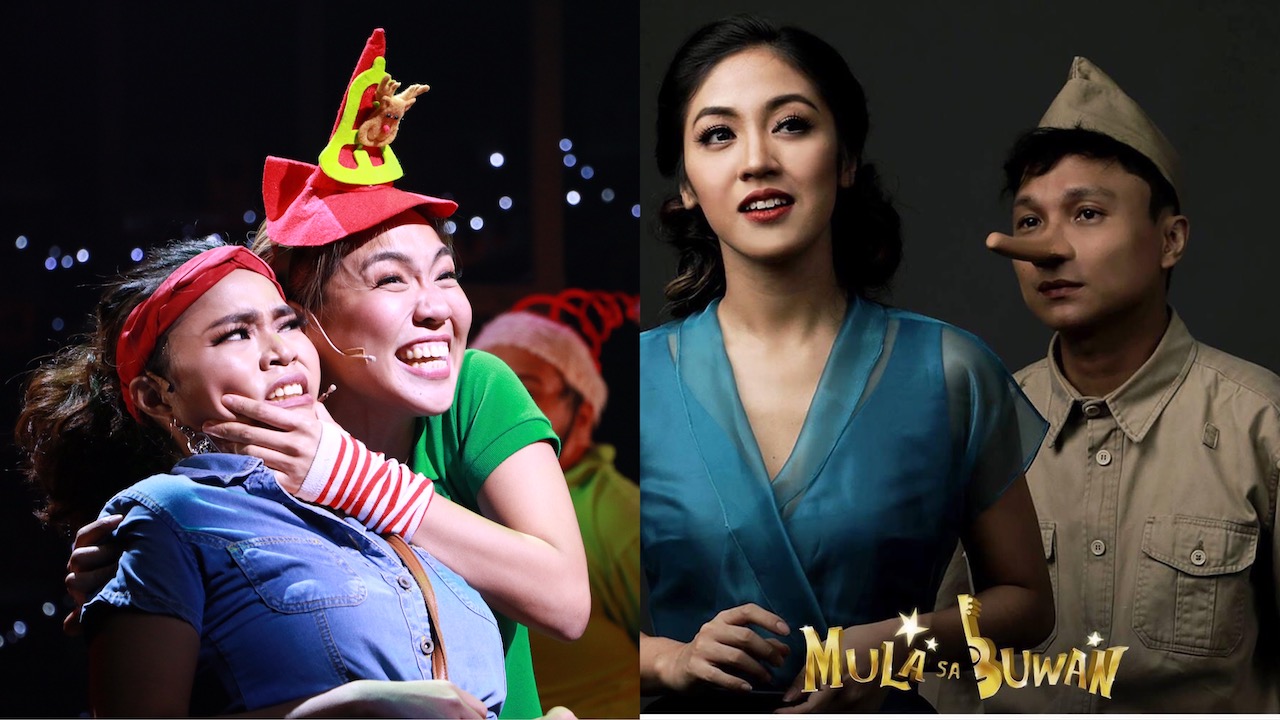 16 Songs to Get You Through a Storm
It's typhoon season once again in the Philippines so we need some good music to help us get through the gloom of endless rainy days. And there's nothing quite like a showtune to uplift one's spirit in the darkest of times. 
July was also National Disaster Resilience Month, an annual campaign to raise awareness about the four stages of disaster resilience: prevention and mitigation, preparedness, response and rehabilitation and recovery. Every year, different organizations conduct activities around these themes, to share new lessons learned from disasters past. 
Since the Philippines is one of the most disaster-prone countries in the world, it is vital for everyone to be well-versed in how they can protect themselves, their families, and their communities from the worst effects of any disruption. We are, after all, a nation known for our resilience, our ability to survive, adapt, and even thrive no matter how dire the circumstances. 
Filipinos are likewise fond of using music to cope with life's challenges, and as we struggle through each new crisis, we also write songs to get us through every storm. Memorable songs can have the power to bring comfort and hope in bleak times. One of the songs on this list was even called "a COVID-Era Anthem" by the New York Times.  And, of course, we even have a whole musical all about being resilient in the face of typhoons and floods (Rak of Aegis has started streaming and there are still some tickets left. Last day to order for August 8 is on August 5). 
The songs we've gathered in this list reflect the need to face every problem with courage, conviction, and a sense of humor. And some are really just about dealing with lots of rain because that's what we're currently going through. Hope this playlist can bring you a little hope, and maybe even some amusement, as the great music complements the pitter-patter of the rain on your roof.
1. "Basang-Basa sa Ulan" from Rak of Aegis

Heto ako ngayon, nag-iisa

Naglalakbay sa gitna ng dilim

Lagi na lang akong nadarapa

Ngunit heto, bumabangon pa rin
Heto ako, basang-basa sa ulan
Walang masisilungan, walang malalapitan
Sana may luha pa akong mailuluha
At nang mabawasan ang aking kalungkutan
2. "Rain" from Once on this Island
Where the road meets the sea

Let her wait!

Where the road meets the sea

Let him spin!

Where the road meets the sea

Let their fate begin…

In…the rain…
3. "A Little Fall of Rain" from Les Miserables
A little fall of rain

Can hardly hurt me now

You're here, that's all I need to know

And you will keep me safe

And you will keep me close

And rain will make the flowers grow
4. "Kahapon, Ngayon At Bukas" from Ang Larawan
Hangga't hawak mo ang aking kamay

Anumang hamon ang ibigay

Ng mundong itong pabago-bago

Dahil sayo nakakayanan ko
5. "Singin' in the Rain" from Singin' in the Rain
Let the stormy clouds chase

Everyone from the place

Come on with the rain

I've a smile on my face

I walk down the lane

With a happy refrain

Just singin',

Singin' in the rain
6. "Somewhere Over the Rainbow" from The Wizard of Oz
When all the clouds darken up the skyway

There's a rainbow highway to be found

Leading from my windowpane

To a place behind the sun

Just a step beyond the rain
7. "Put on a Happy Face" from Bye Bye Birdie
Gray skies are gonna clear up,

Put on a happy face;

Brush off the clouds and cheer up,

Put on a happy face.

Take off the gloomy mask of tragedy,

It's not your style

You'll look so good that you'll be glad

Ya' decide to smile!
8. "I Whistle a Happy Tune" from The King and I
While shivering in my shoes

I strike a careless pose

And whistle a happy tune

And no one ever knows I'm afraid
9. "Climb Ev'ry Mountain" from The Sound of Music
Climb every mountain

Ford every stream

Follow every rainbow

Till you find your dream
10. "When You Believe" from The Prince of Egypt
There can be miracles

When you believe

Though hope is frail, it's hard to kill

Who knows what miracles you can achieve?

When you believe, somehow you will

You will when you believe
11. "With a Smile" from Ang Huling El Bimbo
Lift your head, baby, don't be scared

Of the things that could go wrong along the way

You'll get by with a smile

You can't win at everything but you can try.
12. "Don't Rain on my Parade" for Funny Girl
Get ready for me, love

'Cause I'm a "comer"

I simply gotta march

My heart's a drummer

Nobody, no, nobody

Is gonna rain on my parade!
13. "You Can't Stop the Beat" from Hairspray
'Cause you can't stop the motion of the ocean, or the rain from above

They can try to stop the paradise we're dreamin' of

But you cannot stop the rhythm of two hearts in love to stay

'Cause you can't stop the beat!
14. "Matatapos Din" from Mula sa Buwan
Matatapos din itong ating laban

Magwawakas din itong sinimulan

Uuwi rin tayo sa ating mga minamahal

Na naghihintay nang kay tagal
15. "No One is Alone" from Into the Woods
Just remember

Someone is on your side
No one is alone
Someone is on your side
No one is alone
16. "You'll Never Walk Alone" from Carousel
At the end of a storm

There's a golden sky

And the sweet silver song of a lark
Walk on through the wind
Walk on through the rain
Though your dreams be tossed and blown
You can listen to the full playlist below.
Comments