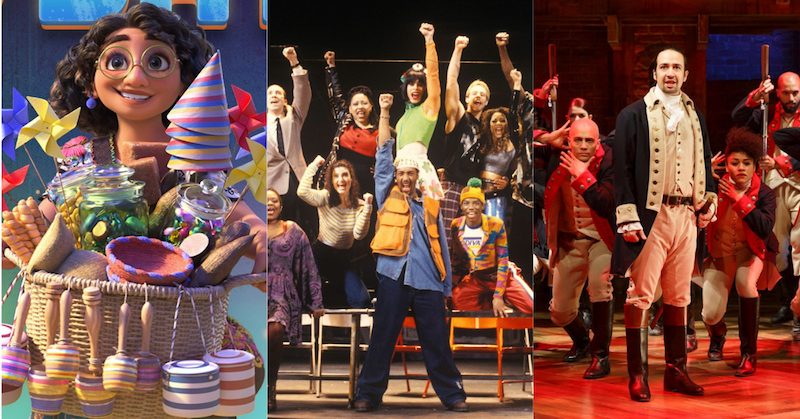 14 Songs from Musicals About Luck
Times are tough. We need all the luck we can get just to make it through every day. The world is constantly changing and everyone is struggling in their own way. So it's no wonder that we find ourselves often wishing for some respite from all the madness.
And there's no better pick-me-up than a playlist of showtunes to lift our spirits and to remind us that we are going to be okay and the future is not as bleak as we suppose. 
Whether it's relying on the unknown forces of fate or destiny, succumbing to the whims of bored gods and spirits or just figuring out how to make the most of what you've been given, musicals have a song or two for you. Audiences can relate to the hardships characters have endured and their desperate need for a bit of light at the end of the tunnel. Some characters are even more hopeful about the future, and this optimism can rub off on you if you let it. They see the cards they've been dealt and they roll with it, and that might just help us all face tomorrow with a spring in our step.
Everything's better with some music, so sing out a couple of these tunes and put yourself in a better mood! If these characters can get lucky, so can you. Let's manifest our destiny.
1. "Luck Be a Lady" from Guys and Dolls
So let's keep the party polite

Never get out of my sight

Stick with me baby, I'm the fellow you came in with

Luck be a lady

Luck be a lady

Luck be a lady tonight.
2. "With a Little Bit of Luck" from My Fair Lady
The Lord above gave man an arm of iron

So he could do his job and never shirk

The Lord above gave man an arm of iron

But, with a little bit of luck, with a little bit of luck

Someone else will do the blinkin' work
3. "Lucky to be Me" from On the Town
What a day,

Fortune smiled and came my way,

Bringing love I never thought I'd see,

I'm so lucky to be me.
4. "How Lucky Can You Get" from Funny Lady
Satin on my shoulder and a smile on my lips

How lucky can you get

Money in my pocket right at my fingertips

How lucky can you get

Every night a party where the fun never ends

You can circle the globe with my circle of friends
5. "Fortune Favors the Brave" from Aida
Nothing is an accident

We are free to have it all

We are what we want to be

It's in ourselves to rise or fall
6. "My Shot" from Hamilton
I am not throwin' away my shot

Hey yo, I'm just like my country

I'm young, scrappy and hungry

And I'm not throwin' away my shot
7. "This is the Moment" from Jekyll and Hyde
This is the moment

Damn all the odds

This day or never

I'll sit forever with the Gods
When I look back
I will recall
Moment for moment, this was the moment
The greatest moment of them all
8. "Waiting for Life" from Once On This Island
Oh, gods, oh, gods
Hear my prayer!
I'm here in the field
With my feet in the ground
And my fate in the air

Waiting for life to begin
9."Waiting on a Miracle" from Encanto
I am ready, come on, I'm ready

I've been patient, and steadfast, and steady

Bless me now as you blessed us all those years ago

When you gave us a miracle
10. "A Hundred Million Miracles" from Flower Drum Song
A hundred million miracles,

A hundred million miracles are happ'ning ev'ry day,

And those who say they don't agree

Are those who do not hear or see.

A hundred million miracles,

A hundred million miracles are happ'ning ev'ry day
11. "Another Day" from Rent
There's only now

There's only here

Give in to love

Or live in fear

No other path

No other way

No day but today
12. "To Life" from Fiddler on the Roof
We'll raise a glass and sip a drop of schnapps
In honor of the great good luck that favors you.
We know that when good fortune favors two such men,

It stands to reason we deserve it, too!
To us and our good fortune.
Be happy! Be healthy! Long life!
And if our good fortune never comes,
Here's to whatever comes.
Drink l'chaim, to life!
13. "No Time at All" from Pippin
Before it's too late stop trying to wait

For fortune and fame you're secure of

For there's one thing to be sure of, mate:

There's nothing to be sure of!
Oh, it's time to start livin'
Time to take a little from this world we're given
Time to take time, cause spring will turn to fall
In just no time at all….
14. "You Gotta Get a Gimmick" from Gypsy
Do something special

Anything special

You're more than just a mimic

When you got a gimmick

Take a look how different we are
…Get yourself a gimmick
And you too can be a star
Listen to the full playlist below:
Comments