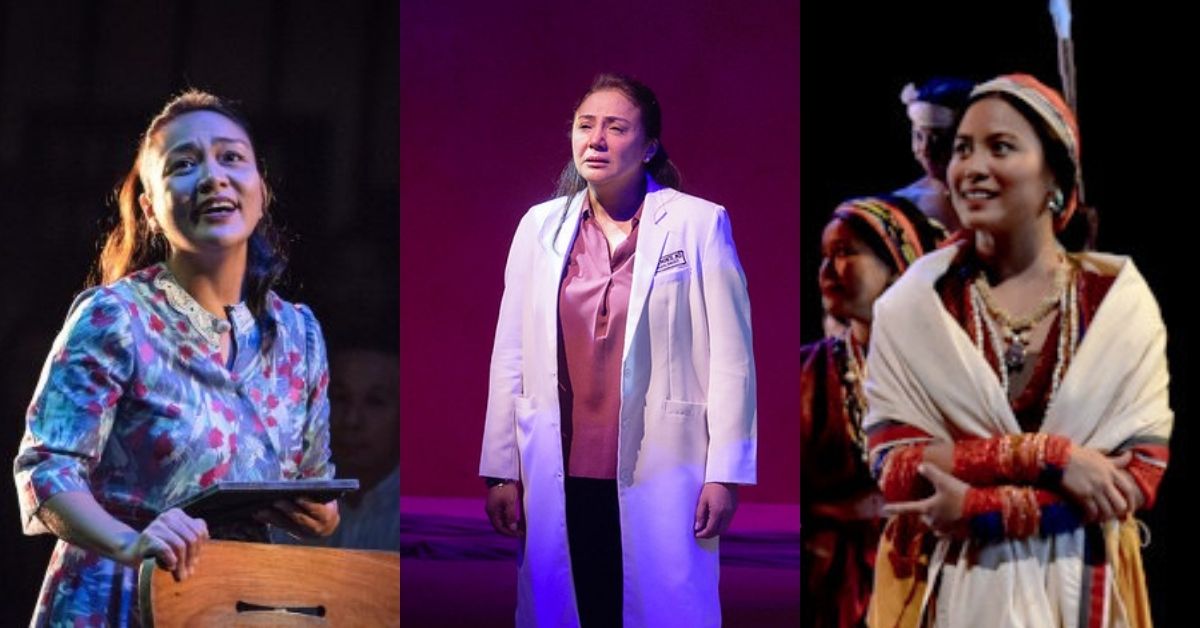 12 Strong Female Characters in Philippine Theater
Philippine Theater is populated with a diverse array of wonderful characters, many of them female. These are the choicest roles for artists to play as they drive the stories forward, they make a stand, and they simply paint a picture of the Filipina in her element – ready to not only face the world's trials, but to overcome them.
As part of the ongoing celebration of Women's Month 2022, we put together a list of some of the strongest female characters in Philippine theater from the last five-ish years. Some of these plays have more than one amazing female character but we decided to single out those whose stories struck us the most. This list is in no way exhaustive nor is it ranked. It might also just be the very beginning of this series as Philippine theater is full of fascinating female characters.
These women survived unspeakable horrors and triumphed over adversity, inspiring audiences with their stories and serving as stark reminders that history must never repeat itself.
Amanda Bartolome from
Dekada 70
Amanda is the matriarch of the Bartolome family and she bears witness to the radicalization of more and more people in response to the oppressive nature of the Marcos regime. Her family is caught up in the tumultuous decade full of significant events such as the Plaza Miranda bombing, the suspension of the writ of habeas corpus, and the unlawful arrests of political prisoners. She endures all these hardships and does what she can to keep her family together in one of the worst periods of Philippine history.
Anna from
Desaparesidos
Anna is one of the leads of this play based on Lualhati Bautista's novel. She fought against the injustices of Martial Law and she had to figure out what to do next after the 1986 revolution. She is a complex character who chose the fight for freedom over her responsibilities as a mother, both to a daughter from her first marriage and an estranged daughter from her NPA years. She struggles to reconcile herself with the guilt over her choices and also with knowing that she survived the bloody years while so many of her comrades did not.
Tere from
A Game of Trolls
Tere is the mother of the main character, Heck, a professional keyboard warrior who works for Marshalls of History, a troll center who is running a pro-Martial Law campaign. Being a former Martial Law activist, she clashes with her son and she needs to contend with the consequences of not being there for him because of her dedication to the cause, a dilemma faced by many other female activists. She survived the horrors of the Marcos Regime that were particularly heinous for women, and when she finds the courage to share these stories with her son over the course of the play, they come to an understanding and he sees the error in his ways. 
Maestra Adela Dolores from
The Kundiman Party
Maestra Adela is a retired singer who firmly believes in the transformative power of the kundiman. In the course of the play, she clashes with Bobby, a young, tech-savvy activist, and her sense of Nationalism is ignited. Bobby uploads a private interview where the maestra shares her musings on politics, art, and the sacrifices needed for both and it goes viral, also striking a chord in the hearts of some of her former students. The maestra's championing of the kundiman not only keeps a traditional art form vibrant but also shows her defiance of the Marcos regime and her refusal to compromise her values for fame or patronage. Fighting against injustice and oppression can take many forms and sometimes a battle cry can be heard in a kundiman.
Josephine from
Ako si Josephine
Josephine is a rebellious citizen of the fictitious world of Alegra, where love songs are banned and citizens must churn out HYP (happy, youthful, and purposeful) music that utilizes monotone sounds approved by their leader Monotomia. Josephine goes against the grain by composing love songs to inspire powerful emotion in her exhausted compatriots, fighting against the system with art and building a more hopeful future. The show makes expert use of the songs of Yeng Constantino and once again shows the transformative power of good music.
Sol from
3 Stars and a Sun
Set in a dystopian future where society is split between Lumino (the Haves) and Diliman (the Have-Nots), the leader of the latter, Sol, is written as gender-neutral and therefore is sometimes portrayed by a woman. She and her group of rebel rousers do their best to try and reverse the world order. She is charismatic and intense, devoted to the cause and unflinching in her resolve, as one has to be in a dystopian world destroyed by corruption and climate change. The futuristic show is both an homage to the late Francis M's music and social commentary on how history can scarily repeat itself in modern times.
Mely from
Kung Paano Ako Naging Leading Lady
Mely is a simple and hardworking woman who gets inadvertently thrust into a world of superheroes and supervillains, acquiring special powers, and becoming a hero in her own right. She is driven by duty and responsibility to her family and that's what leads her to find a job as a maid for Fuwerza Filipinas. She later has to contend with a jealous sister, Viva, who becomes corrupted by the villains. Naturally, Mely triumphs in the end. But she was strong way before she became a superhero and the play is all about showing that the real heroes are ordinary folks willing to fight for change. 
Dr. Gemma Almonte from
Under My Skin
Dr. Gemma Almonte narrates the play while also serving as the main physician for most of the characters who get infected with HIV. While she may sometimes seem more lecturer than character, dispensing fast facts and stats on HIV in the Philippines, when she does interact with her patients, she radiates both competence and compassion. While sympathetic to their plight, she also shows a no-nonsense personality and she can add some levity to a play about a very tragic topic. Particularly memorable is when she calls out a patient for being overly dramatic and encourages him to keep fighting so that the disease will not get the better of him. We need more doctors like her.
Princess Maria Blanca from
The Quest for the Adarna
This princess is no damsel in distress. On the contrary, she is an intelligent strategist and capable fighter who helps Prince Juan in his quest to capture the mythical Adarna bird and to save his kingdom. The play gives a modern take on the character from the epic poem, giving her more agency and putting her on equal footing with the male lead, if not making her superior at times. She plays her part in the adventure and she more than earns her happy ending.
Kannoyan from
Lam-Ang
Another badass princess from an ancient epic poem, Kannoyan resents the fact that she needs to marry in order to rule her kingdom. She puts her suitors to the test and demands only the best. She proves to be more than a match for the valiant Lam-Ang, and shows that there is much more to her than being one of the most beautiful women in the world. Even when she does eventually agree to marry Lam-Ang, she does not compromise her principles nor change her personality into some meek and submissive wife. Kannoyan is proof that strong women in Philippine literature have been written about and performed since the pre-colonial era.
Paula Marasigan from
Ang Larawan
While both Candida and Paula Marasigan are the leads of this musical adaptation of Nick Joaquin's Portrait of the Artist as Filipino, Paula is the one who takes action at the end of the play to set her and her sister free from their father's contentious legacy. The two unmarried sisters face a difficult choice – to sell their father's self-portrait or the family house or resign themselves to a life of poverty. A cast of colorful characters visit them during the course of the show, all advocating one choice or another, also painting a portrait of pre-World War II Manila. Beyond her journey to liberation by eloping with the dashing Tony Javier, Paula's destruction of her father's painting is what ultimately opens up her and her sister's future to more possibilities.
Nimia from
Himala: Isang Musikal
Nimia is the childhood friend of Elsa and Chayong who left for Manila to work, became a prostitute, and endured unspeakable horrors. She returns to her hometown of Cupang during the frenzy over Elsa's miraculous apparitions and faith healing. Just like the other enterprising members of the town, Nimia takes advantage of the influx of tourists to see Elsa by putting up her own cabaret and hiring other prostitutes to provide entertainment. While her tragedy may differ from that of Elsa and Chayong, she nevertheless has survived a great deal of adversity but has found a way to live through the pain and to somehow keep going which can be nothing short of a miracle.
Comments