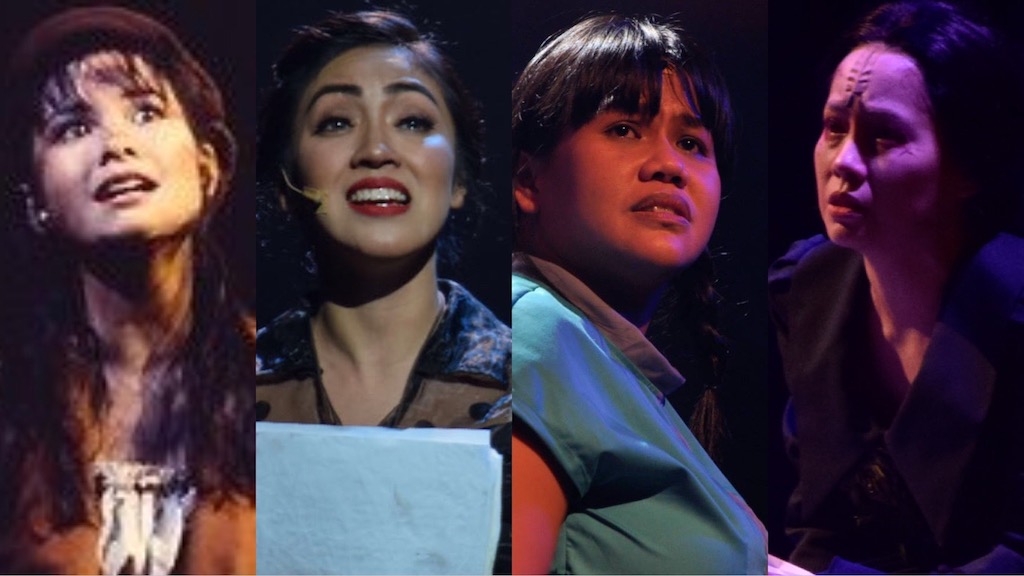 14 Sad Love Songs from Musicals
Can you feel the love tonight? Or are you more "on my own"?
It has come to our attention that today is, *checks notes* Valentine's Day. And so to mark this (non?) occasion, we wanted to spread the love by giving you a playlist featuring songs from musicals that will give you all the–for lack of a better term–hugot feels.
A mix of Broadway and local fares, this playlist is curated and dedicated to people out there in need of a good, theatrical cry.  
So pick up a pint of ice cream, get in your comfiest pantulog and ugly-cry in the dark singing along to these sad, sad, beautiful songs.
1. "Tell Me on a Sunday" from Tell Me on a Sunday 
I'd like to choose, how I hear the news
Take me to a park that's covered with trees
Tell me on a Sunday, please
2. "On My Own" from Les Miserables
And I know it's only in my mind,

That I'm talking to myself, and not to him

And although I know that he is blind,

Still I say there's a way for us
3. "Ang Sabi Nila" from Mula sa Buwan
Hindi pa rin nakikinig
Nakailang ulit nang pinayuhan
Hindi man lang sinusubukang
Umibig nang muli
4. "Burn" from Hamilton
You told the whole world

How you brought this girl into our bed
In clearing your name
You have ruined our lives
5. "There's a Fine, Fine Line" from Avenue Q
I guess if someone doesn't love you back,
It isn't such a crime.
But there's a fine, fine line,

between love and a waste of your time.
6. "I Know Him So Well" from Chess
No one in your life is with you constantly.

No one is completely on your side.

And though I moved my world to be with him,

Still the gap between us is too wide.
7. "Written in the Stars" from Aida
Is it written in the stars?

Are we paying for some crime?

Is that all that we are good for, just a stretch of mortal time?

Or some god's experiment if which we have no say?
8. "I'm Not That Girl" from Wicked
Don't wish, don't start

Wishing only wounds the heart

I wasn't born for the rose and the pearl,

There's a girl I know, he loves her so

I'm not that girl
9. "Somewhere" from West Side Story
There's a place for us

A time and a place for us

Hold my hand and we're halfway there

Hold my hand and I'll take you there

Somehow, someday, somewhere
10. "Kasalanan Ko" from Kung Paano Ako Naging Leading Lady
Sinabi nang huwag papasukin

Ang bisita na kumakatok sa puso ko

Bat pinapasok ko?
11. "Loving You" from Passion
Loving you is not a choice and not much reason to rejoice

But it gives me purpose, gives me voice

To say to the world,

This is why I live. You are why I live.
12. "I'll Cover You (Reprise)" from Rent
When you're worn out and tired,

When your heart has expired,

Oh, lover, I'll cover you.
13. "Losing My Mind" from Follies
Spend sleepless nights to think about you

You said you loved me

Or were you just being kind?

Or am I losing my mind?
14. "Maleta" from Changing Partners
Iwan mo lang sa unan ang amoy ng iyong pagtataksil, akin yan

Iwan mo lang ang pangakong dinurog ng puso mong suwail

At sa iyong pag-alis, isasabit ko sa dingding

ang mga ala-ala ng maamo mong mukha

Ang pag-ibig mong sinungaling
You can listen to the full compilation below.
Comments