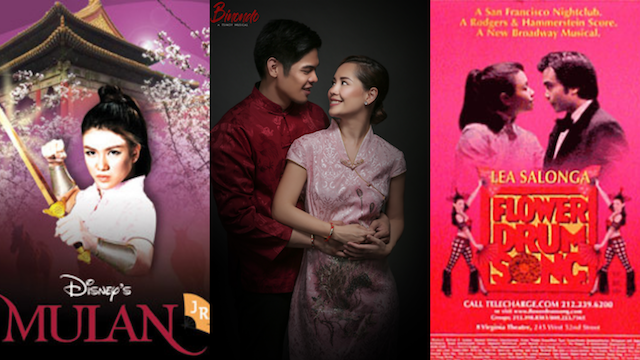 3 Musicals Showing Chinese Culture
Happy Chinese New Year!
As our way of celebrating the Lunar New Year, we've gathered three musicals where Chinese culture features prominently. While there aren't a lot of musicals exploring this topic, these three examples range from a Broadway show, an original Filipino musical, and a stage version of a Disney classic. These provide different perspectives on the rich and extensive cultural legacy of China while also exploring how this has influenced both Western and Eastern cultures. 
Here's hoping that more shows and musicals will better tackle the different aspects of Chinese culture in the years to come and contribute to building diversity and enhancing Asian representation on the global stage.
Flower Drum Song
While Rodgers and Hammerstein are most well known for musicals like
The Sound of Music, Carousel, The King and I,
and
South Pacific,
they also actually wrote a lesser known show that puts Chinese-American culture in the spotlight.
Based on the 1957 novel of the same name, Flower Drum Song follows the story of Chinese immigrants to the United States and tackles the clash of Eastern and Western culture and intergenerational struggles as the older Chinese refugee wants to cling to traditional values while his son wants to embrace American culture. Most of the show takes place in San Francisco's Chinatown.
The show premiered on Broadway in 1958 and was later adapted into a 1961 film. The show was nominated for six Tony Awards including Best Musical, winning one for Best Conductor and Musical Director. Among the memorable songs featured in the show were "Love Look Away," "I Enjoy Being a Girl," and "Sunday."
The original production, while notable for casting Asian actors in the lead roles, was criticized for its stereotypical portrayal of Asian-American characters and Chinese culture. It was rarely staged in the decades that followed. 
In 2002, however, playwright David Henry Hwang reworked the story while retaining most of the original songs and it was successfully revived on Broadway.The 2002 revival was nominated for three Tony Awards and starred Lea Salonga and Jose Llana in the lead roles.
Last September 2020, during a special episode of the streamed series Stars in the House, Seth Rudetsky reunited members of both the original Broadway cast and the revival cast, including Salonga and Llana. The group reminisced on their experience working on the show while also discussing the lack of diversity and Asian representation in Broadway at the time and how this has gradually changed over the years.
You can watch the reunion below. 
You can listen to the cast album below.
Binondo the Musical
From Chinese-American culture to Chinese-Filipino culture, we move to
Binondo: A Tsinoy Musical
, an original musical written by Ricky Lee and assisted by Gershom Chua and Eljay Deldoc.
Binondo explores the classic themes of love prevailing even in times of racial prejudice, political upheaval, and geographical distance. The title is a reference to Manila's own Chinatown, the oldest of its kind in the world, and a melting pot of different cultural influences.
The musical, a first of its kind in the country, was based on the memories of its creative producer, Rebecca Chuaunsu, who recalled when a Chinese professor shared the story of his eternal love for a Filipina. Ms. Chuaunsu, a 2nd generation Chinese immigrant herself, found encouragement to share this story through her mentor, director Joel Lamangan, who also directed Binondo. He had specifically asked her if she was interested in producing a Tsinoy musical. Mr. Lamangan has been notably involved in other projects that revolve around Tsinoy culture, specifically 5 out of the 7 popular Mano Po movies.
Binondo: A Tsinoy Musical is set during the pre-Martial Law Era. The story is centered on Lily (alternated by Shiela Valderrama-Martinez and Carla Guevara Laforteza), a Filipina night club singer, and Ah Tiong (alternated by Arman Ferrer and David Ezra), a mainland Chinese scholar, an unlikely pair who enjoy a whirlwind romance during a politically turbulent time. Vying for Lily's heart is her childhood friend Carlos (alternated by Floyd Tena and Noel Rayos), a local Chinese-Filipino who is forced to confront his feelings for Lily.
Other artists included in the production are Mariella Laurel (Jasmine), Ashlee Factor (Ruby), Ima Castro (Mrs. Dela Rosa), Jennifer Villegas dela Cruz (Lourdes), Kay Balajadia Liggayu (Mrs. Chua), Dondi Ong (Mr. Chua), Russell Magno (Mr. Zhang), Elizabeth Chua (Mrs. Zhang); Jim Pebanco, Lorenz Martinez, Khalil Kaimo, Ellrica Laguardia, Rhapsody Li & Tuesday Vargas (Chorus); Jonel Mojica and Joseph Billeza (Ge Lao), Philip Deles and Ivana Villanueva (Swing).
The artistic team also included Von de Guzman as composer and musical director, Douglas Nierras as choreographer, Joey Nombres as lighting designer, and Otto Hernandez as production designer and technical director.
The show was first staged at The Theatre at Solaire from June to July of 2018 with a limited second run in July 2019.
Mulan Jr.
This one-act musical is based on the 1998 Disney animated film, Mulan, but adapted for younger audiences by Patricia Cotter. The musical follows the plot of the film closely, focusing on the journey of a brave young woman named Fa Mulan as she disguises herself as a man to take her father's place in the army. Her intelligence and courage help her defeat the invading army and bring honor to her family and her country. 
The show features all the songs from the film as well as two deleted songs: "Keep 'em Guessing" which was supposed to be sung by Eddie Murphy's Mushu and "Written in Stone" which is sung by the ancestors as a narrative device throughout the show. Fun fact: "Written in Stone" was composed by Wicked composer Stephen Schwartz who was originally working on the 1998 animated film before leaving to work on The Prince of Egypt instead. The rest of the songs in Mulan were composed by Matthew Wilder with lyrics by David Zippel.
Repertory Philippines staged a production of Mulan Jr. back in 2008 at the Onstage Theater in Greenbelt One. The production was directed by Joy Virata with Denisa Reyes doing choreography and Niki Torres doing costumes. The title role was alternated by Cris Villonco, Cara Barredo, and Caisa Borromeo while the love-interest Chang was alternated by PJ Valerio, Reuben Uy, and Felix Rivera with the comic-relief dragon Mushu being played by Red Concepcion, Robbie Guevara, Rem Zamora, and Chevy Mercado. The show ran as a part of REP's Children's Theater season for that year.
Comments