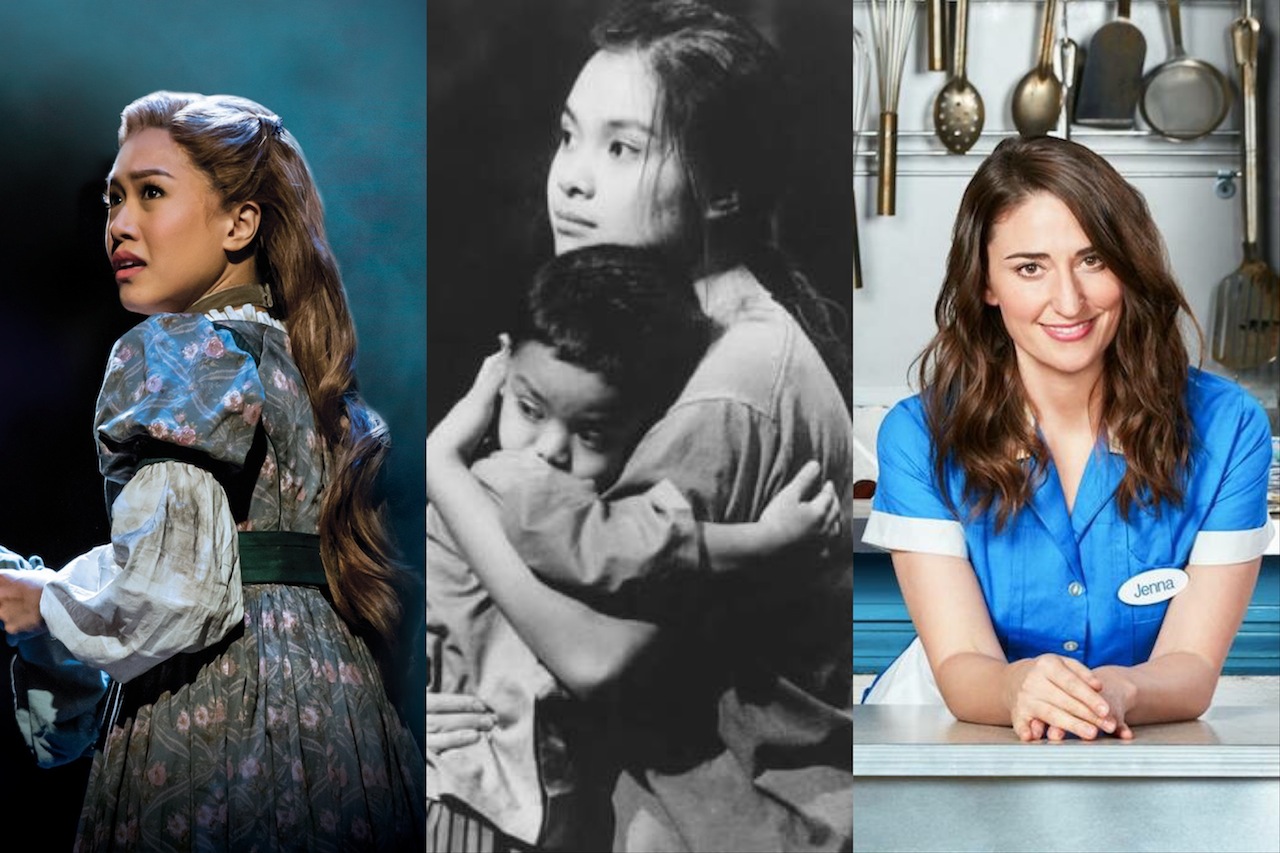 10 Musicals that Prove Single Moms are Awesome
Some of the world's most-loved musicals feature single moms who will give anything–including their lives–for their children.
1. Gypsy
Imelda Staunton as Rose, singing "Everything's Coming Up Roses"
Gypsy Rose Lee became a great star, and it is in part thanks to her Mama Rose. Ok, Mama Rose is on the demanding side, but her attitude (she's the "ultimate stage mother") made both her children become the best at what they were. She raised two children to superstardom by herself, by the way. She's not perfect (who is?), but she did whatever it took so her children would have a better shot than she did.
2. Dani Girl
Shiela Valderrama-Martinez and Pam Imperial, alternating as Catherine Lyons, singing "The Sun Still Rose"
Watching your child endure so much, so young, may be the most difficult thing a parent has to experience but to go through all that alone? Unimaginable. That's exactly what Catherine Lyons had to go through in Dani Girl. She had to find strength and put a brave face so her daughter, battling cancer, would draw strength from her.
3. Dear Evan Hansen
Rachel Bay Jones as Heidi
When Evan's dad (spoiler alert?) walked out on him and his mom, Heidi had to be both mother and father to Evan. She had to work hard to provide for him. As a result, she couldn't be around as much as she would've liked. Still, she did all of that because she loved her son, and in the end both of them realize that it's all going to work out as long as they have each other.
4. Waitress
Sara Bareilles as Jenna
Jenna is in a tough spot, with an unhappy marriage and an unexpected pregnancy. While it took her awhile to get used to her circumstance, she eventually ventured out of her comfort zone for the sake of her unborn child. Sara Bareilles's own lyrics perfectly sums up Jenna motivated by her daughter: "It finally reminds her, to fight just a little, to bring back the fire in her eyes…"
5. Rak of Aegis
Isay Alvarez-Sena as Mary Jane, with Robert Sena, signing "Luha"
Mary Jane was not only the strong-willed barangay captain of Venezia, she's also a tough mother to Kenny. She had to be, because she had to raise her son alone. It wasn't easy, but it had to be done. As a result, Kenny was raised well despite their circumstance.
6. The King and I
Kelli O'Hara, as Anna, singing "Getting to Know You"
Anna lost her husband early, leaving her to care for her son. She didn't sit around and mope, though. She continued to teach young children, eventually finding herself the personal schoolteacher of the Siamese king's children. She's the best role model for her child (as well as the children in her care). She does not waver in her convictions, and whatever life throws at her, she stands tall.
7. Mamma Mia!
Louise Pitre as Donna Sheridan, singing "Mamma Mia"
If there's a musical that shows how hard yet rewarding it is to raise a daughter–even by yourself–it's Mamma Mia. Donna may be singing about "money, money, money" but she also laments over how her daughter is "slipping through her fingers". It's a beautiful show that really goes into the special bond between mother and daughter.
8. Les Miserables
Rachelle Ann Go as Fantine, singing "I Dreamed a Dream"
Fantine's life was short and tragic, but even in her darkest moments she kept going for the sake of her daughter. Her final thoughts were of Cosette, with little thought about her own well-being. Who didn't cry when Fantine sang, "Tell Cosette I love her, and I'll see her when I wake"?
9. A Game of Trolls
Upeng Fernandez
The Marcos regime ruined many lives and tore apart many families. He was toppled only by the men and women who fought with their lives for the freedom we enjoy today. One fighter was Hector's mom, who sacrificed her family life in order to give him (and his generation) a better future.
10. Miss Saigon
Lea Salonga as Kim, singing "I'd Give My Life for You"
Miss Saigon is a story of love. The first act is the romantic kind, with two people meeting and falling for each other. The second act is quite different, with a young Kim, alone, driven to extremes just so her son could get out of the poverty and violence she had lived through her whole life. Kim is an example of how mothers will literally give their life for their children.
Comments