Theater performer Christine Allado, who is set to join the West End production of 'Hamilton' as Peggy Schuyler/Maria Reynolds in November, will have a concert next month for her local fans.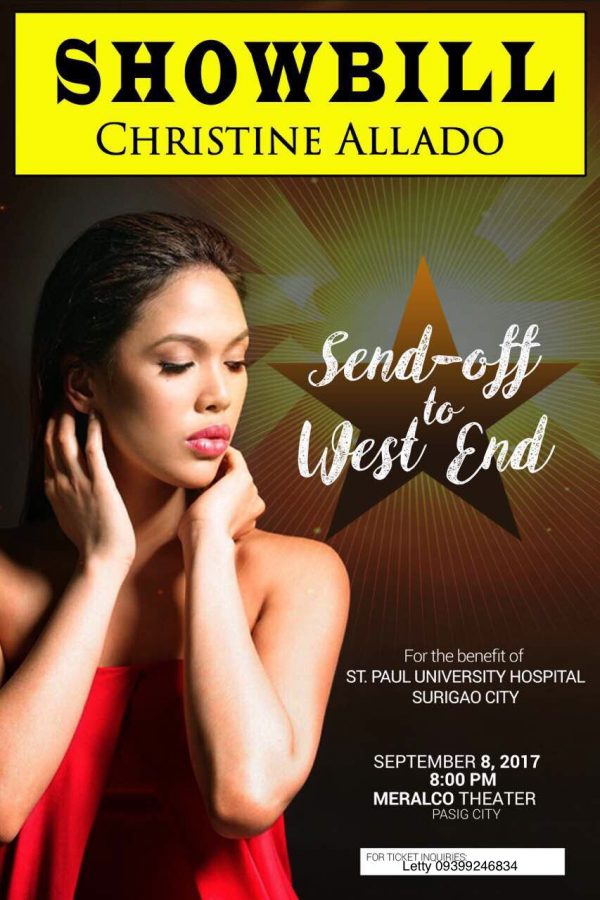 Dubbed as "A Send-off to West End", the show will be held on September 8, 8 pm at the Meralco Theater. She will perform pop songs, classics and songs from West End musicals. More than a farewell concert before Allado leaves for London, the show will also benefit St. Paul University Hospital in Surigao City, which was damaged by the recent earthquake in February.
Allado's stage credits include playing Anne Brontë in the rock musical 'Wasted' at the West Yorkshire Theater (2016) and Turandot in Tête à Tête Opera's 'Turandot Reimagined' (2015). Last year she also played Maria in the BBC's 60th Anniversary production of 'West Side Story', and joined renowned tenor Andrea Bocelli on his Cinema World tour in Asia and Europe.
She will be joining fellow Filipino actress Rachelle Ann Go in the West End cast of 'Hamilton'. Go will play Eliza Hamilton, alongside Giles Terera as Aaron Burr and Jamael Westman in the title role.
For ticket reservations, donations, and sponsorship inquiries, please contact Letty Allado at 0939-9246834.
Ticket prices:
Orchestra Center – P3,000.00
Orchestra side – P2,000.00
Loge – P2,000.00
Balcony – P1,000.00
For more details about what's happening in the Manila theater scene, please view our Theater Calendar.