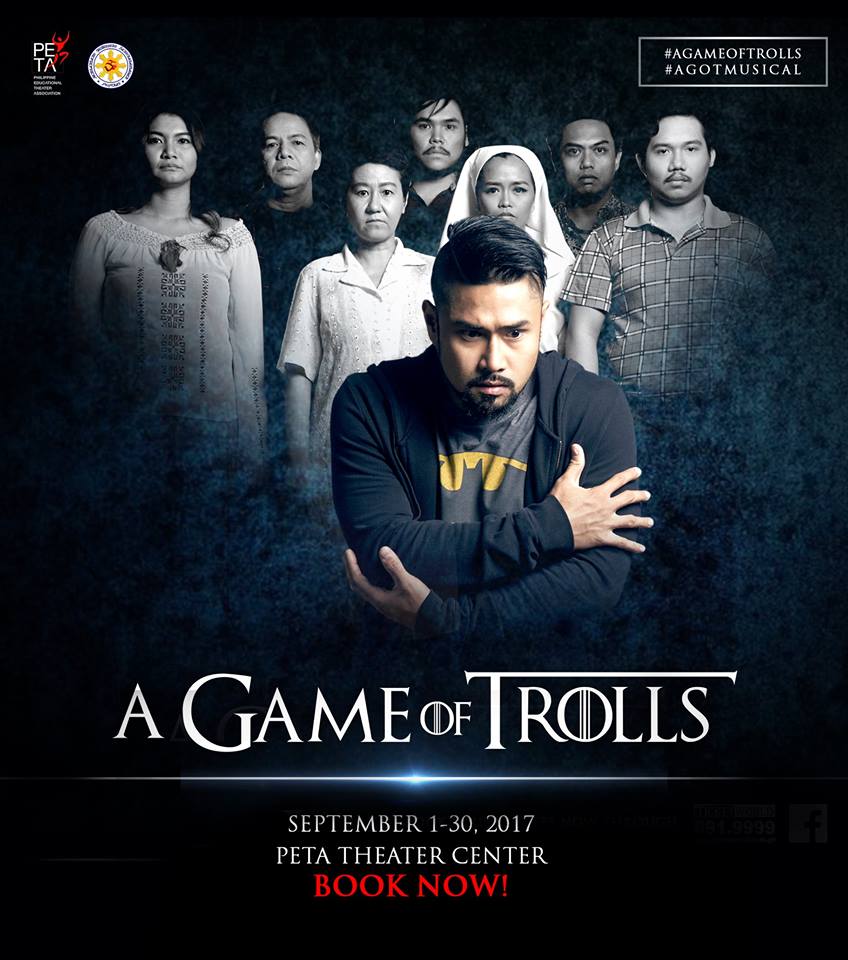 PETA's Martial Law Musical 'A Game of Trolls' Comes Back for a Rerun
How do today's youth understand and connect with the stories of our past in a society that feels compelled to make us forget?
The Philippine Educational Theater Association (PETA), supported by the National Historical Commission of the Philippines (NHCP), Bantayog ng mga Bayani Foundation, and DAKILA: Philippine Collective for Modern Heroism, present 'A GAME OF TROLLS' – a new musical about Martial Law.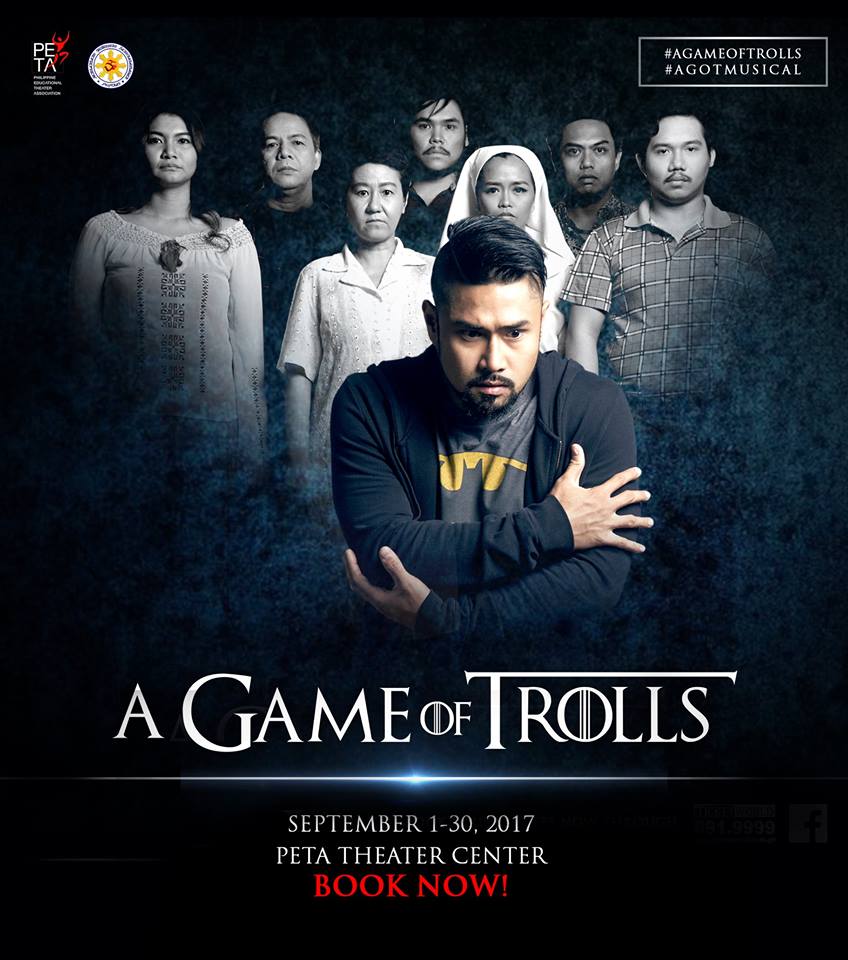 Synopsis
'A GAME OF TROLLS' #aGoT the Musical, is the story of Heck, a troll whose indifference makes him the perfect keyboard warrior for Bimbam, the manager of a 'troll center' that runs an online pro-martial law campaign. His lack of attachment to any belief can be used to make him unleash callous words to anyone who comments against the martial law days. Ghosts of Martial Law victims haunt him from the Internet cloud, fearing that their memory will be erased, as people slowly forget their stories. The encounters forced him to reflect on his own beliefs and his relationship with his mother, a former Martial Law activist.
Artistic Team
As PETA once fought for freedom through artistic and cultural means during the Marcos dictatorship, this musical written by Liza Magtoto and directed by PETA Artistic Director Maribel Legarda with music by Vincent De Jesus, continues PETA's tradition of protest and advocacy plays.
"As artists, we in PETA remain steadfast in our mission to use the arts to reflect peoples' stories and examine our history, so we can find meaning in chaos, make sense of our realities and have vision amidst doubt and cynicism," shares PETA Executive Director Beng Santos-Cabangon. For audiences, especially for today's youth, it is important that the stories of Martial Law be remembered. "Because it is in remembering that we understand. With understanding, we care," Santos-Cabangon adds.
Message to the Youth
What key messages of the musical echo best with the youth? 'A GAME OF TROLLS' helps audiences "look at what really transpired during martial law…so that we encourage the present generation to help in preventing the rise of another dictator in the future," as NHCP chairman Rene R. Escalante says in his message. #NeverForget, #NeverAgain, and #BayanMunaBagoSarili, as many people put it on social media.
Through the theater, PETA wants to reach the youth so that the painful lessons of Martial Law teach them to not allow strongman rule in the Philippines again. The youth must learn to treasure the freedom they have now, a freedom that came with a price from their elders. They are now the generation that society hopes on to continue the fight for freedom, and the demand for justice.
Cast
'A GAME OF TROLLS' cast includes Myke Salomon, TJ Valderama, Upeng Galang-Fernandez, Gail Guanlao-Billones, Vince Lim, Gold Villar-Lim, Lemuel Silvestre, Joseph Madriaga, Kiki Baento, Gilbert Onida, John Moran, Juan Miguel Severo, Norbs Portales, Roi Calilong, Jasper Jimenez, Ada Tayao, Lea Espallardo, Icee Po, Nieves Reyes, Dan Cabrera, Jason Barcial and Justin Castillo.
Show Details
'A GAME OF TROLLS' is showing for the whole of September 2017 at the PETA Theater Center located at No. 5 Eymard Drive, New Manila, QC. You can buy tickets here.
Comments