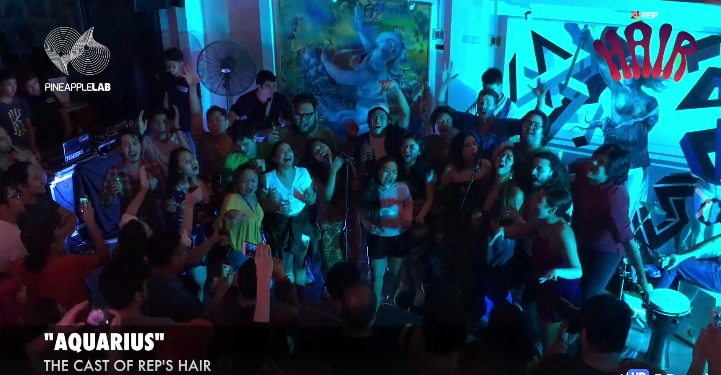 WATCH: Hair Cast Sings "Aquarius" at Pineapple Jam
Last Sunday, the cast of Hair, Markki Stroem (Claude), Topper Fabregas (alternating as Claude), George Schulze (Berger), Caisa Borromeo (Sheila), and the rest of the company, performed "Aquarius" at Pineapple Lab's Pineapple Jam!
Pineapple Jam is one of Pineapple Lab's Neighborhood Nights, a Free-to-the-Public music event where they invite local artists, movers, shakers, thinkers and drinkers to get together for one evening and celebrate the diversity in our community.
Hair, the first ever tribal love-rock musical on Broadway, is the year-end grand musicale of Repertory Philippines' (REP) 2017 season, running from November 17 to December 17 at the Onstage Theater, Greenbelt 1, Makati City.
Set in the tumultuous 1960's, the twenty-somethings of New York City band together to form a tribe – the hippies – as a cry of protest against the Vietnam War. The story follows native Oklahoma farm boy Claude, who meets the energetic, irrepressible tribe of Central Park hippies on his way to enlist in the US Army. This free-spirited tribe, led by the charismatic Berger, inspires Claude to rebel against the war, his parents, and society, and to assert love, peace and freedom.
You can also watch the cast sing "Where do I Go" and "Hair" from their press conference last month HERE.
Watch the video below!
You can buy tickets HERE.
Comments