The experience of learning the concept behind Mabining Mandirigma for the first time feels like an acid trip. Or, being more realistic, it feels like seeing something odd on the street and doing a double-take.
It's rather outlandish, isn't it? A "steampunk musical with a genderbent Apolinario Mabini" is a premise that, depending on the type of person you are, either immediately hooks you in or throws you off. Either way, you're at the edge of your seat. You're all but dying to know how they'll manage it and to what lengths they'll take the concept.
If you're familiar with a few shows, your mind might even start trying to piece it together. By "steampunk", will they incorporate the noises of industrialism and "progress" throughout their soundtrack? By casting a woman (Monique Wilson) as Mabini, will it feature a female Mabini with a pseudo-romantic hue underlying his relationship to Aguinaldo like Hamilton and John Laurens? By "warrior spirit", do they mean the out-of-place technology might give this Mabini a more mythical vestige? 
First of all, stop. Right this instant. More often than not, the things that cause you to turn back in confusion and shock end up being rather normal. The awe-inspiring vision nothing but a trick of the eye. Likewise, Mabining Mandirigma is a story that's far more restrained than expected. Whether that's a good or bad thing depends on the audience and their expectations going in.
The best way to do this would be to disavow some possible notions as we go along.
Mabining Mandirigma approaches the "steampunk" genre with a light hand. It's set in an alternate Philippines that's grown fond of time pieces pasted over clothing, corsets worn outside dresses, and red face paint. The stage design features beautifully placed cogs and a centerpiece that's sometimes clock face and sometimes necessary facts. Even as this Philippines has cameos of an elaborate steam-powered train, fashion is the end-all of steampunk.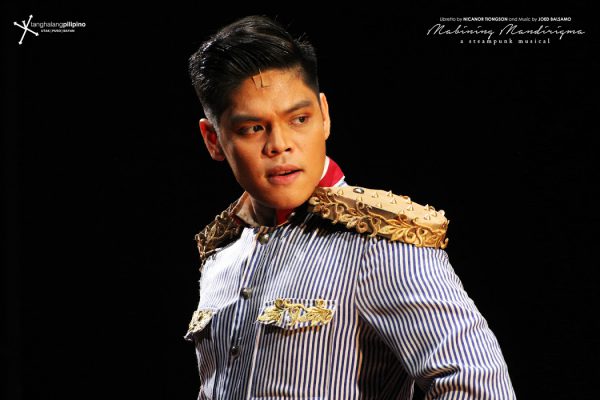 As far as the untrained observer is concerned, it's an alternate universe but not an alternate history. The relevance of the clothing, then, could be to emphasize the relationship between past and present. Those subjected to wearing these 'punk' garb, namely the ilustrados and the people, seem unchanged from Mabini's time to the present. The educated rich stay privileged. And those who lacked their resources have stayed in a significantly disadvantaged state. Exempting Mabini – and, to a certain degree, Emilio Aguinaldo (Arman Ferrer) – from these over-the-top costumes either place them strictly as fixtures of the past or point to missing modern-day heroes and leaders of the same caliber and sentiments.
Though Mabini in this production has historically been played by women for technical reasons, Apolinario Mabini the character remains canonically a man. In fact, the play presents a rather precise account of his life, with a special focus on his time as Aguinaldo's adviser. We're offered glimpses of his boyhood, his family – those real and those adopted – and his vulnerabilities. The "Gentle Hero" moniker is shown to refer both to Mabini's brand of revolution, preferring policy and discourse to violence, and to the act of accepting the "insults" of femininity hurled at him and taking it back. The latter powerfully celebrated by the female casting. But the impact of such a move was rather diminished by the other unexplained genderbent roles of Mark Twain and American generals.
That said, there are moments when the show's realistic portrayal of its leads almost reaches a point of rigidity. Against a colorful and uninhibited cast who were allowed to take the characters in genuinely fun directions, with some good numbers from the ilustrados and Mabini's aide, the two risked becoming visually and textually less compelling. If not for Wilson and Ferrer's innate charisma, it would be hard to remember who helms the show.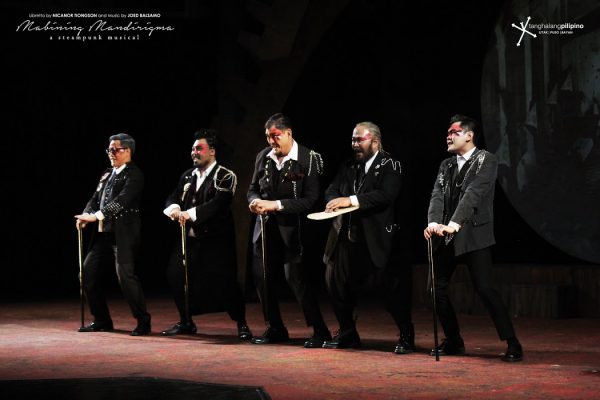 The pain of "expectations vs. reality" aside, there are some nice details in Mabini. At some point, Aguinaldo sings along to the tune of the ilustrados' theme when he sides with them. The choreography snuck in gestures and features from folk dances. One of them being Pandanggo sa Ilaw, if I'm not mistaken. Really, it's difficult to fault a well-intentioned production.
Mabining Mandirigma is alright for what it is: a retelling of a hero's life, flavored to appeal to a younger generation. It's educational and a good and enjoyable companion to Araling Panlipunan classes. 
Admittedly, the education it wishes to impart gets a little too on the nose. It did, after all, end with the actors straight up discussing what Mabini would have thought of current social issues – a move that was odd and a little jarring, to say the least. Though, to be fair to them, perhaps we have reached a point past subtlety and nuance. 
Tickets: 

Php 1,000.00 - Php 1,500.00


Show Dates: 

Aug 16 '19, Aug 17 '19, Aug 18' 19, Aug 23 '19, Aug 24 '19, Aug 25' 19, Aug 28 '19, Aug 29 '19, Aug 30' 19, Aug 31 '19, Sept 1 '19


Running Time: 

approx 2 hours and 40 minutes (w/ 15 min interval)


Venue: 

Tanghalang Aurelio Tolentino, Cultural Center of the Philippines, Roxas Blvd., Pasay City


Credits: 

Nicanor Tiongson (playwright), Joed Balsamo (music and composition), Chris Millado (director), Chino David (Co-arranger), Emerzon Texon (Co-arranger), TJ Ramos (Sound Designer, Co-Arranger, and Sound and Mixing Engineer), Ejay Yatco (Music Director), Manny Pambid (Dramaturg), Denisa Reyes (Choreographer), Katsch Catoy (Lighting Designer), Toym Imao (Set Designer), and GA Fallarme (Video Projection Designer)


Cast: 

Monique Wilson, Arman Ferrer, David Ezra, Hazel Maranan, Paw Castillo, Phi Palmos, Mia Bolaños, Jonathan Tadioan, JV Ibesate, Lian Silverio, Meynard Peñalosa, Anthony Peralta, Ian Hermogenes, Juancho Gabriel, Joshua Tayco, Jasper Cabra, Kristofer Kilatchko, Sigrid Balbas, Roxy Aldiosa, Maia Dapul, Mikee Baskiñas, Eunice Pacia, Lhorvie Nuevo, Blanche Buhia, Remus Villanueva, Kul Dela Torre, Joel Eugenio


Company: 

Tanghalang Pilipino