Guelan Varela-Luarca's stylized production of Malou Jacob's play invites audiences to check their preconceived notions at the door.
In Catholic Manila, we only ever hear one narrative in terms of the political unrest in Mindanao. We hear about acts of terrorism by extremists, how they're jihadists, and how Jihadism is related to Islam. We have been inculcated to think of Muslims a certain way because of this, to generalize the othered by the actions of the few. It's a misconception that we have to unlearn, and Batang Mujahideen tackles this by evenly showing that the conflict isn't clashing beliefs, it's extremism.
It begins serenely, with the cast–comprised mostly of Tanghalang Pilipino's Actors Company–in communal ritual. A puppet in a swing descends from overhead and we find out that this puppet is our eponymous heroine. We will watch Fatima, a young Muslim girl, be exposed to acts of violence and in turn, be dragged into a life of extremist belief and actions herself. Interloping with the story of Fatima is the 2000 seige of a Claret school, where teachers, students, and a priests were taken captive by terror groups.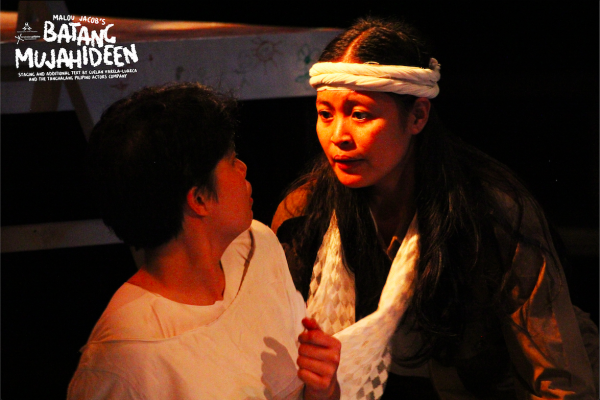 Director Guelan Varela-Luarca calls it "documentary theater", a melding of 'kasaysayan' and 'kathang isip'. The show does have a very even, very calculated feel to it. Heavily stylized as he forgoes the casting of child actors in favor of puppets. It is set in the round with two screen panels that would project key dates, places, and people throughout the show (Marco Viana and Paw Castillo are production designers and Joyce Garcia is projection designer). The costumes, too, are muted whites and browns. There's a restraint to show or even stage a 'familiar' narrative with familiar elements to give audiences a blank slate, to see this story without preconceived notions. Some of the male characters aren't even played by men.
The carefulness and deliberate eschewal of what we Manilenos know about the political unrest in Mindanao is very calculated. The artistic team–most of which are not from Mindanao, including director Varela-Luarca, and playwright Malou Jacob–are aware that this is not their story, and took great lengths not cross the line of cultural appropriation with the result being that the culture is visually indistinct, perhaps to reiterate that Christian and Muslim hostility is really about warped ideologies believed by the few.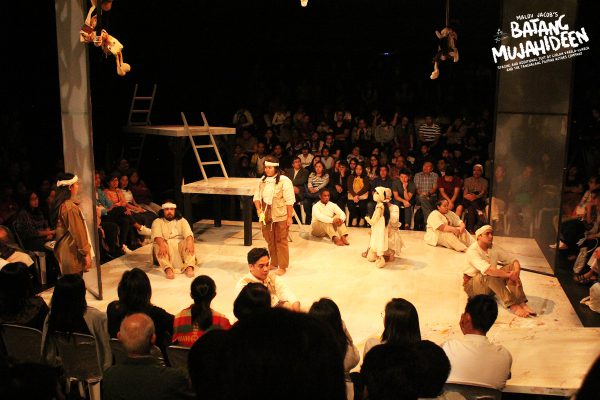 It's a very brief show, approximately an hour and twenty minutes. It doesn't really dilly-dally on the human emotions of what's being told in a significant way. The puppetry also distances viewers from the human cost of the story: children orphaned, hurt, killed, trained to perpetuate the cycle of violence. Even the story's trope, where the batang mujahideen has to be disguised as a boy to join the ranks, doesn't seem to matter as much as showing that if there are extremists Muslims, there are extremist Christians, too. It was actually the show's superlative sound design (by Arvy Dimaculangan) that built the tension, created the moments of peace, conveyed the violence unfolding on stage.
Tickets: 

Php 1,000.00 - Php 1,500.00


Show Dates: 

Feb 21 '20, Feb 22 '20, Feb 26 '20, Feb 29 '20, Mar 6 '20, Mar 7 '20, Mar 8 '20


Venue: 

Tanghalang Aurelio Tolentino, Cultural Center of the Philippines, Pasay City


Running Time: 

approx. 1 hour and 20 mins (no intermission)


Credits: 

Malou Jacob (playwright), Guelan Varela-Luarca (director), Dominique La Victoria (dramaturg), Marco Viana (production designer), Paw Castillo (production designer), D Cortezano (lights designer), Arvy Dimaculangan (sound designer), Jomelle Era (choreography), Joyce Garcia (projection designer), Aina Ramolete (puppetry instructor)


Cast: 

Jonathan Tadioan, Marco Viana, JV Ibesate, Lhorvie Nuevo, Eunice Pacia, Doray Dayao, Ybes Gabadiong, Monique Nellas, Iman Ampatuan


Company: 

Tanghalang Pilipino